The '90s and early '00s were something of an enigma for fashion and beauty. For instance those heinous platform Sketchers, iridescent lip colors, glitter everything, and frosted tips. Today most of that is a distant memory, but certain nostalgic makeup products bring us back to a time when we ferociously snapped games of MASH into our trapper keepers and matched our glittery eyeshadow to the color of our braces.
Recently, lots of makeup brands are playing on '90s and early '00s nostalgia – from cartoon-inspired makeup emblazoned with our favorite Pokemon to the same tried and true brands we'd scour through at our Friday night trips to the mall. Though the world may have lost the Spice Girls and those edible cake-flavored cosmetics by Jessica Simpson are undoubtedly rotting in a desk drawer at our parents' house, the Internet is running rampant with nostalgic makeup. We don't even need to convince our moms to drive us to Claire's to get it.
Here are 10 makeup products that will make you nostalgic but are ready to wear right now. Go back to the days of Candie's shoes and Limited Too tube tops, things were better then.
Lip Smacker's Soda Pop Lip Balm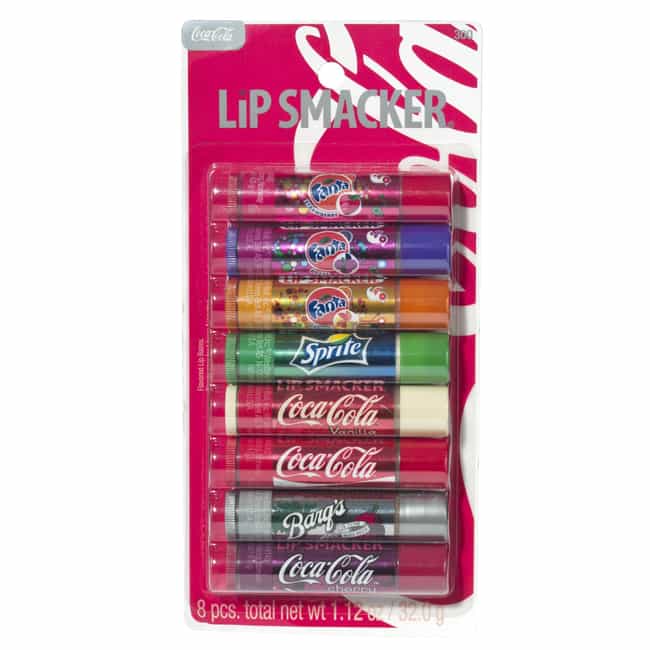 If you were a tween girl in the '90s or the early '00s, it's a safe bet that you lathered your lips up with sugary sweet Lip Smackers lip balm just hoping to get your first kiss from that cute guy in home room. Lip Smackers may have fallen out of fashion, but the classic flavors never, ever went away.
Today, you can pick up a pack of the coveted soda pop flavors from Target ($8.99) and while you're at it, get some neon lanyards from the craft section. We're all a little rusty at tying those plastic knots.
Glamour Dolls' Lisa Frank Brushes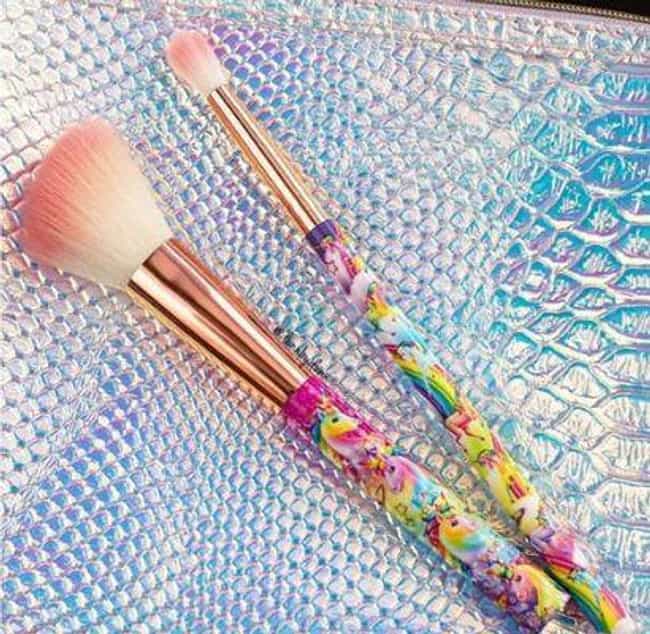 Most of us never quite got over the day we had to retire our beloved rainbow-soaked Lisa Frank trapper keepers. Thankfully, a Kickstarter-backed makeup collaboration by Glamour Dolls finally fills that Technicolor unicorn hole in our hearts. These two makeup brushes look like something right out of Lisa Frank's original line of pencils, notebooks and stickers. The best part is that no rainbow-speckled cheetahs or dolphins were harmed in the making of these brushes – they're totally cruelty-free.
Each makeup brush retails for $4.99 on Glamour Dolls' website. Let these brushes be an ultra-affordable speck of brightness in your otherwise boring, adult day.
Hot Topic's Nickelodeon Eyeshadow Palette
Hot Topic released an eyeshadow palette in January 2018 catered directly to '90s kids: a bright orange cassette tape emblazoned with Nickelodeon characters. Inside, you'll find 12 sparkly, vivid shades, all named after your favorite Nicktoons.
Feeling blue? Brush on Football Head (a reference to Hey Arnold!). Looking for some bold color? Try the green Rawr, modeled after Rugrats' Reptar. And then there's the neutral Smashing – it's a nod to Nigel Thornberry of The Wild Thornberrys.
Lime Crime's Polly Pocket Eyeshadow Palettes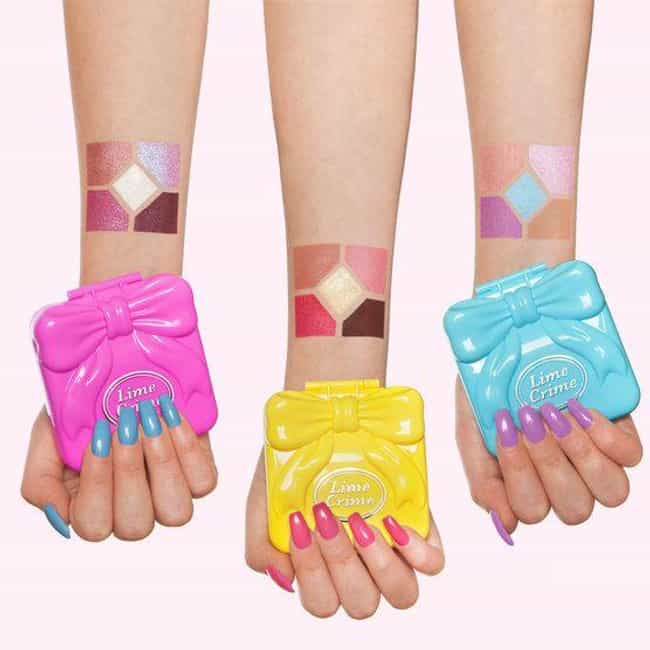 Remember back when Polly Pocket actually could fit inside of your pocket? In the '90s, the tiny little choking hazard actually lived inside of a compact rather than an elaborate doll mansion. Today, what's arguably the only era of Polly Pocket that actually mattered, lives on our memories.
Lime Crime's newest eyeshadow palette triggers our nostalgia for the beloved toy by placing five full-sized eyeshadows inside Polly's brightly-colored plastic home. The eyeshadows range from shimmery nudes to duo-chrome purples. Each pallette bears a hefty price tag at $34, but can you really put a price on childhood memories?
Bon Bons Nail Polish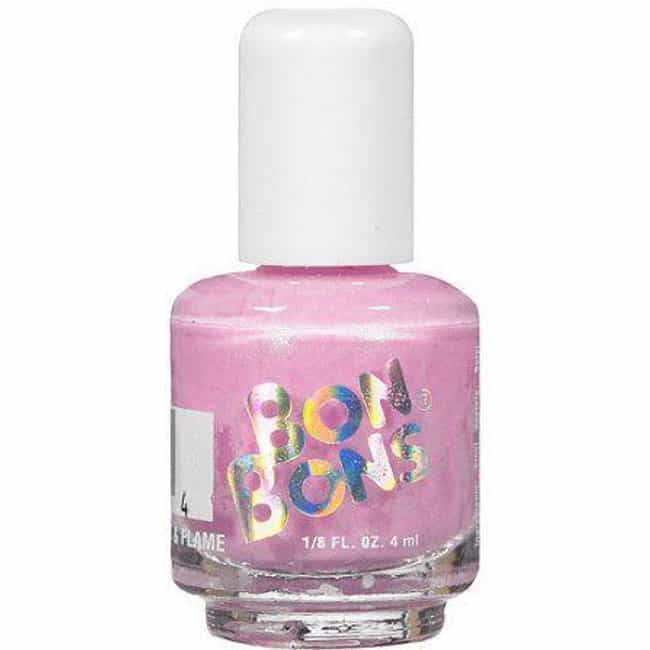 These tiny collectable nail polishes lined the shelves of Claire's (remember when your mom almost agreed to let you get your belly button pierced there?). '90s chicks can be happy to know that these little, nostalgic polishes still exist – and they're affordable ($1.27). Clearly, Bon Bons have not had their price adjusted with inflation, so we don't need to save our lunch money to buy a couple shades from Walmart's website.
Slap on some platform Rocket Dog flip flops and give yourself a pedicure while you enjoy all the memories that rush back with that pungent, chemical polish smell that wafted through our middle school sleepovers.
Creer Beauty's Sailor Moon Eyeshadow Palette
If you're looking to impress your very own Tuxedo Mask, Creer Beauty has released the most nostalgia-inducing Sailor Moon makeup line ever. Though the line consists of eye-liners and brushes shaped like Sailor Moon's iconic wand, the standout is the glittery eyeshadow pallet. The shimmery peach, red, pink and brown eyeshadows come in a metallic, bedazzled case.
Overall, the line is a little pricey (about $34), but you can't deny it's worth it because of the packaging alone. It's available for purchase on Creer Beauty's website.
Shu Uemura's Super Mario Collection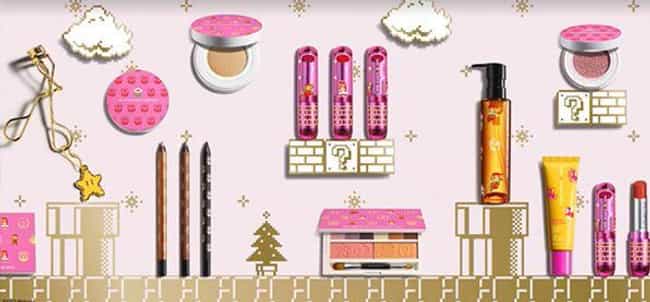 Your Super Nintendo may be long gone, but you can relive the frustration of accidentally running into a ricocheting turtle shell with Shu Uemura's Super Mario makeup collection. The collection includes a range of eyeliners, eye and cheek palettes and hair wax with nostalgic Super Mario-themed packaging. There's even a block-shaped carrying case to tote your wares through Rainbow Road (or at least keep things in one place should you fall victim to a wanton banana peel).
Shu Uemura's Super Mario collection launches on October 1, 2017 and you're going to need to collect a lot of coins. The collection ranges from $21 for an eyelash curler to $475 for a makeup box and will be available on Shu Uemura's website.
Sola's Saved By The Bell Liquid Lipstick Trio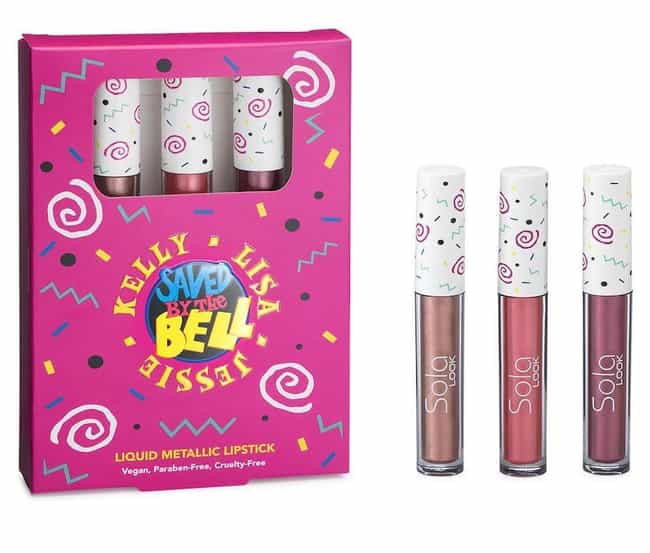 Saved by the Bell was a '90 kids favorite – now that we've mentioned it, just try to get the theme song out of your head. Sola Look celebrates the classic sitcom with its Saved By The Bell Metallic Liquid Lipstick Trio. It features vegan, cupcake-scented lippies named for your favorite characters: coppery Jessie, peachy-pink Kelly, and purple Lisa. Plus, they come in a super-cute box with a Bayside Tigers pencil.
Hot Topic's Nightmare Before Christmas Palette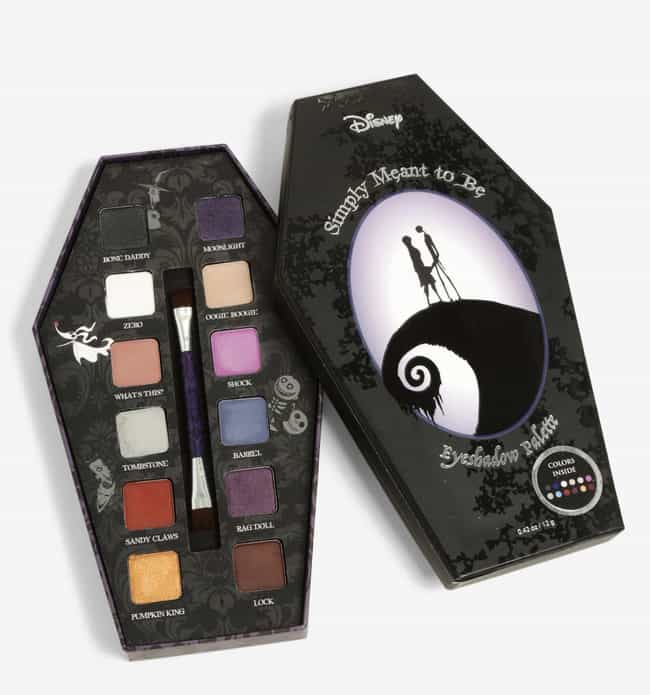 The Nightmare Before Christmas is a beloved holiday classic for many '90s kids (particularly the ones who love all things spooky). Now you can relive the morbid charm of the film all year long, thanks to Hot Topic's Simply Meant To Be eyeshadow palette.
Open up the palette's coffin-shaped lid, and you'll discover 12 bold shades, from silvery Tombstone to daring Bone Daddy black.
TonyMoly's Pokémon Beauty Line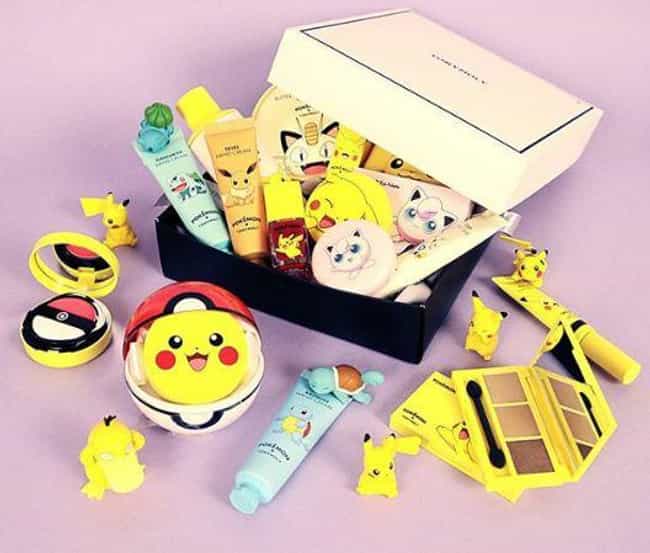 You're going to want to catch every single one of these beauty products from Korean beauty brand TonyMoly. The company introduced a line of oh-so adorable Pokémon-themed products. The line is absurdly diverse, ranging from Jigglypuff-themed eye shadow and Pikachu lip stain to Squirtle foam cleansers and Togepi hand cream. If Pokémon did exist in real life, these are totally the type of makeup products a master trainer would use to get dolled up before a major gym battle.
Tony Moly is super affordable, with everything costing under $20. Most items – from the lip stain to the blush compacts — cost around $10. Unfortunately, the items in this line are rarer than a Legendary. Tracking them down is difficult, but you can find sellers on eBay or Asian retailers YesStyle.
Pur's My Little Pony Eyeshadow Palette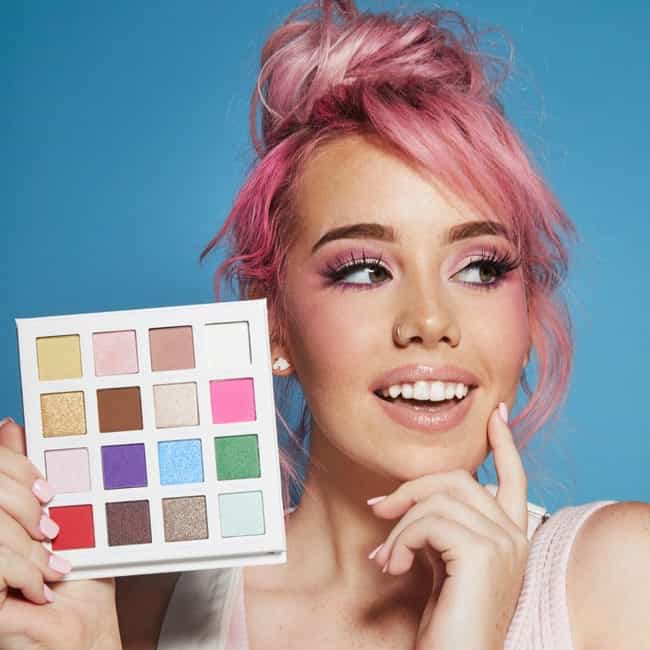 Pur's new eyeshadow pallette pays homage to the brightly colored horses in My Little Pony: The Movie. If you've ever wanted to feel like a magical, rainbow-colored horse, now is your chance. The palette is definitely not for those who fear bold color (what My Little Pony fan would?) and has a range of bright, shimmery purples, pinks, and greens. Aside from a bright orange, it has just about every color in the rainbow.
For how much you actually get, the $29 it costs on Pur's website feels paltry.
Innisfree's Snoopy Collection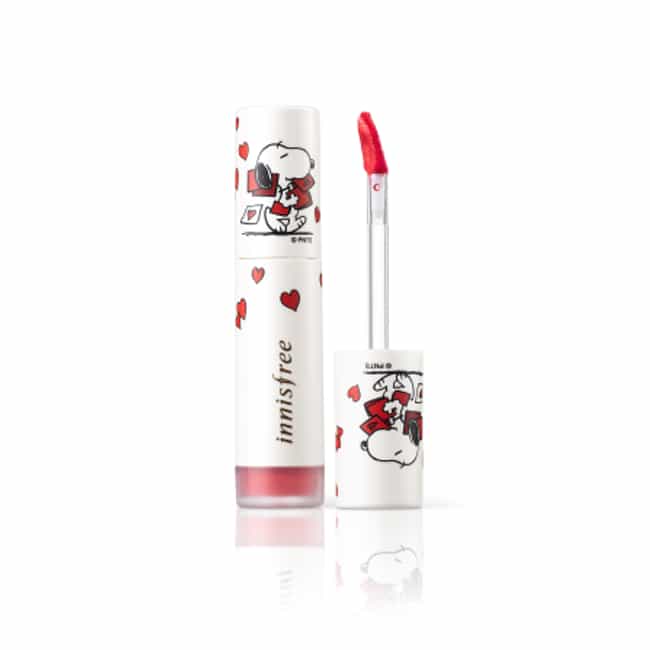 Snoopy and the gang definitely date back to before the '90s, but everyone grew up seeing Charlie Brown and his pup in the comics section or on TV during the holidays. Channel your inner Peppermint Patty with this collection from Korean beauty brand Innisfree. It features lip tints, nail colors, and customizable palettes, all emblazoned with the familiar face of everyone's favorite beagle.
Chupa Chups Lip Stain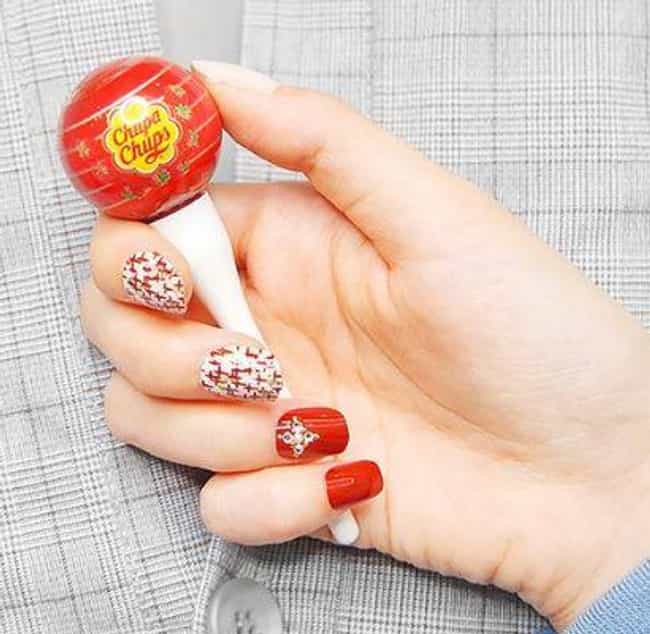 Chupa Chups were all the rage when the Spice Girls did that weird (but undeniably successful) collaboration. Though you probably haven't thought about the candy since you last played your *NSYNC Hit Clips on the bus to school, the iconic candy makers launched a beauty brand in Korea.
Chupa Chups Beauty Korea offers three lollipop-inspired lip stains with flavors like strawberries and crème and orange. Each "Lip Locker" costs around $8.70, and is available through Chupa Chup Beauty's website.
Cathy Doll's Pikachu Evolutions Blushers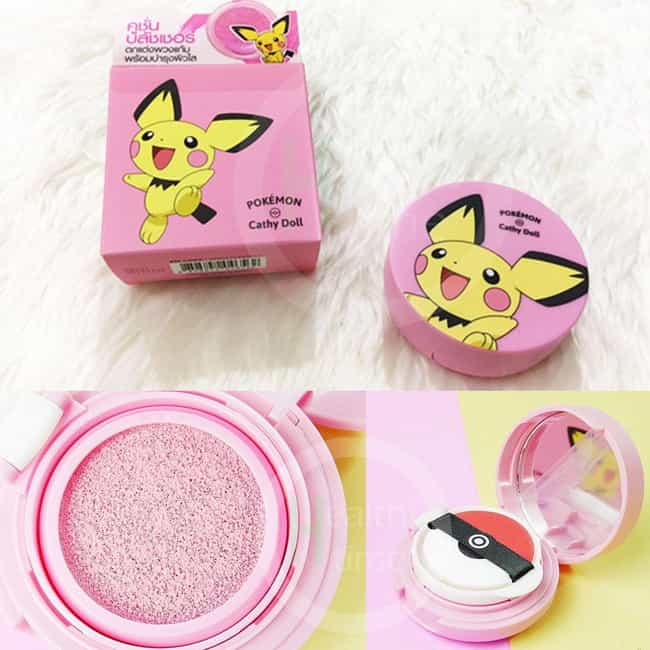 TonyMoly isn't the only Korean beauty brand hopping on the Pokémon nostalgia train. Cathy Doll released a Pikachu-themed collection that's sure to shock more than little Pika's electric cheeks. The line includes cushion blushes and liquid, felt-tipped liner for the perfect cat eye (or Meowth eye). Each item in the line is emblazoned with one of Pikachu's evolutions and has an adorable Pokéball applicator sponge.
Like TonyMoly's Pokémon makeup line, these items are extremely difficult to find in America. Your best bet is eBay, where most items retail for around $10. Still, you should always be wary of buying makeup from eBay, as you never know if you're going to get the makeup equivalent of a Mimikyu or the real deal.
Sugarpill's Little Twin Stars Collection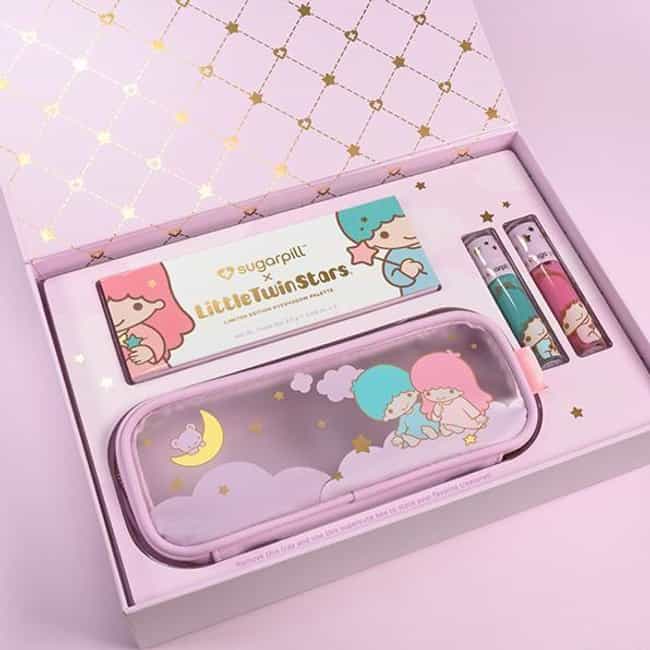 Love all things Sanrio? This set is for you. Sugarpill unveiled a special collection in February 2018, featuring Sanrio's beloved Little Twin Stars Kiki and Lala. The line includes a six-color eyeshadow palette, two liquid lipsticks, and a darling makeup bag, all in twinkly pastel hues the animated duo would surely love.