The worlds of movies, television, and music are home to some of the most beautiful women in the world but, unfortunately, these women are being retouched and photoshopped in what has fast become a new standard operating procedure in modern media. Gone are the natural looks to which we can all relate, and in their place is a new set of unattainable beauty standards. Luckily, not every celebrity is taking the issue lightly, and there have been many famous women who spoke out about re-touching and its effects.
Photoshop has created an even bigger gulf between celebrity culture and everyday people. It may seem innocent on the surface – a little retouch here, a smoothing-out there – but it can send the wrong message about what true beauty really is. And so, here's to those singers and actresses who called out magazines for Photoshop use. It's so important toward normalizing realistic standards and perpetuating the real meaning of beauty. Check out the thoughts of a few famous women who were none too happy to see themselves re-touched in the media.
Ashley Benson Criticized A Digitally Altered Pretty Little Liars Poster
Pretty Little Liars' Hanna Marin is a character who always looks out for her friends. Ashley Benson, the actress who plays her, shares this deep sense of loyalty and is aware of the image she is presenting – and the messages she is sending – to the world. When a promotional poster for the series was retouched, Benson was outraged. "Our faces…were from four years ago," she said. "We all look ridiculous."
Beyoncé Knowles Demanded H&M Not Retouch Her Curves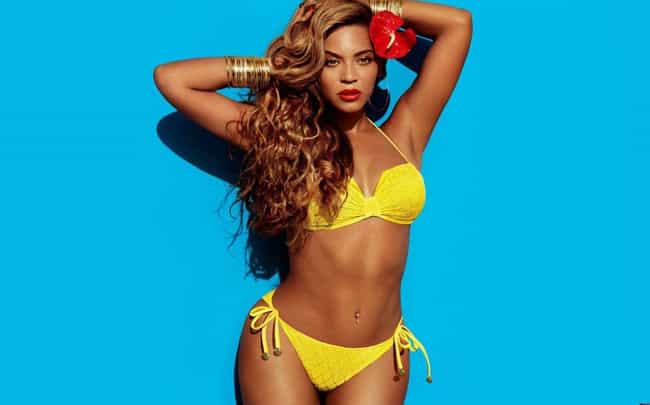 Out of all the stars in the current celebrity stratosphere, Beyoncé is one that would seemingly need no retouching whatsoever. H&M, apparently, felt differently. In 2013, the singer-actress-megastar did some modeling for the famed clothing store's Summer collection. But word got back to Bey that H&M was planning to airbrush and modify her curves and she was understandably furious. She demanded that her voluptuousness remain intact and H&M eventually agreed, publishing the photos as is.
Lena Dunham Refused To Be Slimmed Down In A Magazine Photo
Lena Dunham has never been afraid to speak her mind and she doesn't flinch in the face of controversy. So when the Spanish magazine Tentaciones ran an image that may or may not have been retouched, Dunham spoke out. The issue was eventually settled and the photo was published (Tentaciones denied digitally editing Dunham), but the Girls star/writer/director has since drawn a line in the sand. "The gap between what I believe and what I allow to be done to my image has to close now," she wrote in her newsletter, Lenny. "I bid farewell to an era when my body was fair game."
Lady Gaga Called Out Glamour For Retouching Her Photos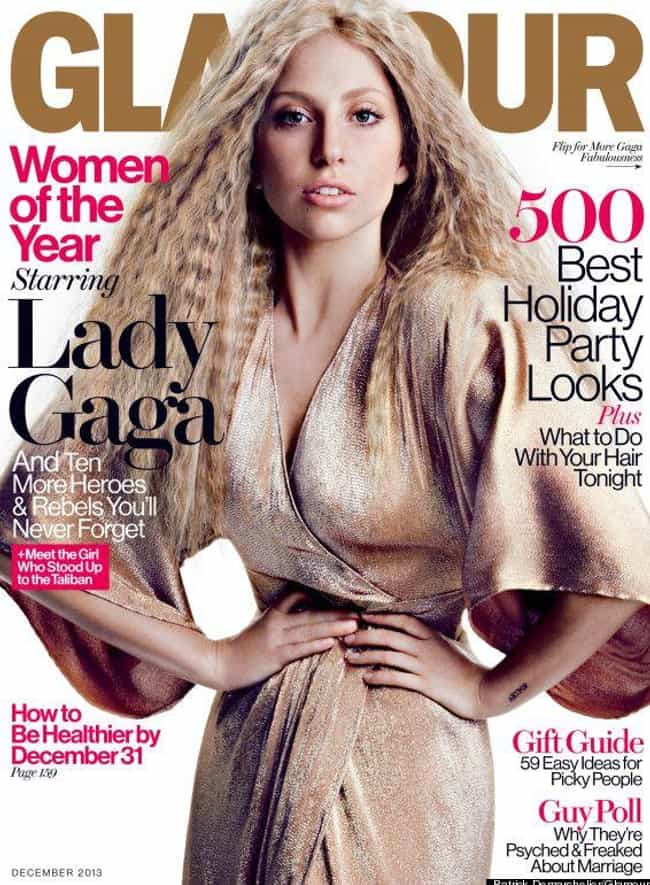 When Glamour magazine honored Lady Gaga as one of their Women of the Year in 2013, they probably weren't counting on their honoree blasting them in her acceptance speech. But that's exactly what Gaga did, and with good reason. Her photos had recently appeared in and on the cover of the magazine and they were practically unrecognizable to even Ms. Gaga herself. "I do not look like this when I wake up in the morning," she said.
Ever mindful of the messages she's giving, however tacitly, to her devoted fans, she told the magazine industry in general that when their covers change, "that's when culture changes."
Keira Knightley Took A Stand Against All The Edited Images She'd Seen Of Herself
British actress Keira Knightley took a bold stance against digital alterations by posing topless – and unedited – in Interview magazine as a way of showing the world what her body really looked like. Knightley had grown sick and tired of seeing her body Photoshopped a thousand different ways, including on a promotional movie poster for her 2004 movie King Arthur. Noting her edited chest in the ad, Knightley commented, "Those things certainly aren't mine." At the end of the day, she recognizes a universal truth that seems to have evaded popular Hollywood thinking: "It really doesn't matter what shape you are."
Jennifer Lawrence Recognized That Photoshop Makes People Look Nothing Like Themselves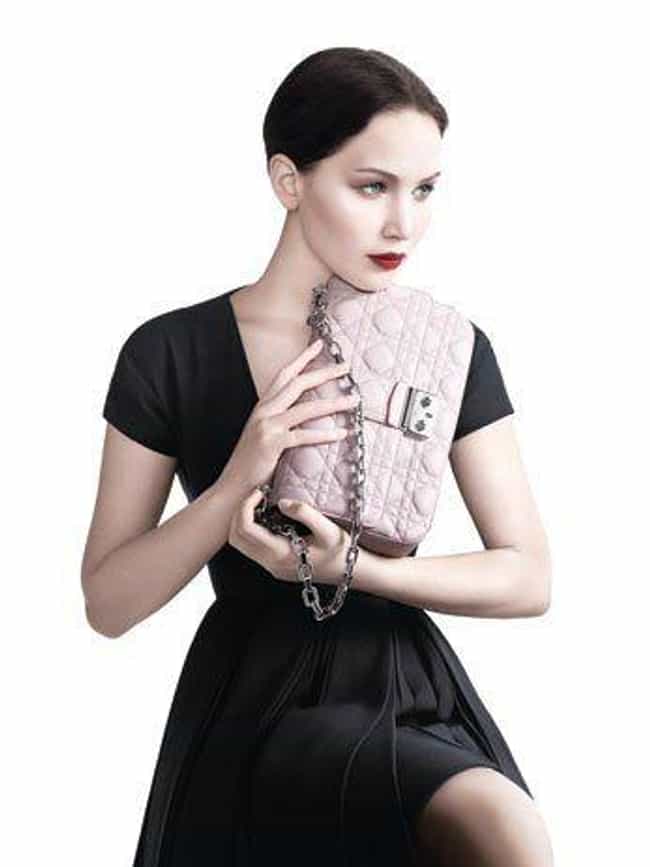 The big fashion houses are obviously invested in making their models look as unrealistically flawless as possible. It's hard to say, however, if Dior knew what they were in for when Jennifer Lawrence became one of the faces of their brand in 2013. They should have known JLaw is known as a pretty no-nonsense gal.
When Access Hollywood showed her the recently released Dior images, the Oscar winner exclaimed, "Oh my God, I haven't seen this! I love Photoshop more than anything in the world. Of course it's Photoshop; people don't look like that." Touché.
Nicki Minaj Roasted ESPN For Retouching Her Forehead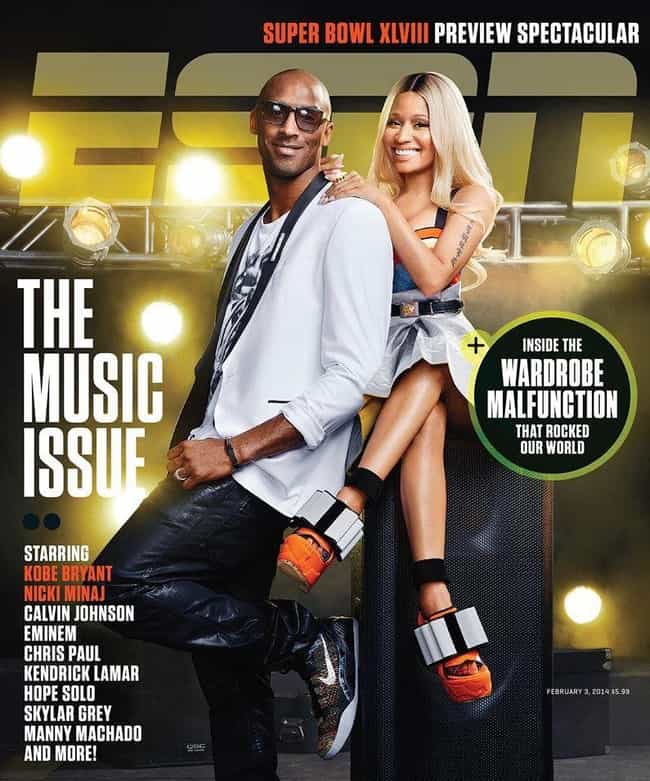 Rap royalty Nicki Minaj appeared on an ESPN magazine cover in 2014 alongside Kobe Bryant. Once the magazine hit newsstands, she took umbrage with one particular area: her forehead. Minaj went on Instagram to say that the magazine inexplicably elongated her forehead. She reposted the ESPN cover with the caption, "When Retouching Goes Wrong," and added the original images from the photo shoot. It's difficult to say, however, if anyone but Minaj could actually see a notable difference.
Ronda Rousey Slammed Digital Altering Of Her Arms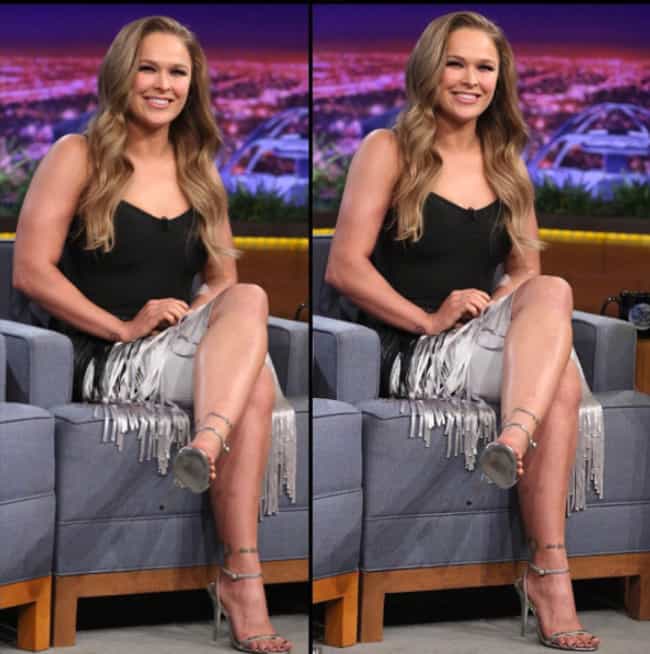 UFC champion Ronda Rousey has been a trailblazer in her field and she approaches her off-the-mat commitments with equal conviction. In 2016, Rousey inadvertently posted a Photoshopped image of herself to her Instagram, but quickly caught the error and posted side-by-side images of the original and the retouched. The retouched version showed her arms were made smaller and more traditionally demure. But Rousey affirmed that this was not OK, saying, "This goes against everything I believe and I am extremely proud of every inch of my body."
Jessica Simpson Spoke Out After Her Images Were Always Being Retouched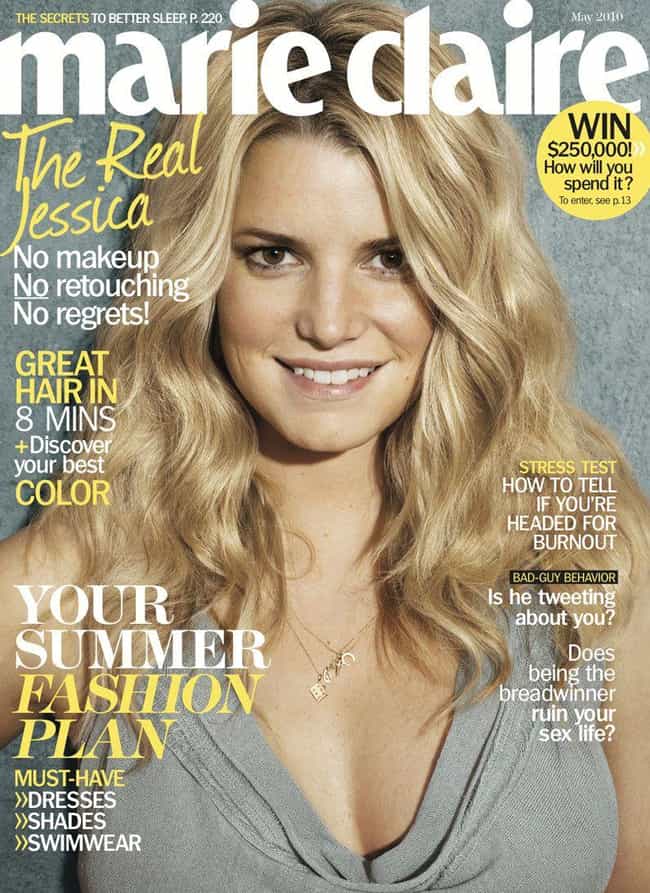 Jessica Simpson recognizes that she's been Photoshopped to the moon and back and in 2010 she chose to make a statement about the practice. For her Marie Claire cover shoot, Simpson went without makeup and with no retouching whatsoever. "I really wanted to show women that I'm just a normal person," she said. "I don't have anything to prove anymore," she went on. "What other people think of me is not my business." And that's a good lesson for every one of us to learn.
Meghan Trainor Was Enraged When Her Waist Was Retouched In A Music Video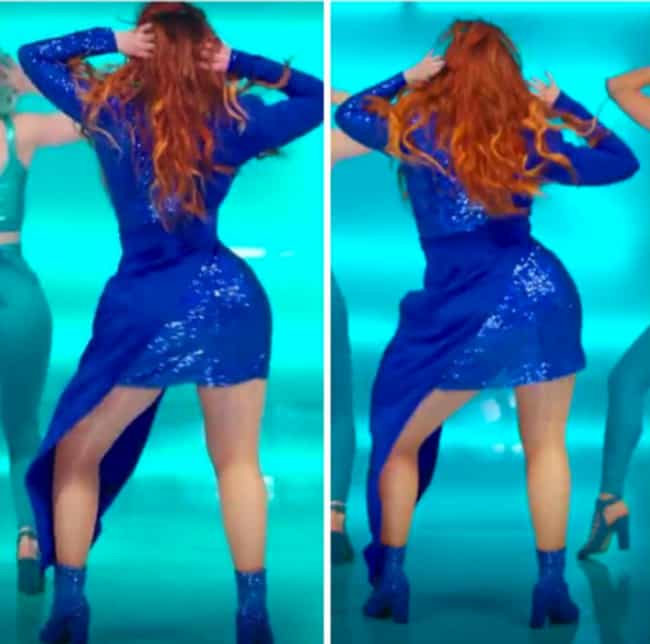 In 2016, Meghan Trainor's video for the single "Me Too" was released… but the singer was far from happy. Proving it really is all about that bass, Trainor was livid to see her booty was slimmed down in the video's post-production process. "That's not me," she said, and her anger made sense. Trainor has built both her career and her public image as someone who embraces body-positivity and was incredulous by the edits saying, "I don't know how you would shave my waist off. Like me, as the 'All About That Bass' girl!"
Kerry Washington Has Been A Serial Victim Of Photoshopping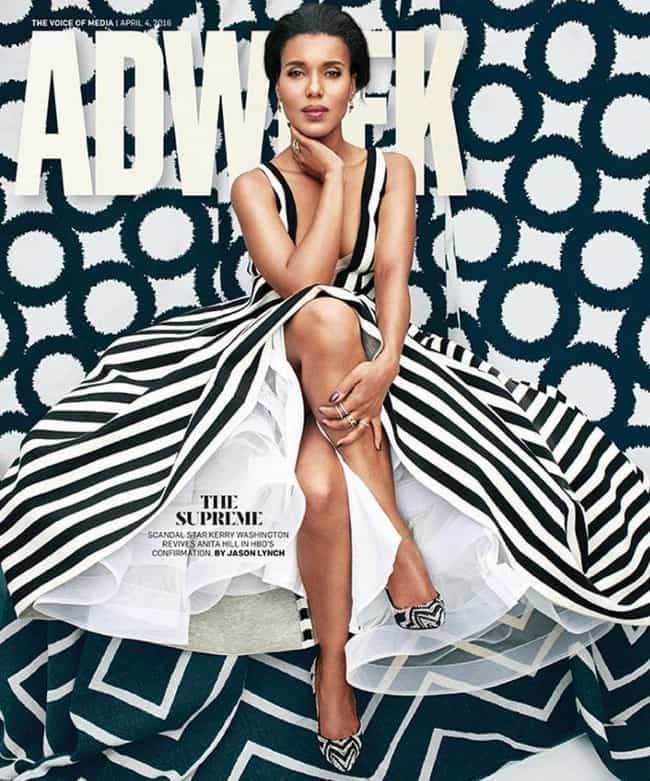 Kerry Washington seems like someone who would never need to be Photoshopped but, apparently, the industry hasn't gotten this more-than-obvious message. On multiple occasions, the Scandal star has had to speak out about her photos being majorly retouched. Her AdWeek cover was so doctored, Washington wasn't even sure she was looking at herself. Unfortunately, this was not new territory for her, as her earlier covers of InStyle and Lucky prove. Of the AdWeek image, she commented, "It felt strange to look at a picture of myself that is so different from what I look like when I look in the mirror."
Kate Winslet Has Become An Anti-Photoshop Crusader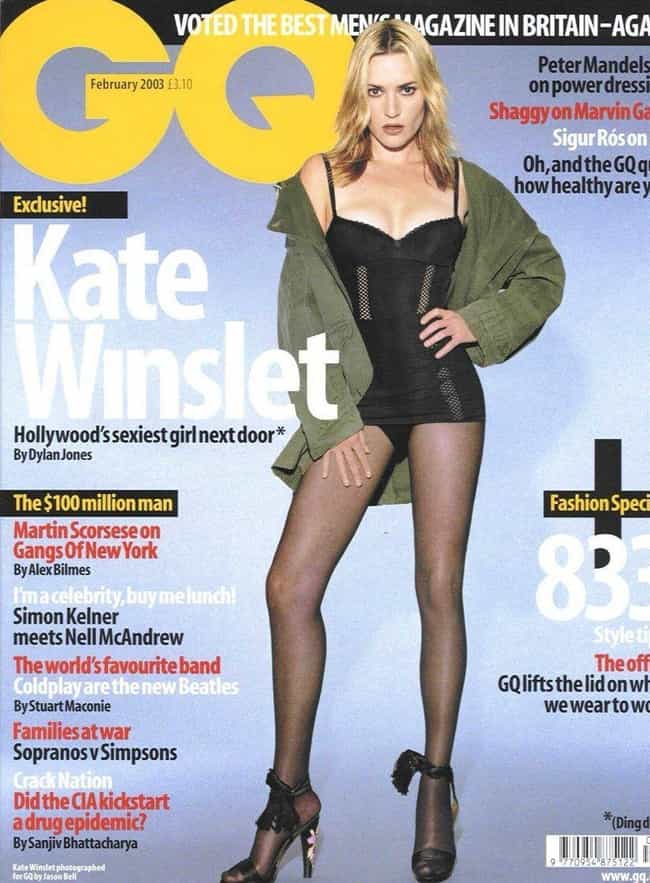 The Oscar-winning classical beauty Kate Winslet is also not immune to overzealous editors. On more than one occasion, Winslet has spoken publicly about images of herself that have so clearly been retouched. When GQ put her on the cover in 2004, they reduced her size dramatically. "I do not look like that and more importantly, I don't desire to look like that," she told Hello! magazine. "I can tell you they've reduced the size of my legs by about a third. For my money, it looks pretty good the way it was taken."
When Winslet became the face of Lancôme she had it written into her contract that editing her images was strictly forbidden, citing a "responsibility to the younger generation of women."
Zendaya Embraces A Healthy Self-Image, Not Photoshop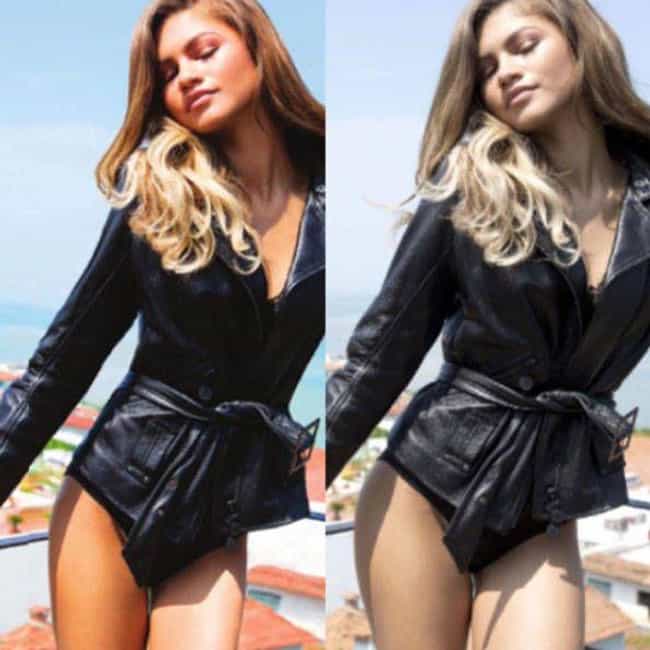 Zendaya is barely out of her teens and already pictures of her have been digitally altered. Her 2015 images in Modeliste magazine made the beloved singer and actress see red. "These are the things that make women self conscious, that create the unrealistic ideals of beauty that we have," she said. Bear in mind that Zendaya was just 19 years old when she posed for the Modeliste photos. "Anyone who knows who I am knows I stand for honest and pure self love. So I took it upon myself to release the real pic…and I love it," she said on Instagram. Kudos, Zendaya!