Big Boy is a chain of restaurants best known for its triple-layer cheeseburger, the Double Deck. Founded in 1936 in Glendale, CA, the company operates more than 1,000 restaurants. In addition to burgers (two beef patties, sesame-seed bun, single slice of cheese, signature Big Boy special sauce), the restaurant also offers breakfast items, salads, and desserts.
From the cheesy biscuits at Red Lobster to the amazing sauces at Buffalo Wild Wings, it's always tempting to go out for a delicious treat at one of the numerous chain and franchise restaurants dotting the landscape. But eating out at restaurants all the time can be a costly proposition. Not to mention the fact that, at restaurants, you have no portion control, and can't alter the recipes, ingredients or style of cooking to suit your own taste.
Making Big Boy recipes in your home gives you all of these options, while saving you money, and providing the same great diversity and taste that you'd find at your favorite casual dining spot. This list collections the best copycat Big Boy recipes from around the Web.
What are some of the Big Boy restaurant recipes? Take a look at this list and you'll have that answer.
Potato Pancake
4 large potatoes
1 yellow onion
1 egg, beaten
1 teaspoon salt
2 tablespoons all-purpose flour
ground black pepper to taste
2 cups vegetable oil for frying
– Finely grate potatoes with onion into a large bowl.
– Drain off any excess liquid.
– Mix in egg, salt, and black pepper.
– Add enough flour to make mixture thick, about 2 to 4 tablespoons all together.
– Turn oven to low, about 200 degrees F (95 degrees C).
– Heat 1/4 inch oil in the bottom of a heavy skillet over medium high heat.
– Drop two or three 1/4 cup mounds into hot oil, and flatten to make 1/2 inch thick pancakes.
– Fry, turning once, until golden brown.
-Transfer to paper towel lined plates to drain, and keep warm in low oven until serving time.
– Repeat until all potato mixture is used.
Big Boy Special Sauce
2 C Hellman's Mayonaise
1/2 lemon, juice of
2 T. horseradish
2 T. minced onion
1/4 C. minced dill pickle/gherkins
1 clove garlic, minced
2 hard cooked eggs, yolks mashed, whites chopped
1 dash Tabasco sauce
1/3 C. catsup
– Mix all ingredients together, wisk till smooth.
– Of course you can use Low-fat mayo.
– Chill for 2 hours till all flavors combine.
Chili Cheese Fries
1 (32 ounce) package frozen seasoned french fries
2 tablespoons cornstarch
2 tablespoons water
2 cups low-fat milk
1 tablespoon margarine
8 slices American cheese, cut into pieces
1 (15 ounce) can chili without beans (such as Hormel®)
– Prepare french fries as directed on the package.
– Stir cornstarch and water in a small cup until cornstarch dissolves; set aside.
– Bring milk and margarine to a boil in a saucepan, stirring constantly.
– Reduce the heat and whisk the cornstarch mixture into the milk mixture.
– Bring to a simmer over medium heat.
– Cook and stir until the mixture is thick and smooth.
– Add the cheese to the milk mixture and stir until the cheese has melted and is well combined.
– Prepare chili as directed on the can.
– Pour the cooked chili and the cheese sauce over the top of the cooked french fries.
Garlic Mushroom and Swiss Burger
Burger
1.5 lbs 10% lean ground sirloin
1.5 lbs 15% lean ground beef
Worcestershire
liquid smoke
seasoned Salt
garlic pepper shopping list
1 T chopped garlic
1 packet dry Italian dressing mix
3 T grated parmesan
TOPPING
1 large white or yellow onion, sliced thin
1 tub fresh mushrooms, wiped clean and sliced
1 T butter or margarine
EVOO
Worcestershire
Splash jack Daniels
1/2 c grated swiss cheese
1/2 c grated provolone cheese
garlic herb
MAYO
1/2 C mayo
1 large clove garlic
1/2 T lemon juice
zest from 1/2 lemon (1/4-1/2 t)
1/2 t fresh rosemary
1/2 T fresh oregano
1T fresh basil
BURGERS
– Preheat grill to medium heat
– Mix all ingredients by hand in large mixing bowl
– Shape into 6 large patties (leaving edges uneven helps burger to cook more evenly inside)
– Grill 8-12 minutes per side to desired doneness
-TURNING ONLY ONCE
TOPPING
– Drizzle saute pan with evoo and add 1 T butter, worcestershire, and splash jack daniels
– Saute onions and mushrooms
– Fry slices of thick cut peppered bacon and crumble
– Mix bacon with mushrooms and onions
MAYO
– Place mayo in a small food processor.
– Finely mince garlic, or press, and add to mayo.
– Add lemon zest then juice.
– Chop all herbs and add to mayo mixture.
PUTTING IT TOGETHER
– Spread insides of buns with melted butter and palce on grill for a couple of minutes, until lightly browned
– Top each burger while on the grill with onion/mushroom/bacon mixture, then each type of cheese
– Spread buns with mayo, top with burger and big slice of tomato
Smothered Chicken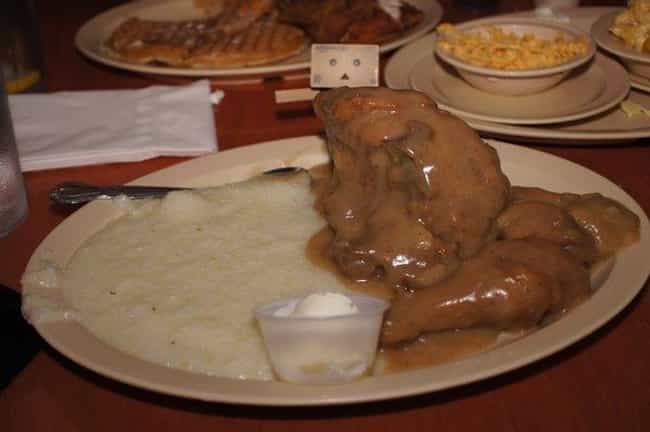 1/2 cup butter
1 whole chicken, cut into pieces
1 teaspoon salt
1/2 teaspoon ground black pepper
3/4 cup all-purpose flour
3 cups chopped yellow onions
1 cup chopped celery
3 cloves garlic, chopped
2 cups chopped carrots
3 cups chicken broth
3 tablespoons all-purpose flour
1/4 teaspoon cayenne pepper
2 teaspoons salt
1/4 teaspoon ground black pepper
– Melt the butter in a large skillet over medium-high heat.
– Season chicken pieces with 1 teaspoon salt and 1/2 teaspoon pepper.
– Dredge in 3/4 cup flour, place in the skillet, and brown on all sides.
– Set chicken aside, and drain skillet, reserving about 1 tablespoon butter.
– Reduce skillet heat to medium-low, and stir in onions, celery, garlic, and carrots.
– Cook 5 minutes, until tender.
– Stir in the flour, and cook 5 minutes more.
– Pour in the chicken broth, season with cayenne pepper, and remaining salt and pepper.
– Bring to a boil, and reduce heat to low.
– Return chicken to the skillet, cover, and continue cooking 30 minutes, until chicken juices run clear and gravy has thickened.
Double-Deck Cheeseburger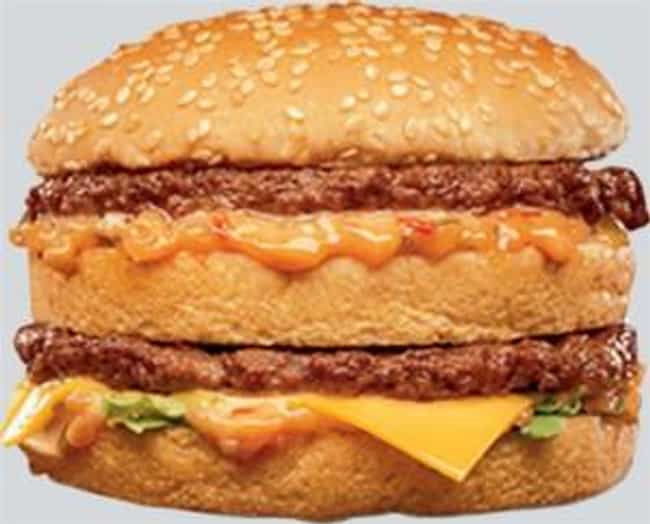 2 eggs, lightly beaten
1/4 cup finely chopped onion
2 teaspoons Worcestershire sauce
1 teaspoon salt
1/4 teaspoon pepper
2 pounds ground beef
1-1/2 cups (6 ounces) shredded cheddar cheese
3 tablespoons mayonnaise
4 teaspoons prepared mustard
4 teaspoons dill pickle relish
6 hamburger buns, split
Shredded lettuce
6 onion slices
6 tomato slices
– In a large bowl, combine the eggs, onion, Worcestershire sauce, salt and pepper.
– Crumble beef over mixture and mix well.
– Shape into 12 thin patties.
– Broil 4 in. from the heat for 7-8 minutes on each side or until no longer pink.
– In a small bowl, combine the cheese, mayonnaise, mustard and relish; mix well.
– Spoon 2 tablespoons on each burger.
– Return to the broiler just until cheese softens.
– Serve on buns with lettuce, onion and tomato.
Caramel Banana Hotcakes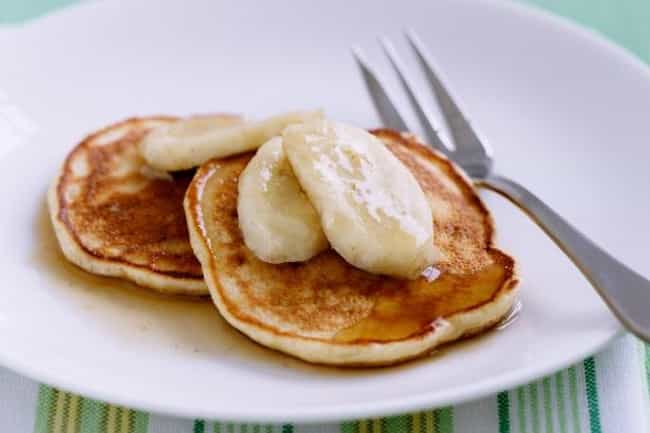 1/2 cup self-raising flour
1 tablespoon brown sugar
1 egg
1/2 cup skim milk
2 small bananas
olive oil cooking spray
– Sift flour into a bowl.
– Add 2 teaspoons brown sugar.
– Whisk egg and milk in a jug.
– Stir into flour mixture until just combined.
– Mash 1 banana and stir into flour mixture.
– Heat a large, non-stick frying pan over medium heat.
– Spray lightly with oil. Using 2 tablespoons batter per hotcake
– Cook hotcakes 2 at a time for 2 to 3 minutes or until bubbles appear on the surface.
-Turn over and cook for 2 minutes or until golden.
– Remove to a plate.
– Cover and keep warm.
– Repeat with remaining batter, spraying pan with oil between batches.
– Add remaining 2 teaspoons brown sugar to frying pan.
– Stir in 1/2 cup warm water.
– Cook, without stirring, for 3 minutes or until thickened slightly.
– Slice remaining banana into 12 pieces and add to frying pan.
– Cook for 1 minute or until just warmed through.
– Remove from heat.
-Turn banana to coat in sauce.
– Place 2 hotcakes on each plate.
-Top with banana and spoon over sauce.
Classic Eggs Benedict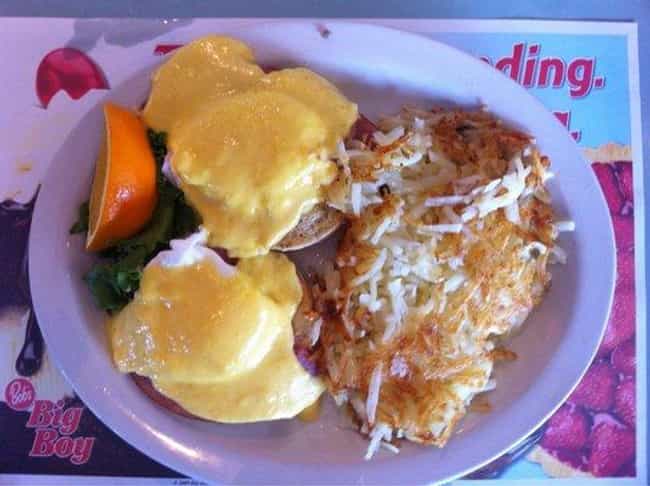 6 English muffins $
12 slices (7 oz. total) Canadian bacon $
12 warm perfect poached eggs $
Foolproof hollandaise
2 1/2 cups lightly packed watercress sprigs, rinsed
– Split muffins in half horizontally and arrange in a single layer, cut sides up, on a 14- by 17-inch baking sheet.
– Lay bacon slices in a single layer in a 10- by 15-inch pan.
– In a 450° oven, bake muffins and bacon until browned, 5 to 7 minutes.
– Place 2 muffin halves, cut sides up, on each plate.
– Lay 1 bacon slice on each muffin half.
– Set 1 egg on each slice of bacon.
– Spoon hollandaise equally over portions.
– Arrange watercress next to muffins.
Sunrise Slim Jim
6 ounces thinly sliced Virginia baked ham
3 ounces thinly sliced natural Swiss cheese
1 (6- or 8-inch) hoagie or sub-style sandwich roll
4 thin tomato slices
shredded lettuce
sandwich sauce or Thousand Island salad dressing
1 tablespoon butter or margarine, softened
– Heat a griddle or large skillet over medium-high heat.
– Butter the inside of the sandwich roll, both top and bottom, and lightly brown on the griddle.
– Remove bread from griddle.
– On the bottom of the sandwich roll arrange (in order) ham, cheese, lettuce, tomato.
– Spread the top of the roll with sandwich sauce and place on top of the assembled sandwich.
– Place sandwich on griddle (bottom down) and weight with a heavy metal pan lid.
– Grill sandwich until the cheese melts.
– Cut in half, garnish with a dill pickle spear and serve with potato chips or hand-cut french fries.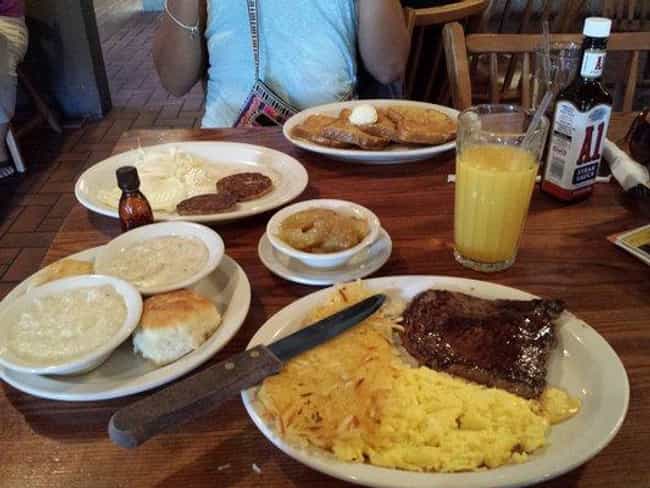 4 eggs
1 teaspoon sugar, optional
dash salt
1 cup milk
10 to 12 slices white bread
butter
maple syrup or other syrup
– Break eggs into a wide, shallow bowl or pie plate.
– Beat lightly with a fork. Stir in sugar, salt, and milk.
– Over medium-low heat, heat griddle or skillet coated with a thin layer of butter or margarine.
– Place the bread slices, one at a time, into the bowl or plate, letting slices soak up egg mixture for a few seconds.
– Turn to coat the other side.
– Soak/coat only as many slices as you will be cooking at one time.
– Transfer bread slices to griddle or skillet, heating slowly until bottom is golden brown.
-Turn and brown the other side.
Blueberry Pancake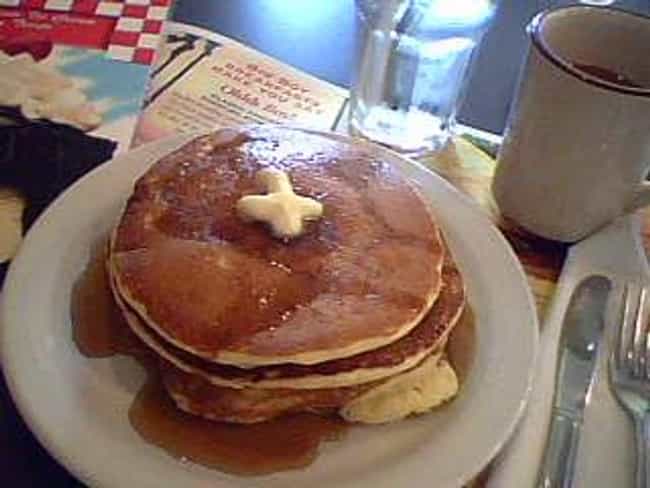 2 eggs, separated
1 1/2 cups sifted all-purpose flour
2 1/4 teaspoons baking powder
3 tablespoons sugar
3/4 teasooon salt
1 cup milk
3 tablespoons butter, melted
1 cup blueberries, fresh or frozen, thawed
– In a small bowl, beat egg whites until stiff; set aside.
– In a separate bowl, sift together flour, baking powder, sugar and salt.
– Beat egg yolks in a medium mixing bowl.
– Add milk and melted butter.
– Stir egg mixture into dry ingredients
– Mix until batter is smooth and stir in blueberries.
– Fold in beaten egg whites.
– Bake on hot greased griddle.
Denver Omelette