The Coolest, Most Expensive Things Money Can Buy
If money was no object, what would you buy? A private jet? A mansion? Diamonds and jewels? A lifetime supply of Bagel Bites?
There are a ton of exorbitantly expensive items out there for people to buy. And if you're in the market to live it up with a lavish lifestyle, we've got quite the list for you! Here you'll find the most expensive luxuries people can buy today. There's no tightening the purse strings on these items, because the makers of these products are charging millions. From diamond-encrusted laptops to a suit made out of precious gems, we've put together a list of some of the priciest things that money can buy. 
If you can afford to splurge on any of these luxuries, hats off to you! Let us know in the comment section what items you would buy if you were wealthier than Oprah and Bill Gates combined. 
A Waterslide in Your Closet
Are you often bored by the long walk to the pool after changing into your bathing suit? For $2 million, you could have a waterslide installed in your closet that leads to an underground swimming pool beneath your house!
This two-story spa features a flatscreen TV and it's own private bar. You're paying $26k for this stunning oasis, complete with 125 jets, 9 water pumps, and a built-in sauna. The bar only seats 6 of your closest, richest, friends, so choose wisely.
MWE Emperor 200 WorkStation
This website boasts that the MWE Emperor 200 WorkStation is "the ideal way to have your adrenaline-soaked kid spend some 'quality' hours busy with technology, instead of having them jump around on your expensive furniture." Translation: your undiagnosed ADHD child will finally leave you in peace if you buy this $45,000 gaming station for him.
It comes with ergonomic leather seats, three 24″ touch-screen LED monitors, motorized screen and chair adjustments, THX surround sound systems, and LED lighting. Bonus: if your unruly, hyperactive child is also a habitual chainsmoker, there's a built-in air-filter to accommodate nicotine and tobacco lovers alike.
A Bulletproof, Air-Conditioned, Diamond-Encrusted Suit
Try to imagine a scenario in which you would need this outfit. Close your eyes. Take a mental journey. You're at a fancy dinner party close to the equator. Your arch nemesis is there, but you aren't sure if she's the beautiful brunette in a Vera Wang ballgown, or the Armani-clad man sporting a lavish mustache. Suddenly, the sound of a firecracker is unleashed in the room; bullets have begun to fly. You duck, but one hits you squarely in the chest. You rise. Your enemies are perspiring; the air is thick with humidity, but you don't break a sweat. Smiling, your fingertips graze one of the 880 black diamonds lining the suit as you reach for your pistol. You escape into the night, still
cool
, still fly, and free from any bullet wounds. For $3.2 million, you can make all your dreams come true.
You heard right! For just $29.99, you can own your very own acre of the moon. Better buy now before real estate skyrockets. Transportation not included.
We all know that riding a Segway is the coolest way to cruise around the parking lot of your local strip mall, but now you can do so in style! This Ferrari-brand hot rod is a steal at $12,000. What are you getting for the price? Leather handlebars, a fancy paint job, and a prestigious logo.
The World's Largest Gummy Bear
Weighing in at 27 pounds, and containing over 32,000 calories, the World's Largest Gummy Bear could be yours for $149.99. It comes in all of the classic gummy flavors: Cherry, Orange, Lemon, Lime, Sour Apple, Blue Raspberry, Grape, Pineapple, Fruity Bubble Gum, Cola, and Cherry Cola.
A Victorinox 1TB Swiss Army Knife with USB Drive
A regular Swiss Army Knife should be a thing of your Boy Scout past. For the always-prepared lady or gentleman who knows the importance of being able to cut through a sailer's knot, clip your toenails, AND upload files to the nearest laptop computer, try the Victorinox 1TB model. For a cool $3,000, you'll be ready for any high-or-low-tech camping adventure. 
Source: Digital Trends
The Numi Toilet by Kohler
Pooping is SO boring. Especially when you accidentally leave your iPad in the living room and your GameBoy runs out of batteries. The Numi toilet solves those problems for you by delivering all of your bathroom needs at the swipe of a touch-screen remote.
It has a pressure-adjusting function for the bidet that would make even Beyoncé and Jay Z jealous, a built-in speaker system with BLUETOOTH technology, and a foot warmer to keep your toes warm. As an added bonus, the Numi also features a light-up panel that coordinates different colors with the days of the week so that you know EXACTLY what day it is as soon as you nestle your cheeks on it's heated seat. For only $6,400, you can go to the bathroom in style!
Plugging your phone into an ordinary speaker system is for plebeians. You need to dock your iPhone, and you need to dock it in a sparkling iPhone dock fit for a king, or, more accurately, for Rhianna. Solution? Buy a crystal iPhone dock for only $500. The party guests you invite to your Bel Air mansion will be impressed beyond belief.
Now that practically every peasant with access to an Apple store can afford an iPhone, the bourgeoise has been practically forced to find a way to distinguish themselves from the huddled masses. Enter designer Stuart Hughes, who worked tirelessly to bring you a 22 carat gold iPhone. The case is then carefully sprinkled with 190 diamonds, and valued at $3.2 million.
A S-Works McLaren Venge Bicycle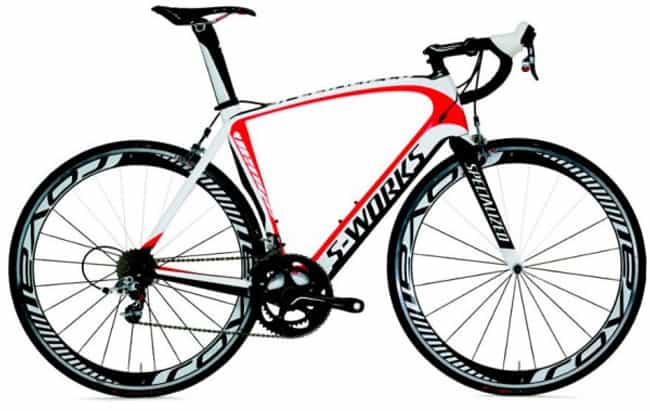 Why does this performance bike cost $13k? The bike's friction has been reduced, and is more aerodynamic than any other model of its kind. It is lightweight, carbon-footprint conscious, and wind-resistant. You'll be doing laps around the other boys on the paper route in no time.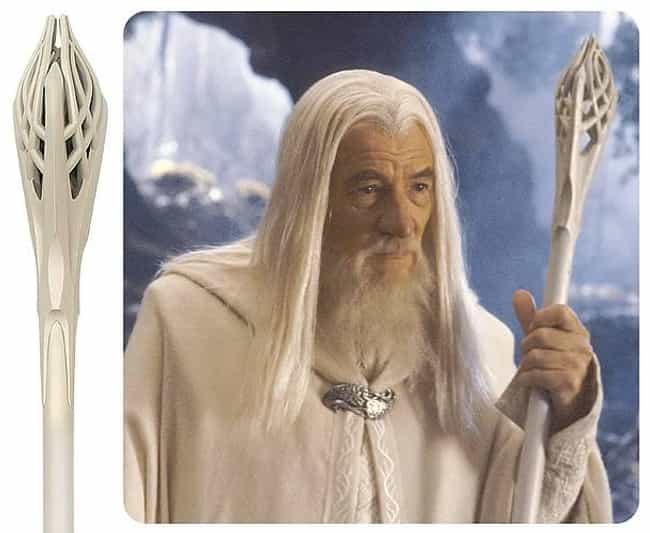 Whether you're a nerd or a not, you've got to admit; this is pretty cool. For $390,000, Gandalf's staff from the
Lord of the Rings
 movies could be yours!
The Dr. Iron Garment Presser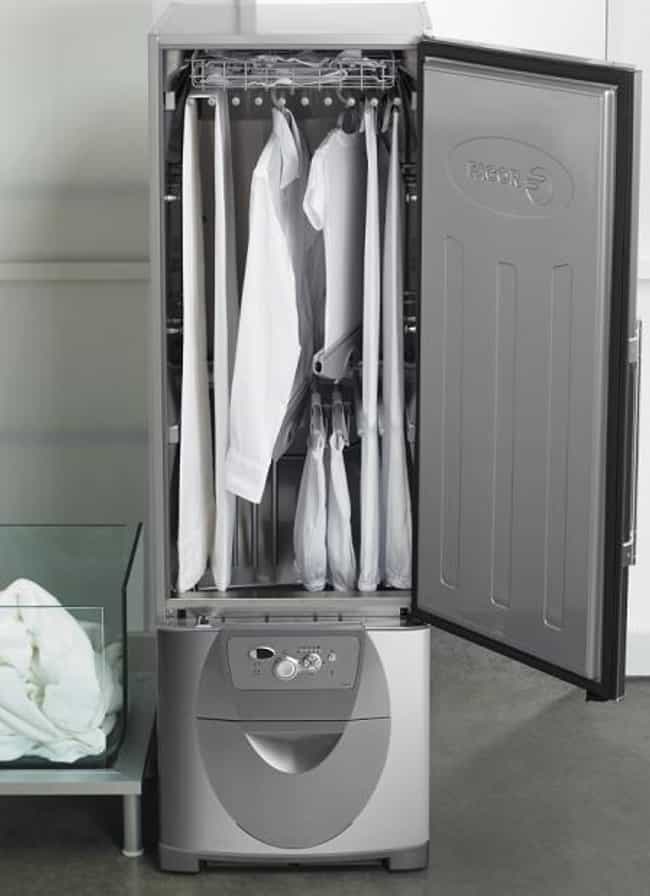 You could have your ballgown dry-cleaned at the local cleaner's, but why risk mingling your fancy duds with the common man's? Presenting the Dr. Iron Garment Presser, a revolutionary free-standing hanging rack that can dry and press your clothes.
The A. Lange & Söhne Grand Complication Watch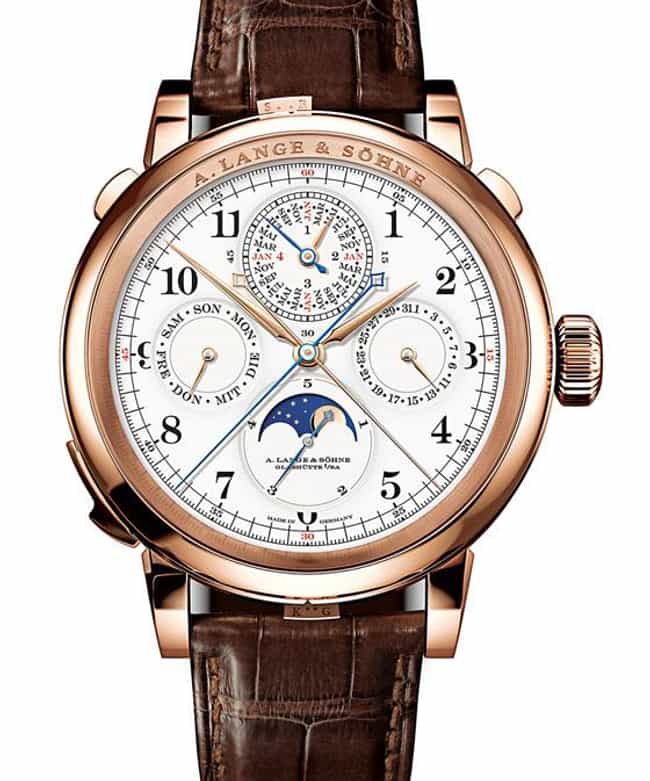 This bad boy is 50mm in diameter, making it almost too large to wear. The rose gold plated watch has a perpetual calendar that can tell what day of the week it is, what date in the month it is, and what phase the moon is in. It keeps time down to the second impeccably, and is inarguably one of the most complex watches ever developed.
The Renault F1 Team Collection Chess Set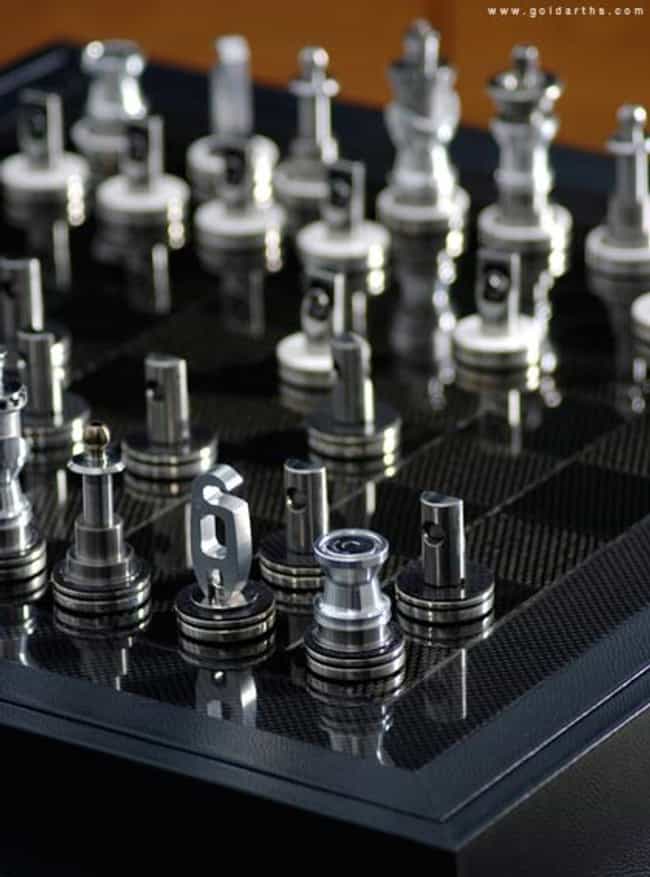 Have you ever wanted to play with a thing that was made up of parts from another thing? Now you can! The Renault F1 Team Collection Chess Set is made up of parts from – you guessed it – a Formula 1 Renault car. The suspensions, hubcaps, and wings are all artfully crafted into beautiful chess pieces. These materials are made of some super expensive stuff, like titanium, stainless steel, and aluminum with aircraft specification. Valued at $42,000, you'll have the time of your life playing the expensive version of a game that most people play for free at Union Square in New York City.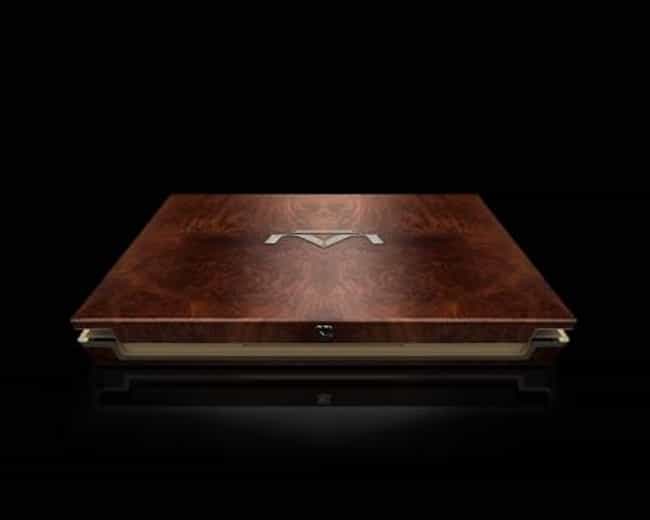 When a MacBook Pro isn't quite up to your standards, the obvious choice is to get your hands on the $1 million Luvaglio Laptop. This PC computer is encrusted with diamonds and comes in a hand-made wooden box. Its other features are pretty standard; a Blu-Ray player, built in USB memory stick, and an MP3 player.
The Motorola V220 Special Edition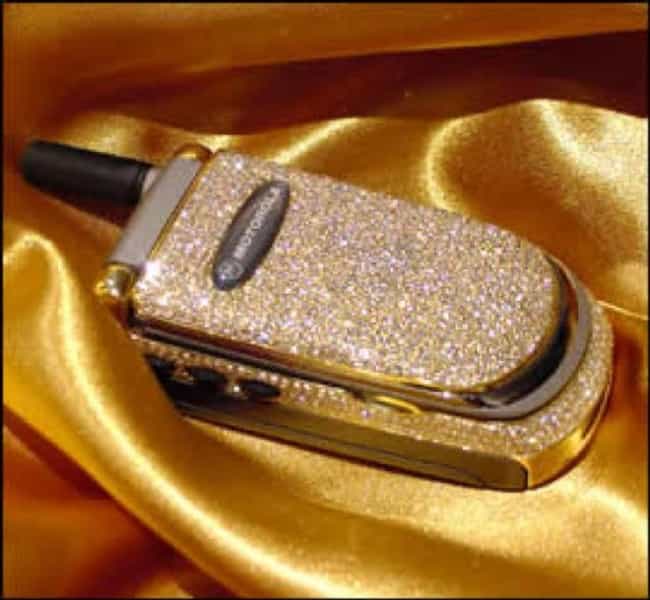 Are you looking for a vintage flip phone that has all the frustrations of pre-modern technology, but also the glam of a product owned by a professional football player, Oscar-winning actress, or high-powered drug lord? Look no further! The Motorola V220 Special Edition cell phone is encrusted with over 1,200 diamonds, and the keypad is inlaid with 18 carat gold. For only $51,800, this bling-covered relic could be yours!
A Vertu Signature Cobra Cell Phone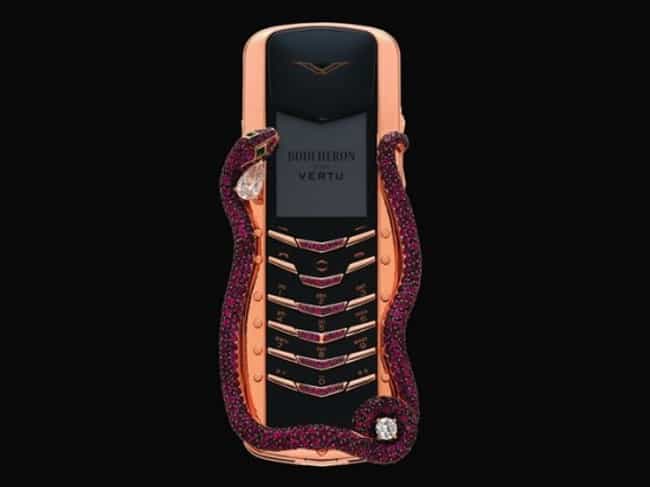 This isn't just any ordinary handset cellular device.  
The surface of this 2006 brick-style phone was bejeweled with 439 rubies, two emeralds, and over 2,000 pearls and cut diamonds. 
This limited 
edition was priced at a hefty $310,000. The millionaire on a budget, however, would be happy to find that a cheaper version was made for a mere $115k. 
The Dragons Chair, Designed by Yves Saint-Laurent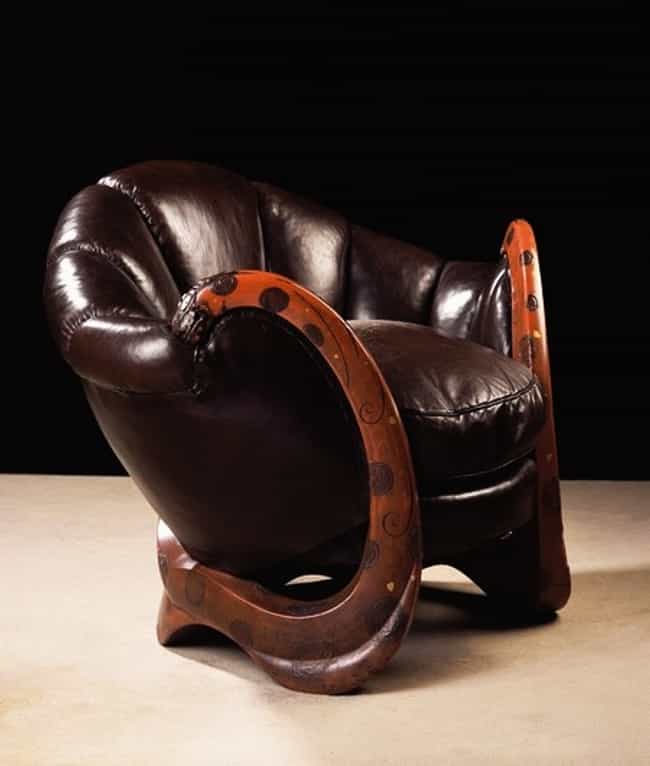 Feeling like a dragon-slayer is now attainable with this leather 'Dragons' armchair, designed by Yves Saint-Laurent and sold for $28 million. The lacquered brown frame is made of wood, and designed to look like two dragons intertwining.
This Ginza Tanaka Handbag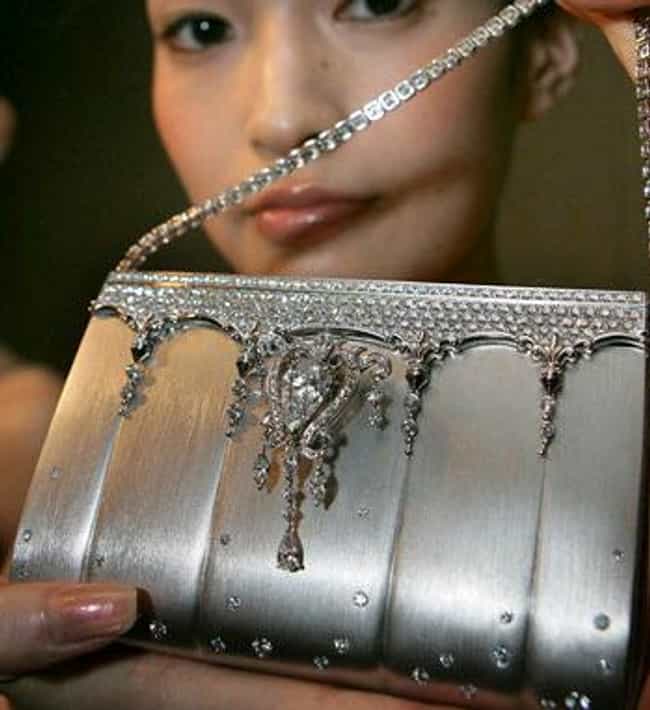 This gorgeous purse is absolutely dripping with diamonds, dah-ling. Tanaka incorporated 2,182 diamonds, totaling 208 carats on the pure-platinum body casing. The retail value is $1.63 million, but that should be no problem for you eccentric billionaires.
The Ultimate Luxury Candle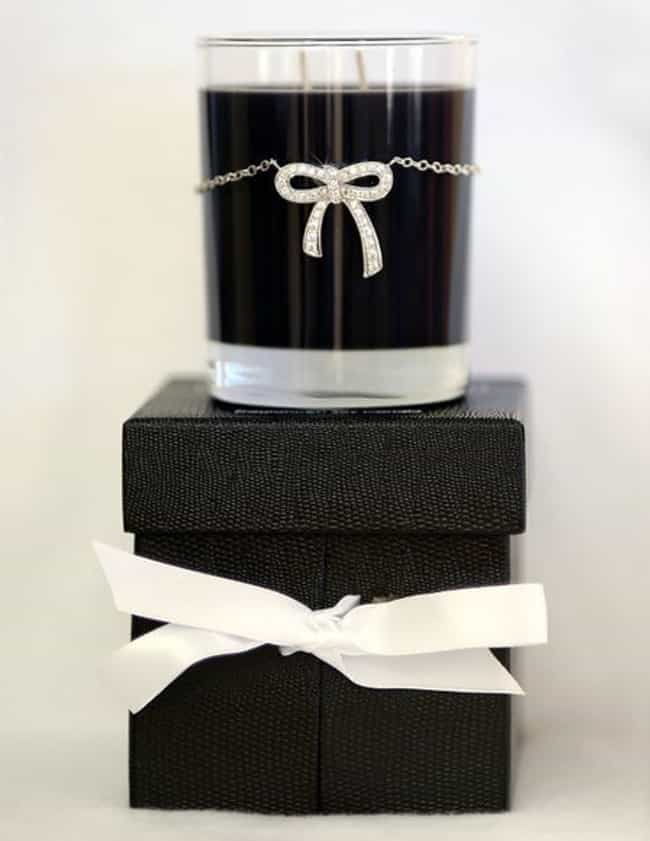 If there's one thing we know for sure, it's that bitches love candles. If you're rich, however, any old run-of-the-mill wax cylinder from Yankee Candle isn't going to cut it. For the wealthy guy who wants to get his sweetie something simple, yet elegant, try this $5,000 candle! It smells delicious, and has a diamond necklace wrapped around the outside.You can be unoriginal in your gift giving AND break the bank! It's a win/win.
The Crystal Ergoripado Vacuum Cleaner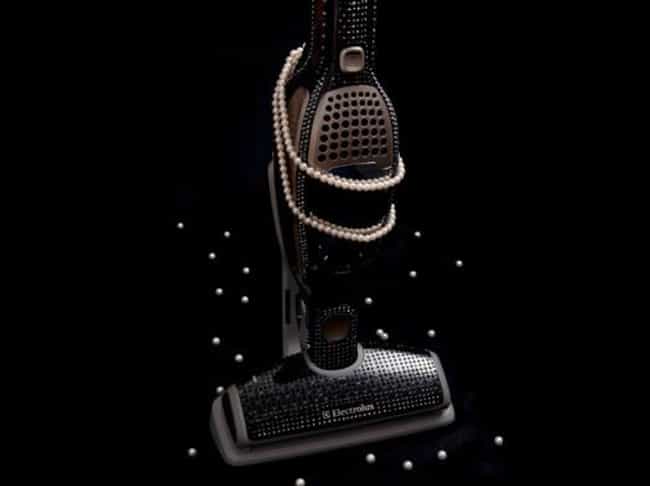 For the homemaker who has it all, why not show them how much you care by presenting them with this $30k Swarovski crystal-embellished vacuum cleaner? Hopefully dust bunnies won't get snagged in all that bling.
John Lennon & Yoko Ono's Double Fantasy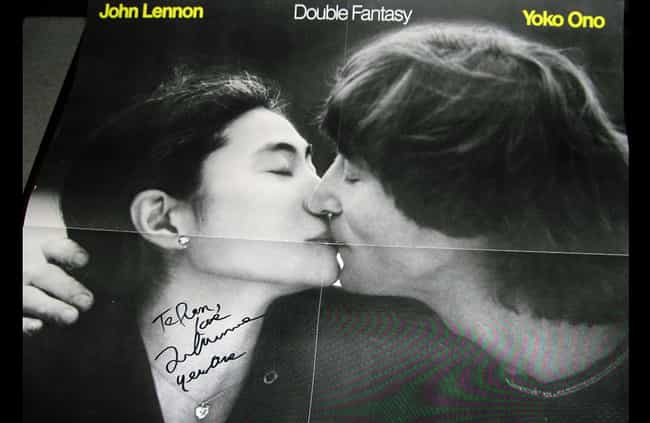 Released in 1980, this vinyl copy of John & Yoko's Double Fantasy is worth $525,000. It was their last released album together before Lennon's death. Mark David Chapman, Lennon's assassin, approached Lennon outside of his apartment and asked him to sign it. Five hours later, Chapman returned to shoot and kill the former Beatle's bandmate.