If you are an Angelina Jolie fan, you already know all about her numerous tattoos, her adopted and biological children, and the controversy surrounding the beginning of her relationship Brad Pitt. But even if you think you're an Angie expert, you may not know this cool Angelina Jolie trivia! 
The Angelina Jolie life story has had many twists and turns, and she continues to add new and interesting chapters every year. Born to Jon Voight and Marcheline Bertrand, Jolie grew up demonstrating early signs of acting talent and a flair for finding her way off of the beaten path. Since then, she hasn't hesitated to follow her heart, which sometimes put her smack dab in the middle of the controversial spotlight. 
So who is the real Angelina Jolie? Facts that a basic Angelina Jolie biography might leave out, we've gathered here. Did you know about her history of love for Dr. Spock, her butterfly knife skills, or her early desire to be a funeral director? You may know she's had a rocky relationship with her dad, but did you know that Brad Pitt helped her patch things up?   
Here's your chance to weigh in on the Angelina Jolie wiki. Add your own Angelina Jolie facts vote up the most interesting stories, anecdotes, and quotes! 
Her Wedding to Billy Bob Thornton Cost $189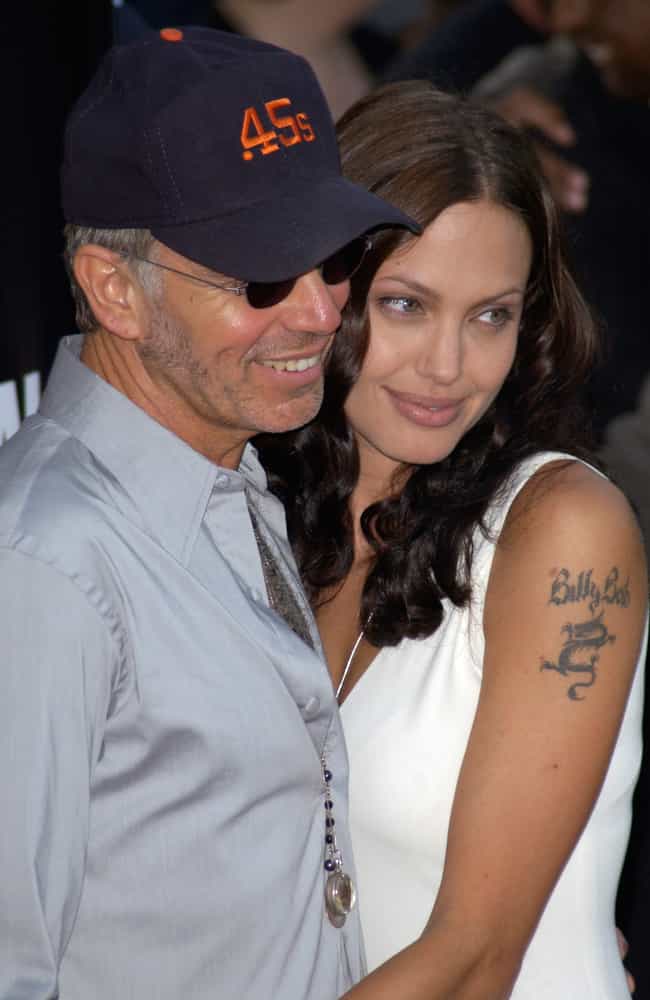 Jolie married Thornton in jeans at a Las Vegas wedding chapel in 2000. The fees cost the couple $189. The couple separated in 2002, and divorced in 2003. The reverend at the Little Chapel of the West said at the time of their wedding:
"Personally I don't think they had really planned it out for long, I think it was a spur of the moment deal but I'm not sure, I didn't ask 'oh what made you decide to get married?' It was my job to marry them."
Source: Daily Mail
She Wanted to Become a Funeral Director After Her Grandfather's Botched Funeral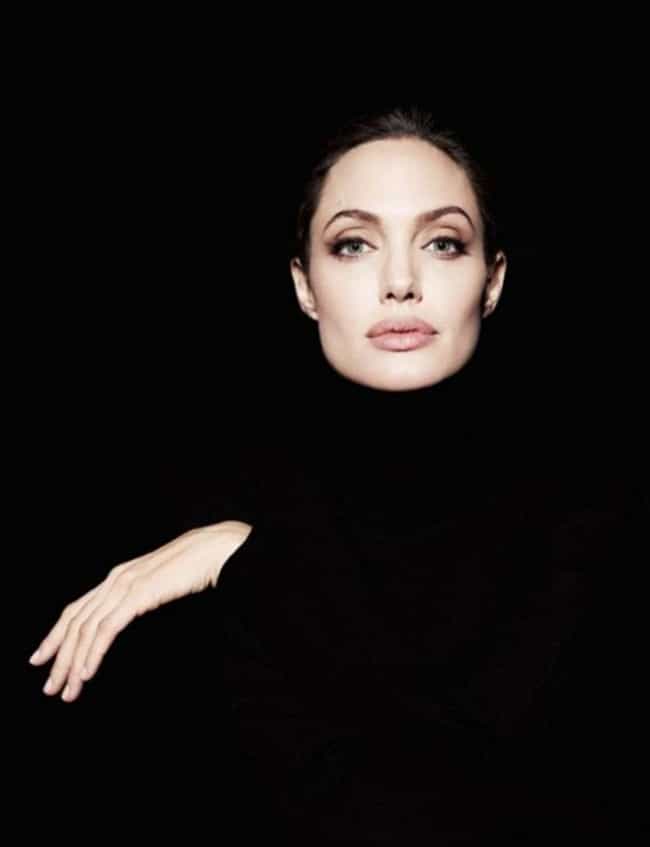 In 2011, Jolie told 60 Minutes that she was inspired to become a funeral director due to a deeply scarring family death and how the funeral was handled. "I thought I could do better, so I got a home course when I was about 14. It sounds like this very strange, eccentric, dark thing to do but in fact I lost my grandfather and was very upset with his funeral. If this whole acting thing didn't work out that was going to be my path." 
Source: US Magazine
Her Uncle, James Wesley Voight, Wrote the Song "Wild Thing"
Jolie's uncle and Jon's Voight's brother, James Wesley Voight (whose stage name is Chip Taylor), is a respected songwriter. He also wrote "Angel of the Morning." 
She Almost Dated Rosie O'Donnell (Maybe)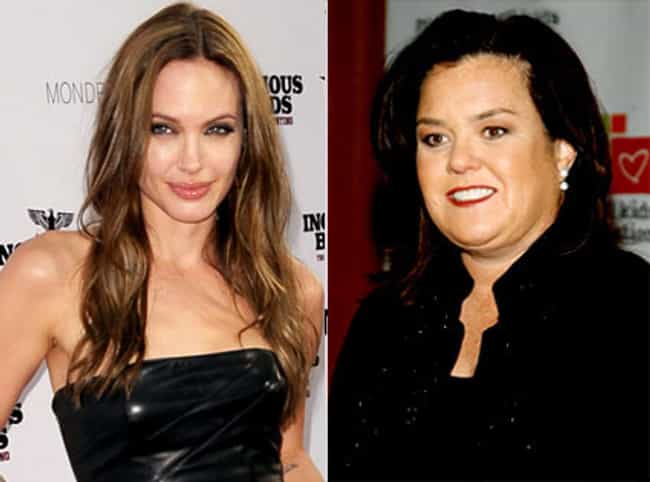 Back in 2009, O'Donnell told Howard Stern that she thought there was something forming between her and Jolie. "She gave me her phone number," Rosie said. "We talked on the phone two or three times, but that was that. There was a tentative plan to have dinner that never came through."  
Jolie had just married Billy Bob Thornton and it was no secret that she identified as bisexual, but there's no proof that Jolie felt the same way about O'Donnell. Regardless, O'Donnell says nothing got off the ground because she (O'Donnell) was intimidated. "I was a little afraid of her," she said. "She's scary in a sexual kind of way. I have dreams about her a lot still." So does the rest of America, Rosie.
Source: EOnline
She Has Serious Butterfly Knife Skills
She came to her action roles quite honestly, having been an avid weapons collector since youth. During the promotion of 

Gia

, she demonstrated her knife skills on Conan's show. Impressive. 
She Was Featured in Several '90s Music Videos by Top Groups
Look for a 16-year-old Jolie in several music videos from 1990s. Lemonhead's "It's About Time," Lenny Kravitz's "Stand by My Woman," Rolling Stone's "Anybody Seen My Baby," and Meat Loaf's "Rock and Roll Dreams Come Through."
Jolie was a preferred featured player in many music videos.
Source: Moviefone
She's Had Her Ovaries and Breasts Removed
Angelina Jolie's history will include something remarkable. The actress, director, and mother had her ovaries removed in 2015 in a preventative move to reduce her risk of ovarian cancer. Doctors discovered some indicators of pre-cancer during a scan. 
Jolie had a double masectomy in 2013 after doctors discovered the BRCA1 gene during a screening. The BRCA1 increases the risk of ovarian and breast cancer but only by about o.25%. Jolie said that a mutation in the gene made her risk of breast cancer 87% and ovarian cancer 50%. "I did not do this solely because I carry the BRCA1 gene mutation," Jolie clarified in a New York Times essay. Jolie lost her mother, grandmother, and aunt to cancer.
Pitt tells interviewers that he thinks his wife is sexy after her breast removal.
Sources: Business Insider, New York Times Essay
She Sold Pictures of Her Twins for $14 Million, Then Donated the Money to Charity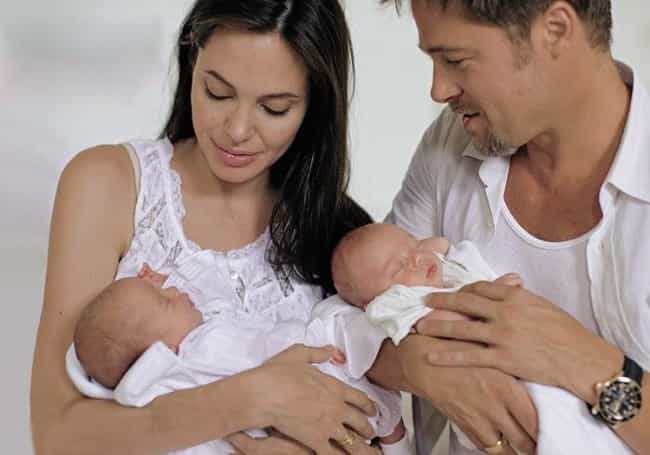 If you're going to have pictures of your kids taken by paparazzi, you might as well make some money off of them and give it the money to charity. People and Hello! magazines paid the super star couple $14 million with the funds going to the Jolie-Pitt Foundation. 
Source: Celebrity Fun Facts
She Was Called a "Minimally Talented Spoiled Brat" in Leaked Sony Emails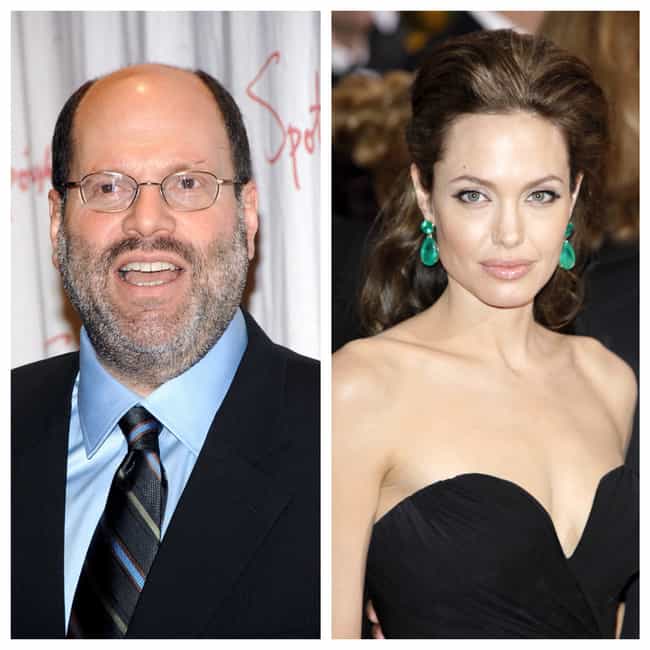 In an email exchange between Sony exec Amy Pascal and producer Scott Rudin, Jolie got caught in the crossfire when Rudin called the actor and producer a "minimally talented spoiled brat." Jolie had wanted David Fincher to direct her picture Cleopatra instead of Jobs. Pascal asked Rudin to speak to Jolie about the situation. Then Rudin slammed the Oscar winner, saying he didn't want to "waste [his] time on this."  
Rudin was very opposed to Jolie's remake of Cleopatra, saying that it could seriously affect his and Pascal's careers. "I'm not remotely interested in presiding over a $180m ego bath that we both know will be the career-defining debacle for us both," reads one email from Rudin. "I'm not destroying my career over a minimally talented spoiled brat who thought nothing of shoving this off her plate for eighteen months so she could go direct a movie. I have no desire to be making a movie with her, or anybody, that she runs and that we don't. She's a camp event and a celebrity and that's all and the last thing anybody needs is to make a giant bomb with her that any fool could see coming. We will end up being the laughing stock of our industry and we will deserve it, which is so clearly where this is headed that I cannot believe we are still wasting our time with it."
Source: Variety
She May Adopt a Syrian Refugee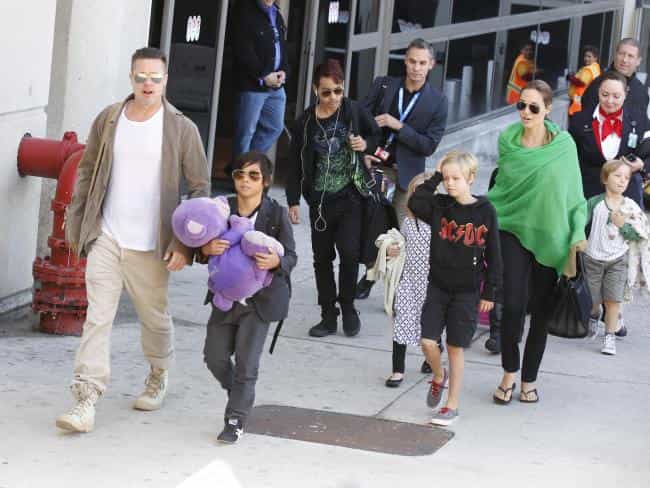 The couple are rumored to be adding a seventh child to their large family, with Jolie feeling that she had to do something to aid in the Syrian refugee crisis. The special envoy for the UN High Commissioner for Refugees, Jolie has been deeply affected by the many orphaned children in the region, where over tens of thousands of children have been displaced and/or lost their parents.  
Jolie had hoped to adopt three brothers but Pitt objected because he didn't want to impact their existing children. The couple are reported to be adopting a young Syrian girl.
Source: Daily Mail
She Was Called a Demon by Japanese Nationalists After the Release of Unbroken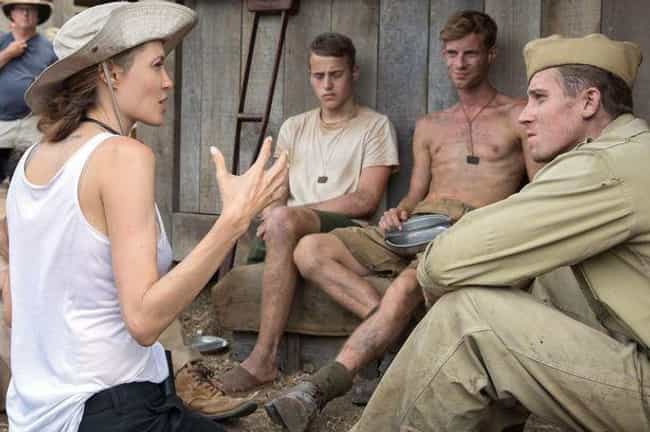 Japanese nationalists were not happy with Angelina Jolie and her producers due the film Unbroken. In it, Japanese soldiers are shown brutalizing and cannibalizing American prisoners of war. Japan says that didn't happen and that Unbroken was a work of "pure fabrication."
The film recounts American POW Louis Zamperini's trials and tribulations at the hands of the Japanese. The Japanese threatened to ban Jolie from the country altogether.
Source: Daily Mail
She Almost Lost Her Lead Actor in the Ocean While Filming Unbroken
While filming scenes for Unbroken off the coast of Queensland, Jolie watched her lead actor Jack O'Connell, playing former Olympic runner and Japanese prisoner of war during WWII Louis Zamperini, bob away from her in the ocean to where she couldn't see him. "If you saw that first shot and my reaction to it, you'd be absolutely sure that this was going to be one of the great disasters of filmmaking history," she told Entertainment Weekly.  
"The only thing you could do was laugh at how insane this was all going to be. And then you just had to take a deep breath and figure out what to do next."
Source: Daily Mail
She Won Jennifer Aniston Over with Her Work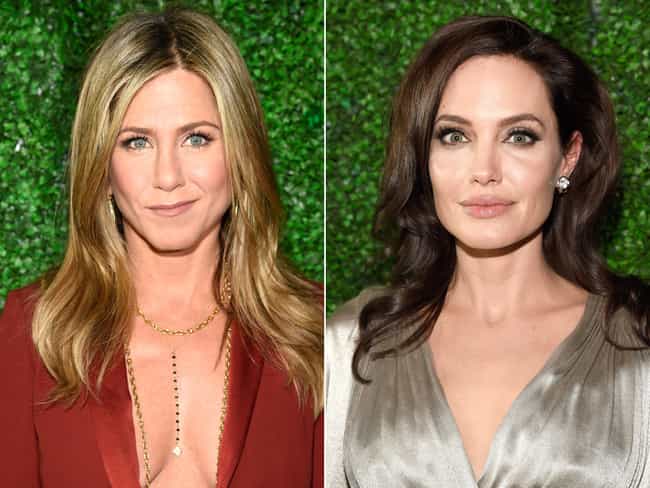 Jennifer Aniston is over it and everyone else should be too. She's moved on to Justin Theroux and is fine. She's fine. She was also gracious enough to say that Angie "did a gorgeous job!" directing Unbroken. About the always-nagging gossip Aniston said, "I think that's slowly coming to an end. I really do."  
She went on to compliment Jolie's directing work. "[Unbroken] is so beautiful and wonderful and [Jolie] did such a gorgeous job and I think it's time people stop with that petty b****** and start celebrating great work and stop with the petty kind of silliness," Aniston said.
Source: Daily Mail 
Her Pay Was Cut in Half from 2013 to 2015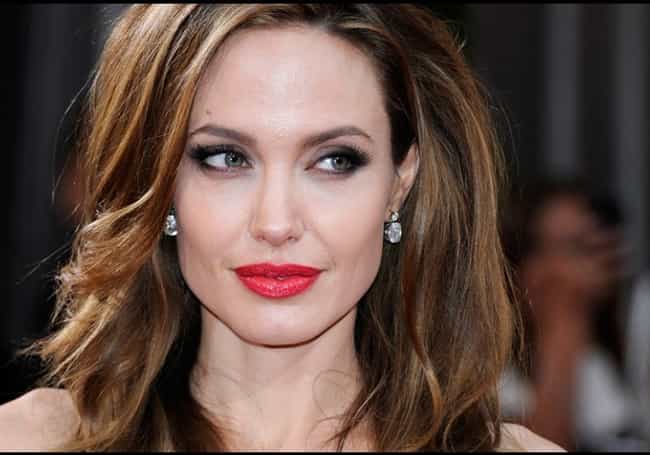 In 2013, Angelina Jolie was making $30 million per picture as an actress. (Jennifer Aniston made $28 million in 2013. Just saying.) But in 2015, Jolie made $15 million per picture. (Aniston was worth $16.5 million per film.) 
Meanwhile, Robert Downey Jr. made $80 million per movie in 2015.
Source: Forbes
She's Been a Great Actor Since She Was Young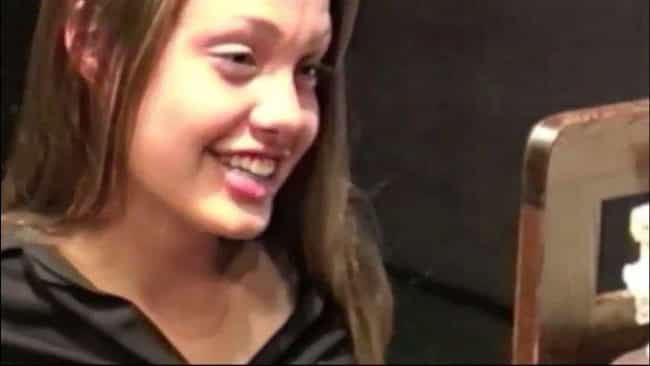 During a rather emotional scene from acting class in 2000, 25-year-old Jolie wrangles the heavy material with authenticity. 
Source: Hollywood Life