May-December romances on film are nothing new. They've been going on since the beginning of cinema. What we've discovered is that age difference only matters to audiences if the coupling is awkward and creepy. If it doesn't affect the romantic chemistry, though, moviegoers are unlikely to even notice a substantial age gap.
It's a fact that male film stars are often cast as romantic leads well into 50s and 60s, while female actresses rarely get main roles (especially not romantic leads) after the age of 40. So while Johnny Depp, Tom Cruise, and Liam Neeson continue to lead films, we're seeing them guys paired with actresses like Amber Heard, Emily Blunt, and January Jones. Those same men used to star in films with Winona Ryder, Renée Zellweger, and Jessica Lange. But those actresses are considered too old for those guys despite being roughly the same age.
The biggest age gaps of some of the on screen couples on this list may prove shocking. All of the pairings below have at least a 20 year age gap, and as the list progresses, the age gap gets bigger. One thing to note is that the list features films where age is not necessarily part of the plot, in fact, in most of these movies, the tremendous age difference is never even brought up.
James Stewart And Grace Kelly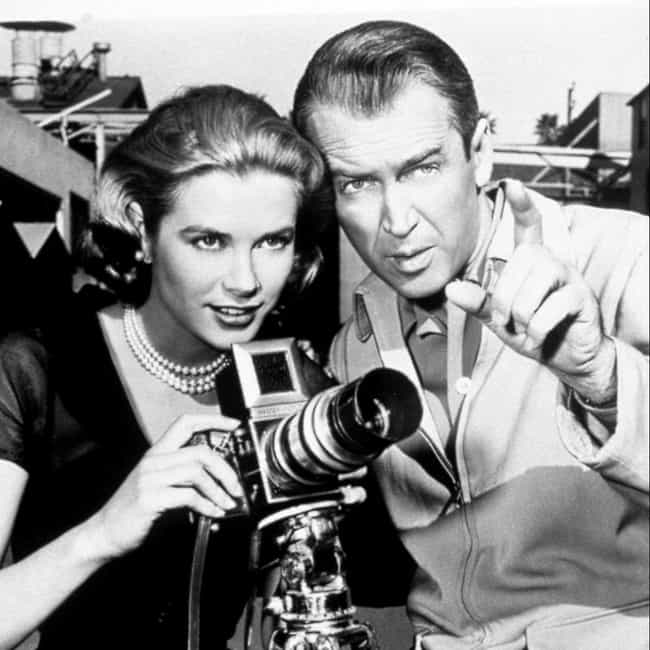 Rear Window (1954)
Ages at time of filming: James Stewart: 46, Grace Kelly: 25
Age Difference: 21 years
Hitchcock selects Grace Kelly to be his token blonde beauty and pairs her with his go-to actor James Stewart. Rear Window is not about romance, it's a film about voyeurism and witnessing a crime. It's a good thing because Stewart and Kelly share little sexual chemistry in the movie. That could be by design: Jeff (Stewart) does not want to get married and Lisa (Kelly) does. Plus, Stewart just looks like Kelly's father in the film. She's young and stunningly gorgeous, and he's aging, looking less like Mr. Smith with every movie.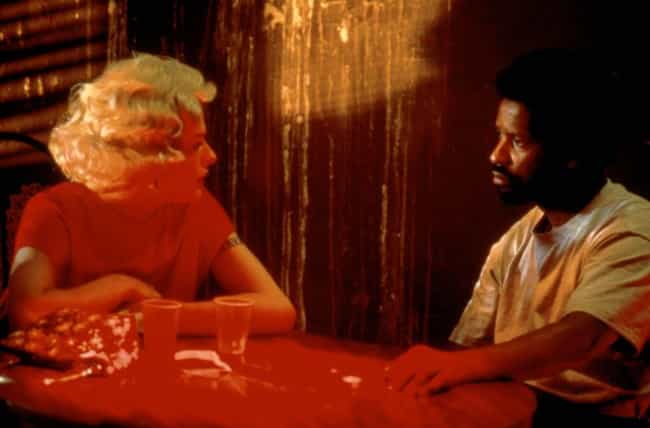 He Got Game (1998)
Ages at time of filming: Denzel Washington: 43, Milla Jovovich: 22
Age Difference: 21 years
Here's a movie where the romance is secondary. Jake (Washington) must convince his son Jesus (Ray Allen), a high school basketball star, to go to college instead of turning pro. If he can do that, he'll get out of jail early. Jovovich plays Dakota, a prostitute who Jake helps while he's temporarily out of prison. Even though Washington is in his 40s in this film, he looks at least ten years younger, taking the edge off their age difference.
Warren Beatty And Annette Bening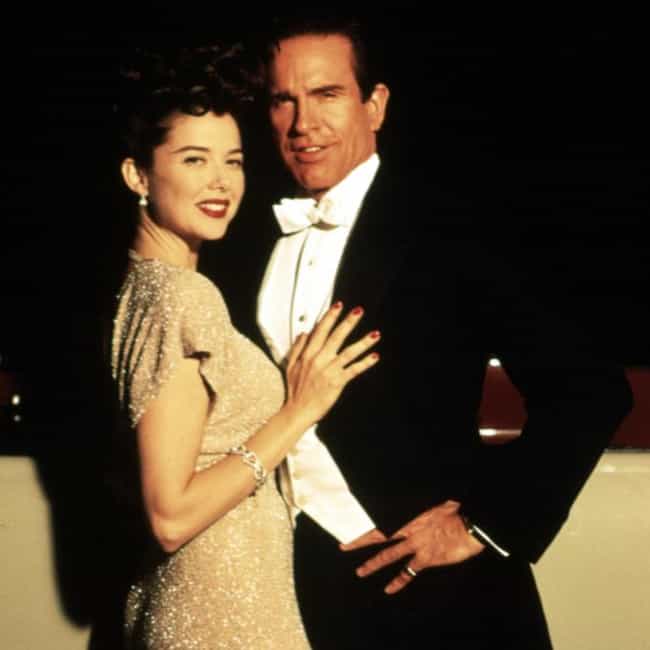 Bugsy (1991)
Ages at time of filming: Warren Beatty: 54, Annette Bening: 33
Age Difference: 21 years
Warren Beatty goes gangster in 1991's biopic Bugsy. Prior to the film, Beatty was known as a Hollywood lothario, then he met his costar Bening, who played Bugsy's wife Virginia. The couple would go on to marry and are still together today, so obviously they had some chemistry. In real life, there was only a ten year age gap between Bugsy and Virginia.
Richard Gere And Winona Ryder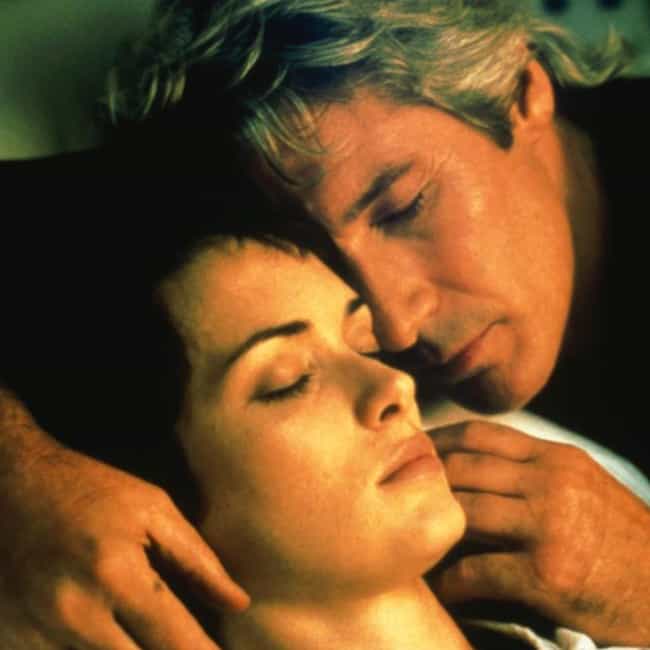 Autumn in New York (2000)
Ages at time of filming: Richard Gere: 50, Winona Ryder: 28
Age Difference: 22 years
A commitment-phobic playboy (Gere) finally meets his match in Charlotte (Ryder). The kicker is that she has a terminal illness. The movie received bad word of mouth before it hit theaters and wasn't even available for critics to screen because the producers feared brutal reviews. There are two big problems with the film. The first is that we've seen this sappy "dying girl" story before in better films like Love Story. The second is that the romantic chemistry between Ryder and Gere is virtually non-existent.
Denzel Washington And Kelly Reilly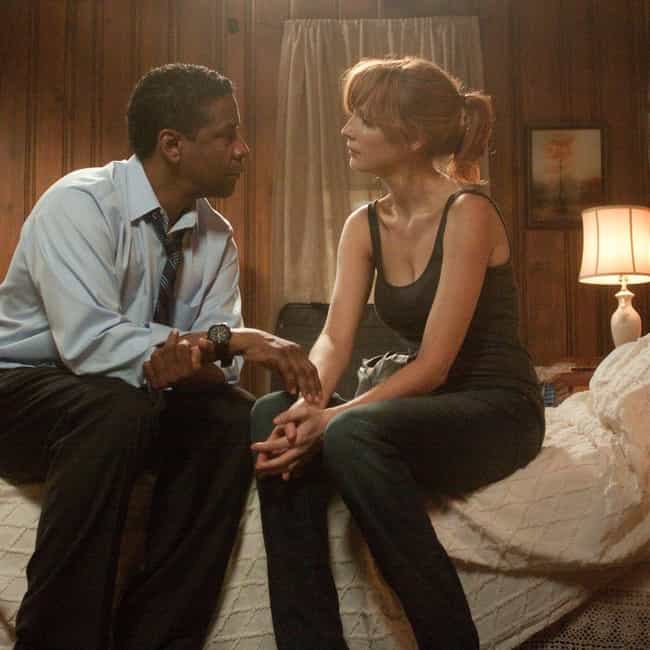 Flight (2012)
Ages at time of filming: Denzel Washington: 57, Kelly Reilly: 35
Age Difference: 22 years
Whip Whitaker (Washington) is an airplane pilot who saves the day. The only problem with his heroics is that he may or may not have been too drunk to fly in the first place. Whip meets up with a heroin addict (Reilly) trying for a second chance at life. Washington really doesn't look like he's almost 60 years old. We don't notice the age difference as much because Reilly is 35 in the film, not 25, and that decade makes a difference.
Steve Carell And Keira Knightley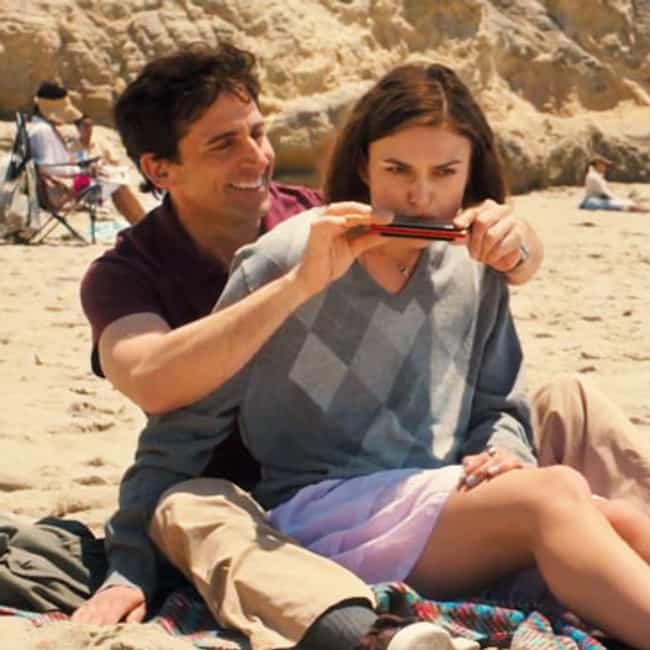 Seeking a Friend for the End of the World  (2012)
Ages at time of filming: Steve Carell: 49, Keira Knightley: 27
Age Difference: 22 years
Who doesn't love Steve Carell and Keira Knightley? Dodge (Carell) and Penny (Knightley) must make amends before Earth is destroyed by a meteor. On the surface, it seems like a mismatch, and not just because of their age gap. Knightley is a classic beauty and Carell is an average everyday sort of guy. Yet, it is because of all their differences that the film actually works. Seeking a Friend for the End of the World is aromantic comedy that doesn't play by the rules, and these two are a winning couple regardless of the age difference.
Johnny Depp And Amber Heard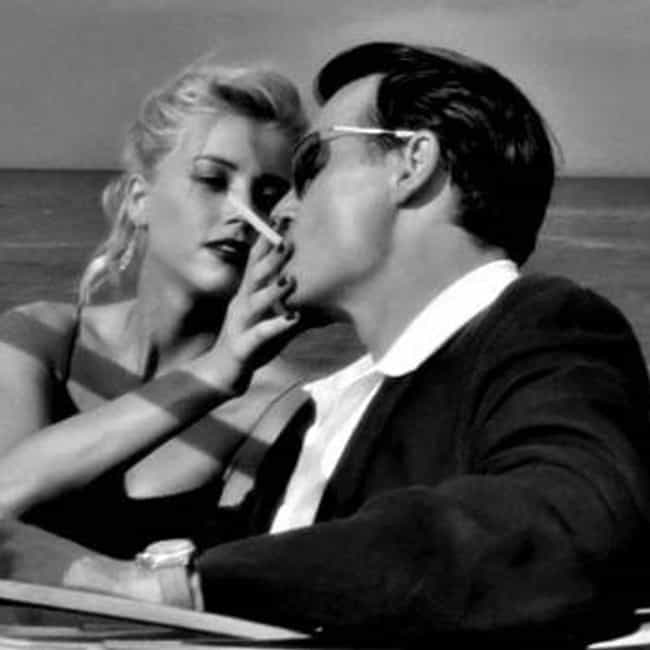 The Rum Diary (2011)
Ages at time of filming: Johnny Depp: 48, Amber Heard: 25
Age Difference: 23 years
Johnny Depp loves Hunter S. Thompson. The actor was instrumental in adapting his novel The Rum Diaryto the silver screen in 2011. Although the film was a critical and box office bust, it did give Depp the opportunity to meet his future wife Amber Heard. For most of the film, Paul Kemp (Depp) and Chenault (Heard) resist the temptation to hook up, because she is involved with Kemp's business partner. However, they do share a very steamy love scene and their chemistry is electric.
Robert Redford And Kristin Scott Thomas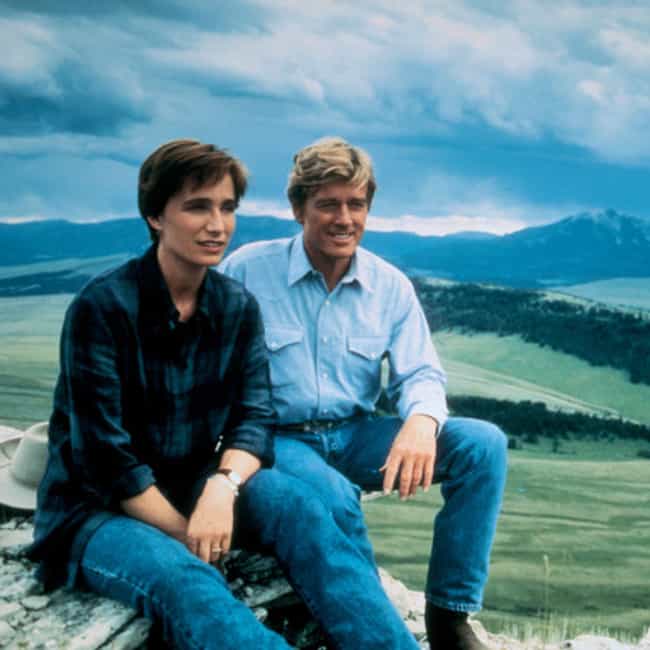 The Horse Whisperer (1998)
Ages at time of filming: Robert Redford: 61, Kristin Scott Thomas: 38
Age Difference: 23 years
Annie (Thomas) solicits the help of Tom (Redford), a magical horse whisperer, after her daughter (a young Scarlett Johansson) is injured in a horse riding accident. Tom helps to heal both the teenage girl and the horse, and Annie falls in love with him, even though she is married. Does age matter in this film? It's Robert Redford and his character is a compassionate healer; who wouldn't fall in love?
Liam Neeson And January Jones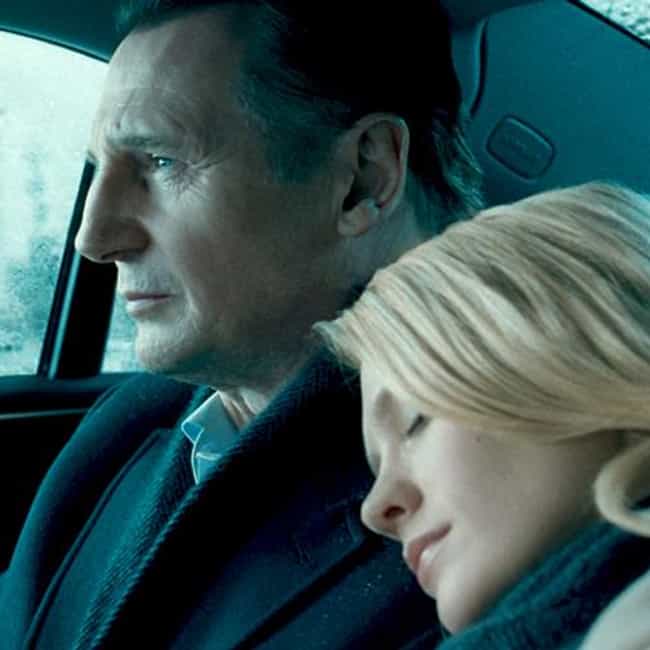 Unknown (2011)
Ages at time of filming: Liam Neeson: 58, January Jones: 33
Age Difference: 24 years
Liam Neeson currently only seems to be accepting roles for younger men. Thanks to the Taken franchise, Neeson is a late-blooming action star. In Unknown, Dr. Martin Harris (Neeson) gets into an accident. He awakes with amnesia, and his whole life seems to be erased, even his wife (Jones) plays like she doesn't know him. The age difference is obviously noticeable, but the film is not a love story, it's a mystery/thriller, so it's not terribly interested in their relationship.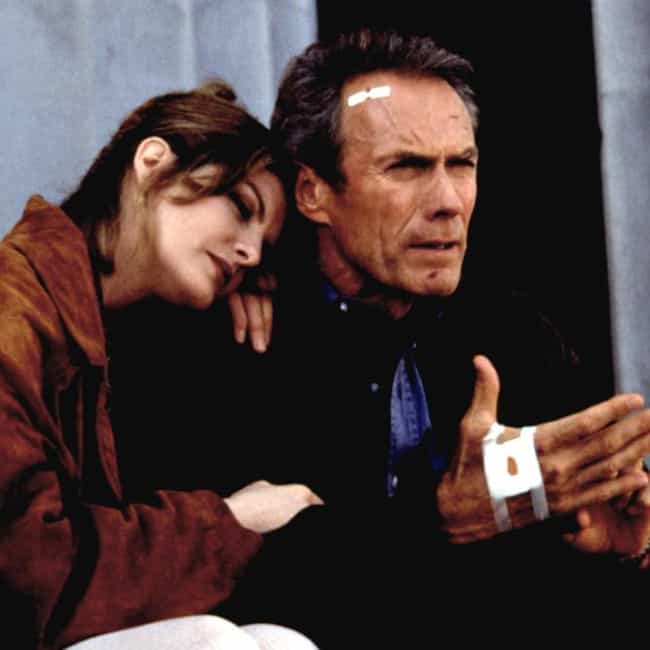 In the Line of Fire (1993)
Ages at time of filming: Clint Eastwood: 63, Rene Russo: 39
Age Difference: 24 years
Eastwood plays Frank Horrigan, an aging Secret Service Agent who failed to protect JFK from assassination in 1963. Lilly Raines (Rene Russo) is also an agent and she falls for Frank despite his gruff exterior. Of course, the 24 years between the two is noticeable, but Eastwood's heroic sex appeal is apparent. The chemistry is there between the couple, and because Russo plays Lilly as tough and capable, she seems like she can handle Frank's tough exterior.
Cary Grant And Audrey Hepburn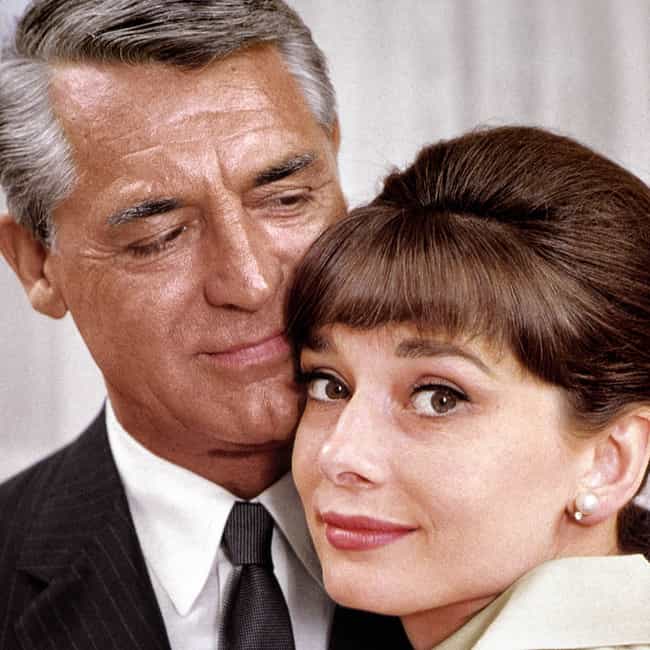 Charade (1963)
Ages at time of filming: Cary Grant: 59, Audrey Hepburn: 34
Age Difference: 25 years
Charade is a hybrid genre movie that mixes comedy, romance, and suspense to brilliant effect. Hepburn and Grant are a winning combination, thanks to the film's extremely funny dialogue and charming plot, which is set against the backdrop of Paris. In the film, Regina (Hepburn) and Peter (Grant) alternately pursue one another, and she flirts with him like a school girl along the way. As such, the plot itself actually takes away some of the potential awkwardness. Plus, it's Cary Grant, one of the most handsome leading men in Hollywood history. He may have been almost 60 years old in Charade, but he still looks as dapper as ever.
Harrison Ford And Anne Heche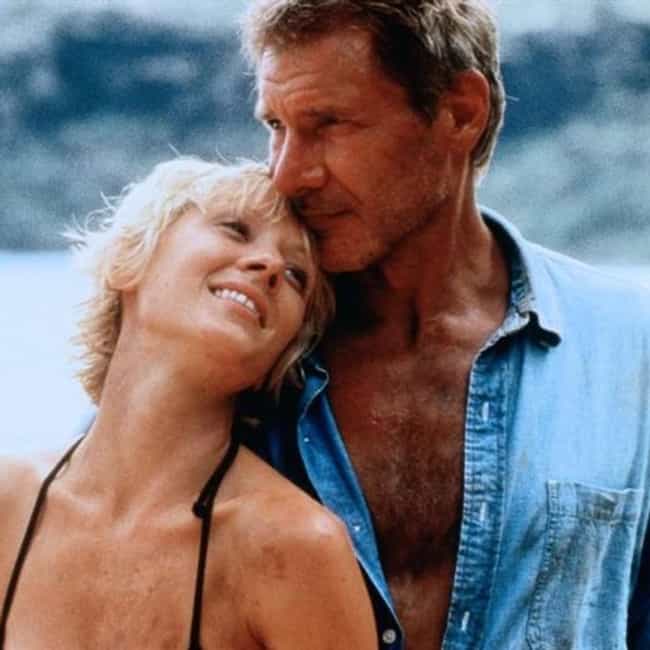 Six Days and Seven Nights (1998)
Ages at time of filming: Harrison Ford: 55, Anne Heche: 29
Age Difference: 26 years
Quinn Harris (Ford) is an ill-tempered pilot who is forced to crash land on a deserted island with Robin Monroe (Heche) in Six Days and Seven Nights. The pair are polar opposites, who of course start out hating each other, only fall in love. The film was a big flop at the box office. Many critics and moviegoers took note of the complete lack of a spark between the couple. It's still up for debate whether or not Heche's sexuality played a factor in that or the 26 year age difference was simply too hard for audiences to swallow.
Jack Nicholson And Helen Hunt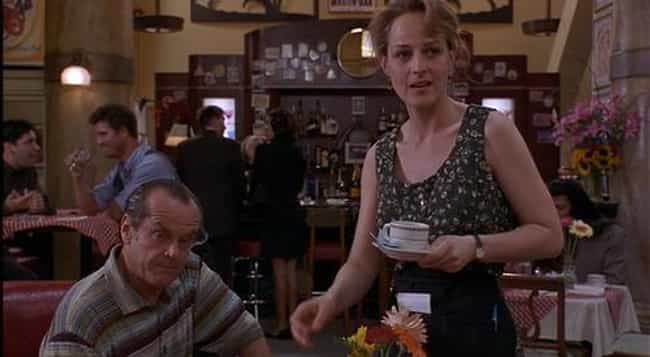 As Good as It Gets (1997)
Ages at time of filming: Jack Nicholson: 60, Helen Hunt: 34
Age Difference: 26 years
Maybe we're just used to seeing Hollywood wild child Jack Nicholson with much younger female companionship. Maybe it's because As Good as It Gets is truly a magical film with a great script and standout performances (both Nicholson and Hunt won Oscars). Or perhaps it's because the most unbelievable aspect of the entire movie is just how Carol (Hunt) a sweet waitress with a sick son falls in love with such a misanthropic, mean-spirited man (Nicholson). Their age difference really isn't the main obstacle in their relationship, it's Melvin's mental illness. Audiences do root for Melvin to be a better man, however, and end up hoping that this relationship sticks.
Humphrey Bogart And Lauren Bacall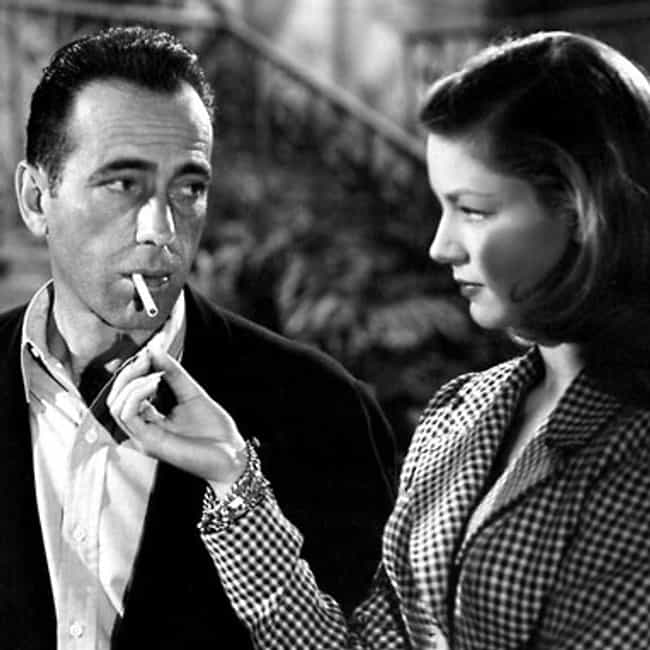 To Have and Have Not (1944)
Ages at time of filming: Humphrey Bogart: 45, Lauren Bacall: 19
Age Difference: 26 years
If a 45-year-old dated his 19-year-old co-star today, it would be a big deal, especially if he was married. Director Howard Hawks was not too happy with the on-set romance between Bogey and Bacall, but it was somehow meant to be. Bogart divorced his third wife and later married the starlet. The couple would stay together until Bogart's death in 1957. Their chemistry in black and white is all over the screen in To Have and Have Not. Yes, the age difference is extreme, but sometimes true love is ageless. You can see it in the way they look at each other.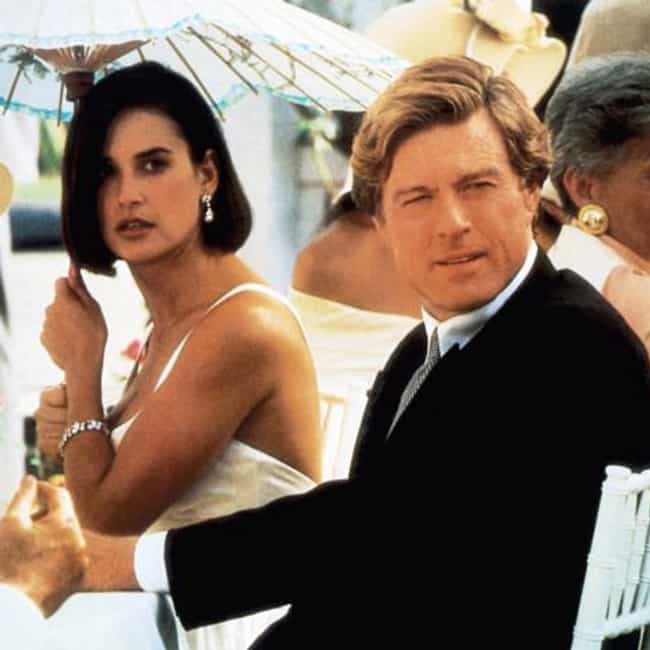 Indecent Proposal (1993)
Ages at time of filming: Robert Redford: 57, Demi Moore: 31
Age Difference: 26 years
Diana (Moore), a married woman with money problems, agrees to have sex with John (Redford) for $1,000,000. Of course, Diana's marriage to David (Woody Harrelson) goes up in smoke afterwards, and Diana temporarily finds herself back in John's arms. Redford is 57 years old in the film, and still as handsome as ever. John is successful, rich, good looking, and suave. It's almost too hard to believe that Diana goes back to David in the end.