Want to see Game of Thrones characters when they were young? Many of them starred in '90s films, back when they weren't always plotting, scheming, and or hacking through their enemies. Sometimes, they get eaten by the Xonomorph (like Charles Dance). And sometimes they have to stand up for directors who insist on putting dream sequences featuring dwarves in their dreams (Peter Dinklage). 
It's always fun to see Game of Thrones actors in other roles. However, there aren't any Kit Harington movies in the '90s because boyfriend was a kid and not in the game yet. Maisie Williams was born in 1997 and Sophie Turned didn't hit the radar until 2013. To get your fix of Game of Thrones actors in '90s roles, we'll focus mostly on the veteran actors in the cast. 
Many of the actors on Game of Thrones have worked together before, crossing paths many times. Michiel Huisman (Daario) and Carice van Houten (Melisandre) have been in several projects together. Jonathan Pryce appeared in the film version of Glengarry Glen Ross and then played opposite Aiden Gillen in the stage version. Show business is a small world, and the '90s were a strange time.
Peter Dinklage – Living in Oblivion (1995)
Game of Thrones: Tyrion Lannister
Living in Oblivion: Tito
Tito is upset that he's in a dream sequence featuring a dwarf. He tells the director Nick (Steve Buscemi) that even HE doesn't have dreams with dwarves in them. Tito walks off in indignation. Living in Oblivion was Dinklage's first official film credit and he definitely stood out.
Lena Headey – Waterland (1992)
Game of Thrones: Cersei Lannister Baratheon
Waterland: Young Mary
Headey was scouted at the age of 17 during a school production for the film. She played Young Mary in the flashback scenes of the drama.
Jonathan Pryce – Glengarry Glen Ross (1992)
Game of Thrones: High Sparrow
Glengarry Glen Ross: James Lingk
Pryce played one of the beleaguered salesmen trying like hell to avoid getting those second place steak knives.
Charles Dance – Alien 3 (1992)
Game of Thrones: Lord Tywin Lannister
Alien 3: Jonathan Clemens
Dance played the former inmate and doctor at the Fiorina "Fury" 161 Class C Work Correctional Unit who stayed on after it shut down. Clemens nursed Ripley back to health after her EEV crashed on the prison colony planet. They grew close and then knocked boots. Ripley is allowed just a few seconds of happiness with her new beau when the Xonomorph drops from the ceiling, bites off his head, and then runs away with Clemens's body. Rude.
Iain Glen – Rosencrantz & Guildenstern Are Dead (1990)
Game of Thrones: Ser Jorah Mormont
Rosencrantz & Guildenstern Are Dead: Hamlet
Glen as Hamlet has a small role in the film about the two minor characters from Shakespeare's play, who here are the leads. Gary Oldman (Rosencrantz), Tim Roth (Guildenstern), and Glen play well off of each other and Glen's baby face is on full display.
Nikolaj Coster-Waldau – Bent (1997)
Game of Thrones: Jaime Lannister
Bent: Wolf
If you want to watch a hot young Clive Owen make out with a hot young Coster-Waldau, watch the first part of the movie. Then, it gets really intense. Coster-Waldau's character doesn't fare too well, but he is a golden god for a minute.
Michelle Fairley – A Soldier's Daughter Never Cries (1998)
Game of Thrones: Catelyn Stark
A Soldier's Daughter Never Cries: Miss O'Shaunessy
Fairley pops up in one of Leelee Sobieski's early films and plays a teacher in this super serious drama.
Liam Cunningham – First Knight (1995)
Game of Thrones: Davos Seaworth
First Knight: Sir Agravaine
Cunningham played the legendary knight in this very '90s Sean Connery/Richard Gere film. He has played a lot of manly roles, but it's just not right to see a clean-shaven Cunningham playing a proper knight.
Stephen Dillane – Welcome to Sarajevo (1997)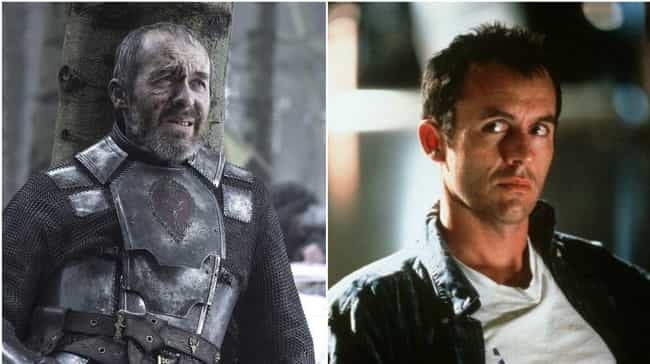 Game of Thrones: Stannis Baratheon
Welcome to Sarajevo: Michael Henderson
Maybe Dillane doesn't think highly of Game of Thrones because he's had meatier parts before. In this popular and acclaimed film, Dillane plays the lead – a British journalist who is moved to adopt an orphan of war. See, he wanted to SAVE the children, not BURN them at the stake for power.
Carice van Houten – Suzy Q (1999)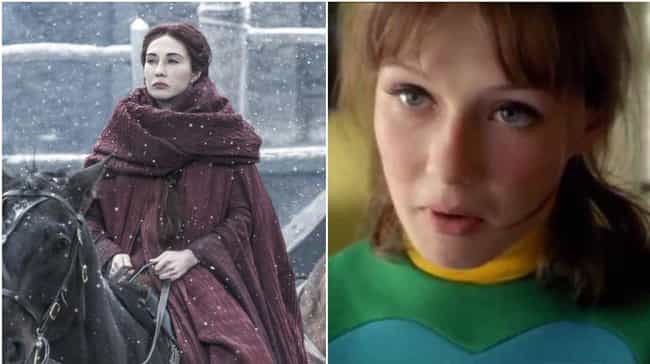 Game of Thrones: Melisandre
Suzy Q: Suzy
Van Houten was scouted at her school for this role and she shines. She plays a young girl with a thing for music who wants to meet Mick Jagger and Marianne Faithful. And she does. Michiel Huisman (Daario) also appears in the film as van Houten's brother.
Owen Teale – Robin Hood (1991)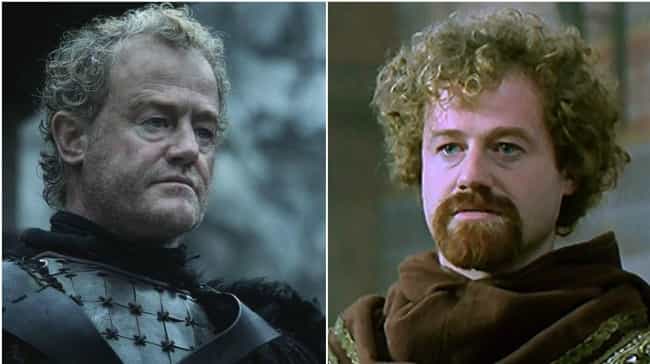 Game of Thrones: Ser Alliser Thorne
Robin Hood: Will Scarlett
He played one of Robin Hood's popular Merry Men with a certain shaggy stealthiness.
Michiel Huisman – Suzy Q (1999)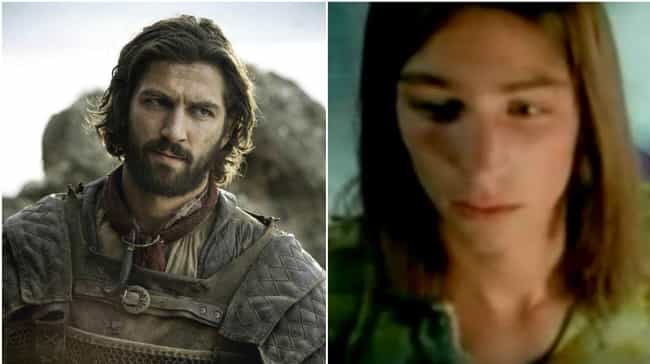 Game of Thrones: Daario Naharis
Suzy Q: Palmer
Huisman plays the long-haired musical type who's just not into his sister's problems, man.
Diana Rigg – Parting Shots (1998)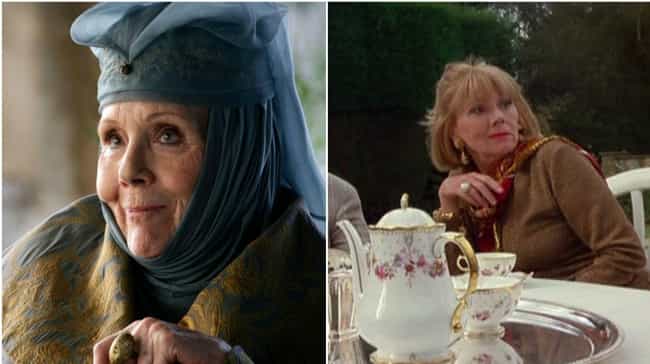 Game of Thrones: Lady Olenna Tyrell
Parting Shots: Lisa
Sure, everyone knows about The Avengers but she showed off her comedy chops in this crime comedy. That pose looks familiar…
Sean Bean – Anna Karenina (1997)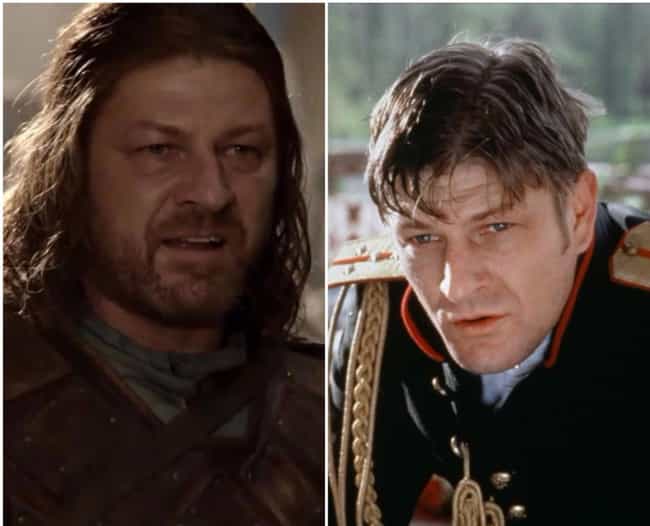 Game of Thrones: Eddard Stark                                                                                       Anna Karenina: Count Alexi Vronsky
Sean Bean played the part of Vronsky in a film version of Leo Tolstoy's classic novel. Unlike megahit Game of Thrones, however, this 1997 literary adaptation was met with abject critical and commercial failure.
Aidan Gillen – Circle Of Friends (1995)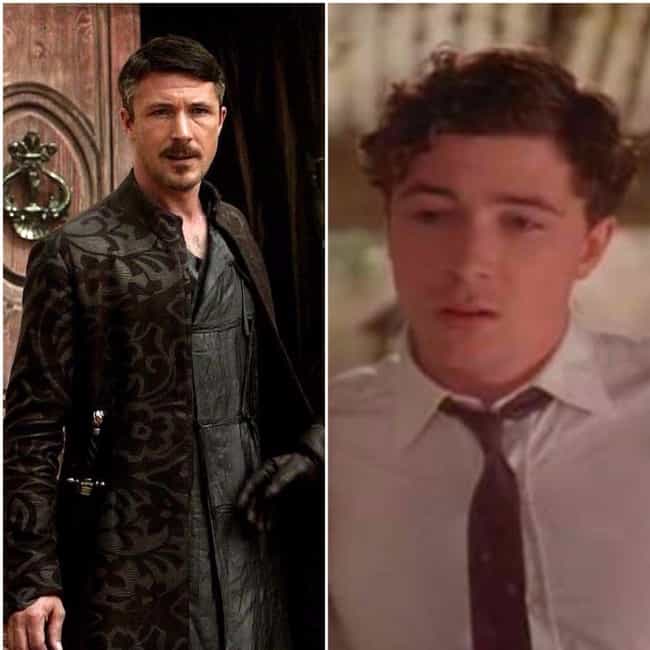 Game of Thrones: Petyr "Littlefinger" Baelish
Circle of Friends: Aidan Lynch
Set in 1950s Ireland, Gillen played a small role alongside Chris O'Donnell, Colin Firth, and Minnie Driver. It's really weird to see him not scheming the whole time.
Peter Vaughan – The Crucible (1996)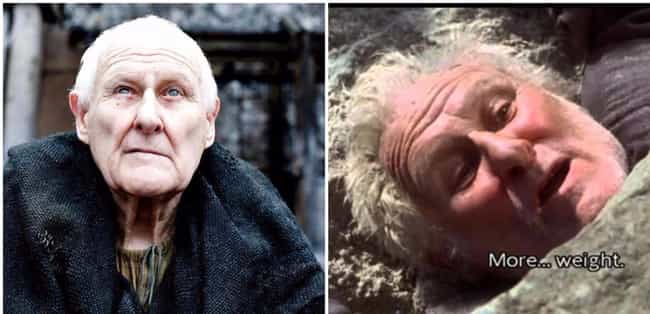 Game of Thrones: Maester Aemon Targaryen                                                                     The Crucible: Giles Corey
Peter Vaughn played older man Giles Corey, a person who valiantly sacrificed his life for the people he loved in the 1996 adaptation of Arthur Miller's The Crucible. Looks like not much has changed in the past 20 years for Vaughan!
Mark Addy – Jack Frost (1998)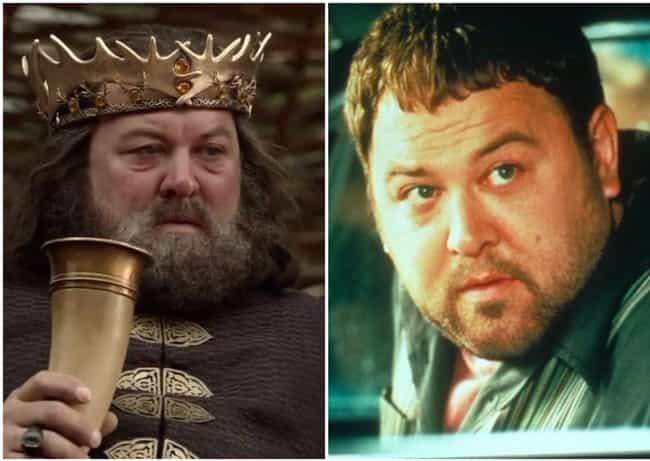 Game of Thrones: King Robert Baratheon                                                                          Jack Frost: Mac MacArthur
Mark Addy played Mac MacArthur, the second male lead in the 1998 Michael Keaton vehicle Jack Frost, a film which featured three-quarters of the Zappa children, a horrifying Keaton-puppet snowman, and lost around $50 million.
Ironically for Game of Thrones fans, Addy's role is that of the responsible, level-headed foil to Keaton's wild card. He certainly wasn't drinking any strongwine and going boar hunting.