For the uninitiated, the idea of going to a sex club is exciting and daunting in equal measure. How do you handle yourself when you're trying to handle as many people as possible? Do you make conversation, or just rip off your tear-away pants and get down to business? Should you take a viagra before hand, or get a little tipsy to make yourself more comfortable with what's to come? After reading these true stories from sex clubs you should have an idea about how to appropriately have fun at an orgy. Maybe you'll even be inspired to start your own swinger's night.
Obviously, these sex club stories are NSFW, and so are a lot of the images, so unless your boss has a secret red room, you should probably read this on the DL. Assuming you're at work. Which begs the question, why are you reading this at work? Do you also peruse Pornhub from the confines of the office toilet stall? 
More than anything else in life, sex can be fulfilling, weird, funny, and sad – and these true stories from swingers accentuate all of those descriptors. Some of the swingers club stories on this list will definitely put you in the mood to check out a sex party, and others might put you off the concept of sex clubs altogether.
If you have any fun experiences to share about your favorite swinger's club, leave them in the comments, but please avoid the phrase "leather pig mask."
First Time Discoveries: A Tight Surprise, a Loving Couple, and Life as Animated Sex Toy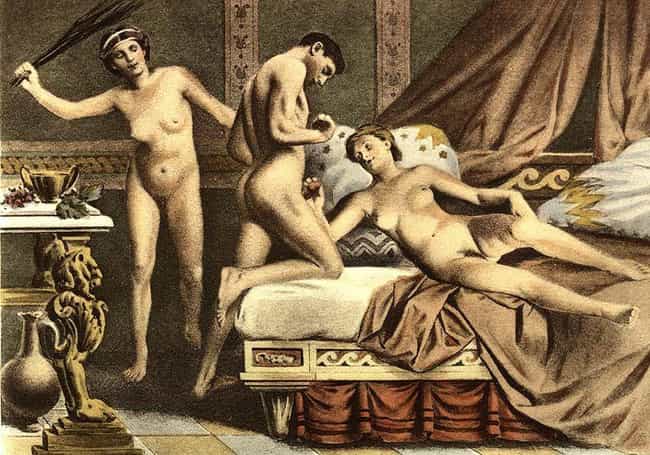 You can't ask for a better first time at a sex club than this anonymous writer's experience at the Oasis Aqualounge in Toronto, Canada. She got a personal tour of the club, which is housed in a mansion, and met a very chill couple.
I told Karen I had never done this before. She looked puzzled. I was referring to group sex. She said that no one said anything about f*cking. Sometimes the four of them would just hang out at the lounge. She was so natural about it I almost forgot that she was completely naked and I was wearing nothing but a towel.
From there, the evening slips into a sensual puddle of group sex and cool hangs, which started with a request for cunnilingus ("I obliged, drawing my tongue from her c*nt to her clit in long, slow laps. I slipped a finger inside of her and was surprised by how tight she was. She let out a moan."). However, the author does at some point realize there was an element of people using one another for personal gratification involved in the ordeal.
Mark slid into me, slowly at first and then faster. Karen was talking to him, telling him how much she could tell I liked it.
'She wants it deeper baby,' she said.
That was the second time Karen and Mark had exchanged words about me without actually talking to me. I realized that their emotional connection meant that I was not on equal ground with them. While I was enjoying the act, I didn't feel that I was much more than an animated sex toy.
Just Let Go: Whiskey, Dongs, Clams, and Lots of Oral from Complete Strangers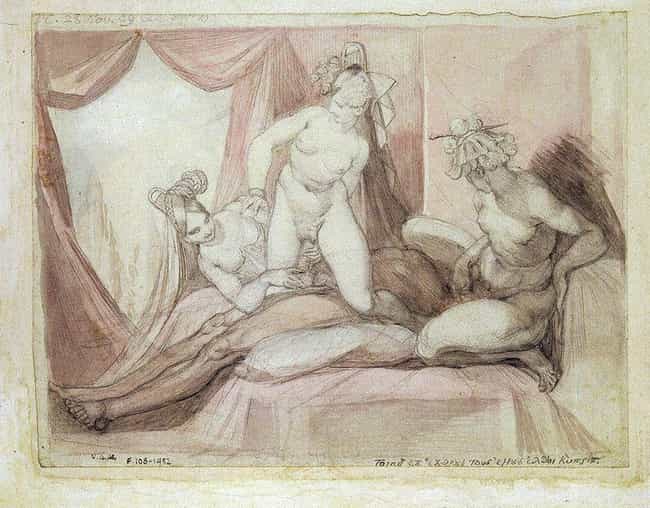 Being in a monogamous relationship with hints of polyamory can get very complicated very quickly. People get jealous, then they get bitter, and no one wants to be in that kind of toxic relationship But that doesn't mean it's impossible to sustain a loving relationship while taking on a shared sidepiece from time to time.
Pablo Duncan and his girlfriend figured out how to visit a swinger's club and get weird without making a mess of their relationship. Unfortunately, they weren't able to successfully dodge the most boring guy at the club. "We took a break on the terrace. We smoked and talked with a guy from Seville, who spoke passionately against Catalan nationalism. That was a little boring, so we left—this time for the cinema, where we had sex with another couple."
Of course, their evening wasn't all mind-numbing talk with Catalan separatists. They also let themselves go with the flow of the freewheeling sexual waterfall.
With an unmistakable gesture, a guy asked for my permission to get closer to my girlfriend. Before I could remind him of the obligation to use a condom, he showed me he already had one in his hand. He put it on and as he penetrated her, I pushed her head southward, asking her to give me a blowjob.
Shortly after that I lost her for a while. I ended up in another corner with two women while my girlfriend was his. I found her much later in another room—she was giving some other guy a blowjob, so I started licking her p*ssy while different sets of hands touched her everywhere. After a powerful orgasm, she got up, drank more whiskey, and started talking to a guy who told her that he was trying to hold back ejaculating for as long as possible but that having sex with her made that very difficult. I listened as I received oral sex from another complete stranger.
What Does Wifey Want for Her Birthday? To Watch Another Woman Deep Throat You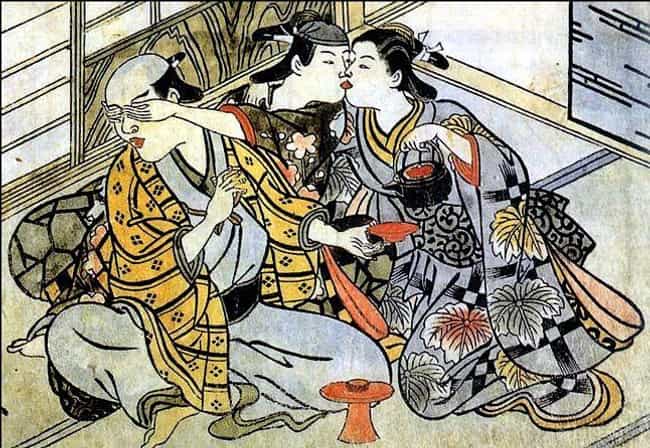 For most straight-laced couples, the idea of going to a swinger's club is the highest echelon of perversity, and exactly what a seemingly vanilla husband and wife decided to do for the wife's birthday. After a dinner with friends, the adventurous members of the party skedaddled to a swinger's club where the wife (who seems like she would be fun to party with even in a non sexual way) made sure her husband had a memorable time.
The sex goddess who had been banging man after man upstairs came back down for a break. She walked over to a table very near ours and sat down. My wife asked again if I would go over to her. I shook my head no. 'Fine,' she said, and she got up and walked over to the woman.
I could barely make out the conversation through the pounding vibrations of the loud music being played. My wife was pointing to me, talking to her. Then the woman got up, took my wife's hand, and they walked back over to me. Without saying anything to me, she got down on her knees in front of me.
So what then? Well, you can probably guess. But if not:
I was shaking inside. 'OMG! OMG! Oh. my. god!!!' I couldn't believe what was happening. I was scared. I was on fire with excitement. And I panicked. 'Wait!' I put my hands on the woman's shoulders before she could get my pants unzipped. 'We're not ok with vaginal sex.' She responded, 'Listen, I am going to suck your c*ck until it is so hard, you are going to have to f*ck her.' and she pointed at my wife…
The woman licked my c*ck slowly and sensuously, as though it was covered in some kind of expensive chocolate liqueur…. then, without warning, she went down hard and fast – all the way. Down to the very hilt of my shaft. She took it all in her mouth. Only in porn movies had I ever seen a woman do that before. I don't know how she did it, but she did…
The head of my penis, it seemed, was pounding against the back of her throat with each drop of her head.
Mmmph. Mmmph. Mmmph.
A Tryhard Loserface Ruins the Hot Tub Because He Won't Shut Up About Himself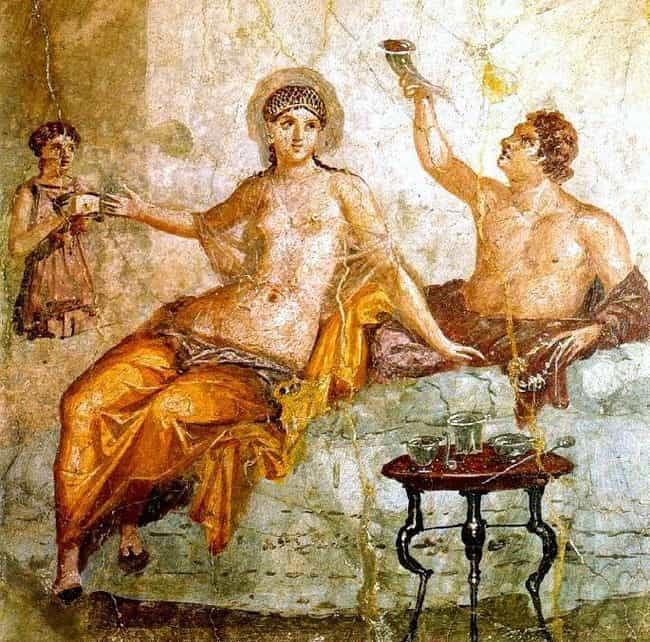 Not every visit to a sex club is a transformative experience filled with rad hard bodies clamoring to fulfill your every sexual fantasy while helping you become a better person. Sometimes you just end up in a hot tub with oddly placed jets and a guy who won't stop talking about his yacht. He also turned out to be a lecherous, rapey creep:
He comes over to us, we chat briefly and he almost immediately brings up the fact that he has a yacht that he likes to have parties on and it would be great if we could party on his yacht sometime.
Sorry but if you bring up, unbidden and unrelated to anything, the fact that you have a yacht in the first 30 seconds of a conversation you come off as a tryhard loserface.
He started touching my gf (without asking consent) and she asked me if I was ok with it and I was thinking 'Well, whatever, we are at a sex club, and so far we've not really interacted with anyone else, so I guess let's do something with someone.' So I say it's ok. They start kissing, he starts kissing her really aggressively… my gf later told me was also trying to penetrate her with his (unprotected) penis right in the pool, also without asking her (which she didn't want). So after they kiss for a minute or so she comes back to me, we chat a bit to see how we are feeling and both agree that we don't really like his vibe.
The Saddest Couple at the Saddest Sex Club in the World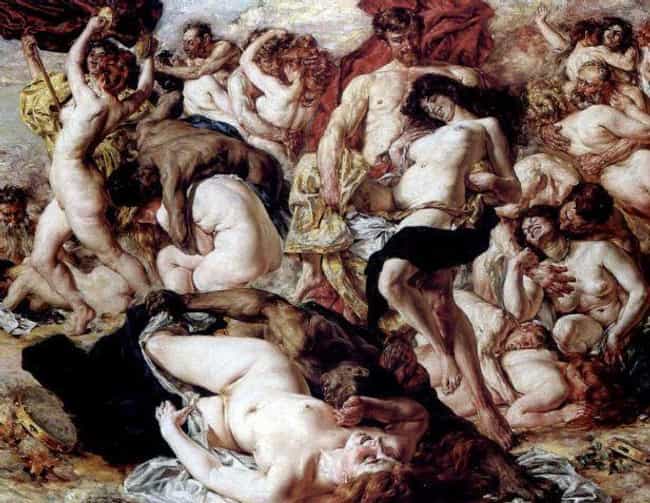 This sex club write up should only be read while listening to The Smiths' "Please Please Please Let Me Get What I Want," so fast forward or rewind your cassette accordingly.
In 2013, Emma Bovary of Nerve visited a sex club with her married friend James, and things pretty much immediately got awkward. Aside from meeting a foot fetishist who was rebuffed, and chatting with a man who didn't like that his fiancée enjoyed having sex with strangers, Emma and her friend explored some unresolved sexual tension that reads as quietly disastrous.
'Not what I had in mind,' said James… I asked him what he'd been expecting.
'I thought it would be, like, a total free-for-all, with everyone f*cking each other silly on every available surface. This is just kind of…lame.'
I agreed, while gently mocking his would-be libertinism: as much as he wanted to walk into the middle of some lust-fueled marathon f*ck-fest, he wasn't going to be the one to get the party started. Even in the context of a secret sex club, James and I were too inhibited to act on our desires; it struck me as unfair to be disappointed in everyone else for failing to exhibit the kind of wanton abandon we so conspicuously lacked.
Aside from the strange melancholy of visiting a sex club and leaving sexless, Emma seemed to appropriately contextualize the experience in her head. "I imagine sex clubs are more fun when you visit them with the express intention of getting laid, rather than having a titillating-but-not-outright-adulterous experience with a conflicted married coworker."
Chains, Chairs, Hard Sex, and a Fingerbang Competition with Another Couple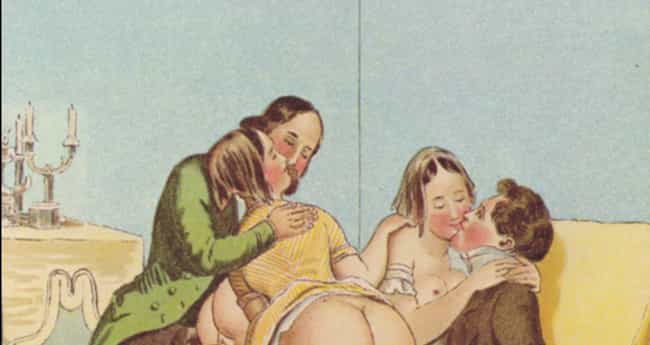 Now this is a couple who knows how to make the most of a mostly empty sex club. They get "liquored up" before shelling out the $80 for admission, but upon arriving found they had the run of the place save a few regulars. So they hammered hard against a wall and in a chair, using some chains to make the most of their experience, then got into a fingering-off with another couple.
… a girl was getting fingered hard by her guy. We thought we could give them a run for their money. The guy I was with is amazing at making me squirt. He knows just how to find my G-spot, goes slow and then speeds up until I'm gushing. After that he f*cked me again on my back.
The whole experience was about an hour and a half. We had work the next day but I would have definitely stayed given the chance. I can't wait to go again.
What do you they would have gotten up to if they didn't have work the next day?
Life Lessons: Girlfriends, Germans, and a D*ck So Big It Might Have a Spine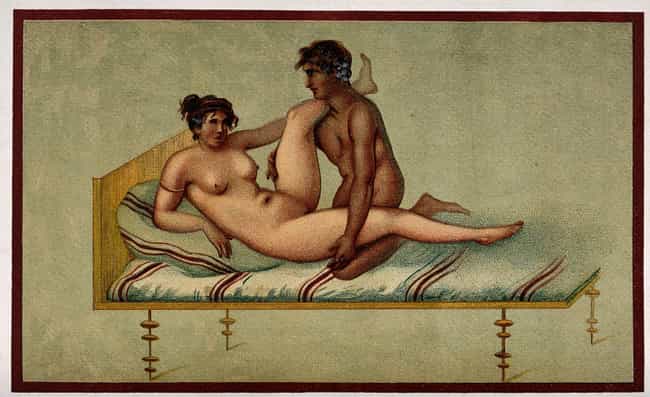 Back in 2014, one reviewer who brought his girlfriend to a sex club learned a few life lessons having sex in front of strangers on a leather bed (gross BTW). Upon arrival, the man's girlfriend was hit on by a German woman.
'Oh, you are first timers,' laughed the German. She quickly changed the subject. 'Look at that guy over there. He has the d*ck of a bull elephant!'
It was true. I compared it to my forearm and wondered if the thing had a spine. It probably chews gum and stunt-doubles for Vin Diesel.'
They continued to explore the venue.
We poked our head into the 'dungeon.' A young woman was riding a Sybian, yelping and clutching herself for dear life while a man cranked the machine to full power. People surrounded and cheered as a woman in leather bounded herself in chains and ropes while rocking herself back and forth on a sex swing.
In the end, the man waxed philosophical on the many things he came to terms with while visiting the club. "The one risk of coming here is realizing you aren't the Don Juan you thought you were," he mused, while point out that sex clubs are "about extending your comfort boundary and exploring sexual territory in an open-minded environment."
You Don't Choose the Sex Club Tour Guide Life, the Sex Club Tour Guide Life Chooses You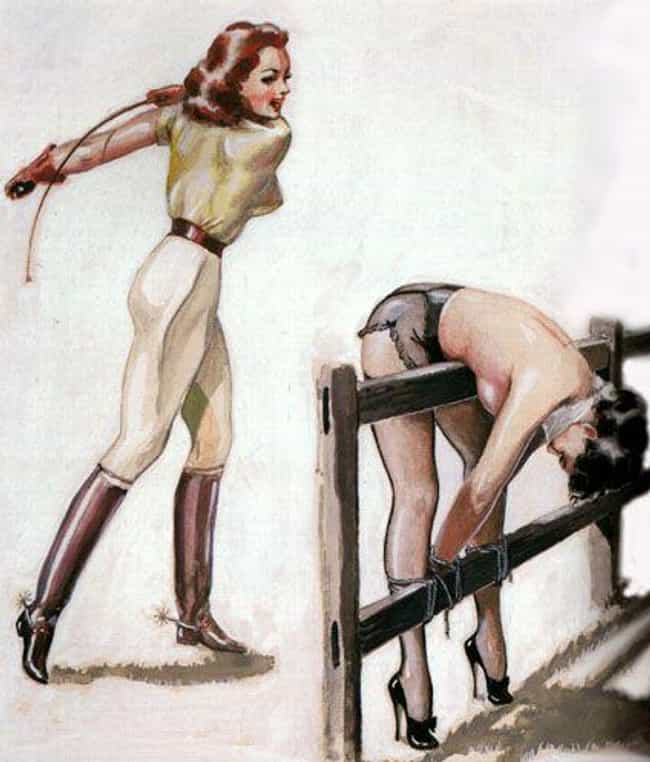 On the other side of the sex club curtain (figuratively speaking) exists a world the depraved men and women making out in a hot tub never see. It's a world of paperwork, refilling condom baskets, and trying to figure out if the people you're introducing to the swinger's club are sex workers.
No question, swingers parties can be sexy as hell for the people attending. For staff, though, even a 'sexy' environment can end up being just another day at the office. You're bussing glassware. You're cleaning up spills and puke. You've heard all the music a billion times (if I never have to suffer through Ke$ha's 'Take It Off' again, I'll die a happy man).
And don't forget all the fun people you get to meet when you work at a sex club: "There can also be staff conflicts which, with the wrong people, have descended into the realm of slut-shaming. I once saw a caterer throw a stack of plates and scream, of the boss, 'She can f*ck all she wants, but that doesn't mean she can run a party!'"
Amen.
TFW When You're Watching a Minotaur Get a BJ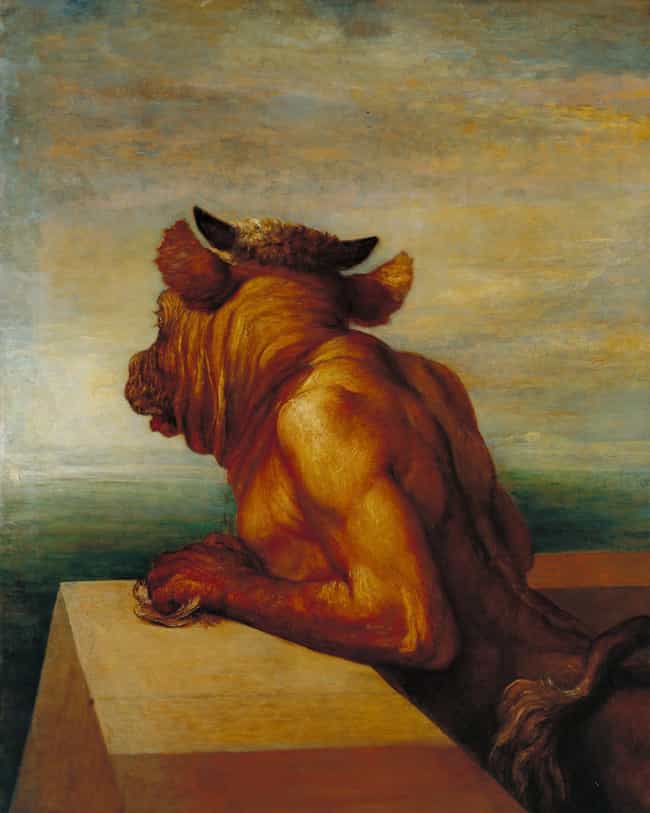 For all of its sunshine and copious brunch spots, Los Angeles can be kind of terrible. Nothing accentuates this more than the Sanctum Club, LA's pseudo-secretive high end roaming sex club that seems only to exist to drain well off would-be exhibitionists of their cash and perpetuate the stereotype that sex parties are basically cartoons drawn by horny 13-year-old boys come to life. As journalist Jen Yamamoto describes:
It was just past midnight in a private mansion off of Mulholland when I watched my first Minotaur get a blowjob.
And yet somehow, within the walls of the Sanctum Club, LA's secretive high-end sex party, Minotaur fellatio would turn out to be both the most esoteric and the most pedestrian of the voyeuristic sights I'd feast my virgin eyes on.
In an article for The Daily Beast, Yamamoto describes an evening at Sanctum with aplomb:
On one side of a king-sized bed a woman in a thong laid splayed across her male companion's lap, her lips on his erect penis, which was peeking out of unzipped tuxedo pants. Lost in their own concerns, they paid no mind to the threesome of twentysomethings that was going down on the far side of the bed, where a pony-tailed trust fund type, also nearly fully clothed, was resolutely thrusting away at a pretty blonde who had a second c*ck in her hand…
My girlfriend and I found a hidden perch under a spiral staircase perfect for voyeuristic peeping but found ourselves trapped when a horny couple sashayed over and blocked our exit. We waited it out as they proceeded to screw against a window overlooking the moonlit hillside to the pulsating sound of a house remix of 'Bette Davis Eyes.'
Picturesque, to say the least.
No Uggos Allowed at Munich's Exclusive Beautiful People Red Light District Sex Parties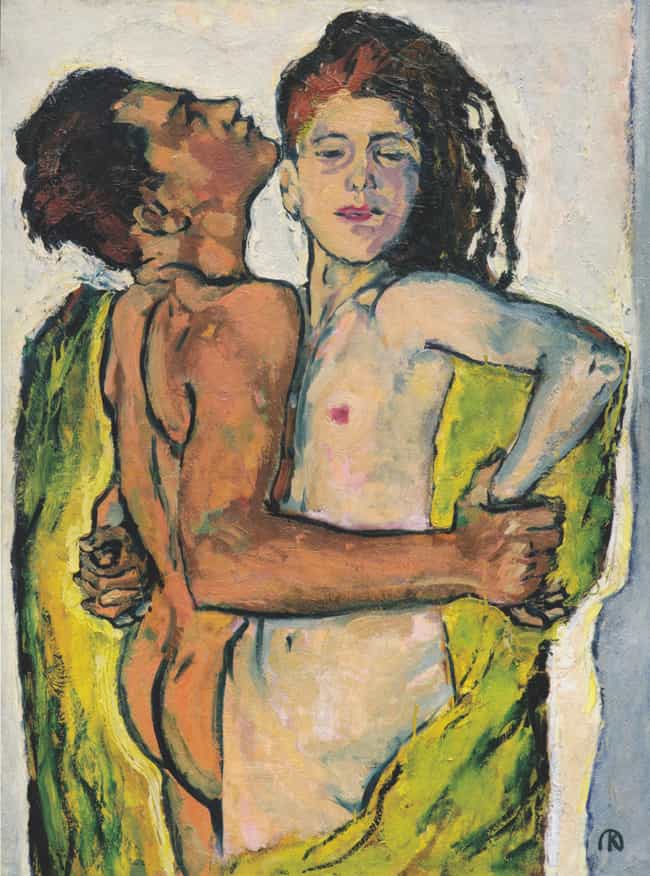 Despite your thoughts on the need for inclusivity in the world of illicit swinger parties, the folks who run Munich's Red Light District sex parties, which take place at pay-by-the-hour hotels, would rather you leave your less attractive friends at home if you want to get weird with their clientele. You have to admit, though, that if you get accepted at the cool kid's sex table, you probably won't feel as bad if your partner disappears with a hot stranger. Because you're all very sexy and you're never going to die.
Despite the haughtiness of the organization's premise, there seems to be a genuine desire to help people improve their love lives behind the venture. Say the founders:
After the first time we ended up with another couple, we said to each other: 'That was crazy, what did we just do?' Then we thought: 'That worked. If we can do this with each other, we're an unbeatable team… And it was amazing how passionate our sex was the next day.'
She thinks it's great that she's able to have experiences that she can't have with her husband. 'When you're together, fantasies aren't always comparable. I wanted to be tied up, for example. Konstantin finds that strange. But I can try that out here.'
According to one couple who frequent the Red Light District parties, the appeal lies in keeping passion alive while exploring new facets of sexuality:
'When I saw her having sex with another man, I got really aroused. It was like watching live porn starring my own wife.' Swinging, to him, is just a next step in their relationship.
'We were always close, but everyone changes and would like to discover new things every now and then. It's nice that we can do it together in this context and aren't drifting apart from each other.'
Is he worried that she'll fall in love with someone she's having sex with? She interjects: 'You have to be careful. If we're having issues in our relationship, we don't do it. There's always the risk of falling in love, but that same risk exists in the supermarket.'
Suburban American Mom and Pop Orgy: Kid Rock, a Cheese Spread, and Laffy Taffy D*cks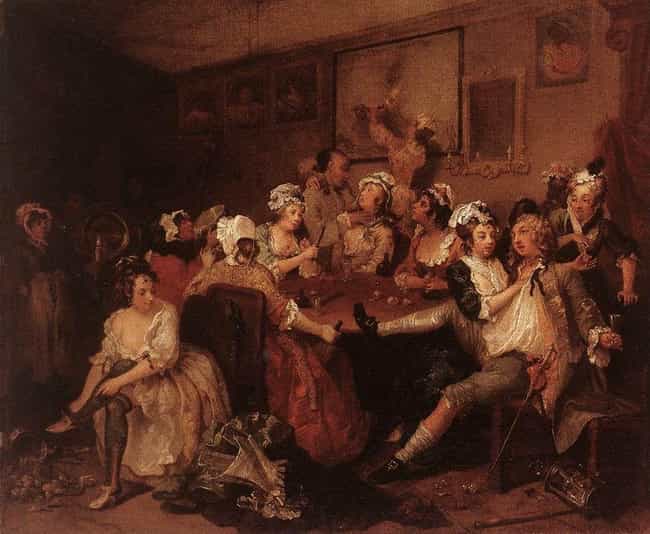 We all remember our first orgy. At least Rachel White, of The Frisky, remembers hers: the scantily clad moms, the beer-bellied naked men, a DJ playing kid rock's "Cowboy."
White and her husband make their way from room to room, observing men and women having animalistic, albeit polite, sex in a secret suburban getaway. Her job was to secretly report on an all bisexual swinger's club. Right away, she witnessed some surreal sights:
On the spiral staircase, someone's legs spread in the air and a man stands, humping between them in time to Kid Rock's backup singers. 'Ridin' at night 'cause I sleep all day. I can smell a pig from a mile away.'
Up the spiral staircase, past a traffic jam of pink skin and Laffy Taffy-like d*cks, I find an orgy room. It's dark and the room is filled with sex sounds: moans, sucking, flesh smacking flesh… A three-way blowjob is happening at my knees and in front of me, a wiry blond man pumps a queen-sized black woman, who muffles her howls into a pillow…
Inches away, a triple set of couples do it in doggy-style: guy on girl, guy on guy, guy on girl. An earthy smell filters the air. Men huddle, pants off, pulling their d*cks. I assume this is also orgy etiquette, a sort of auditioning, waiting to be invited in.
There are so many cringeworthy sentences in this tragicomic description of an orgy, but the one that gives the most pause is: "The kitchen is the space for congregating, just like at your parties. A few naked men stand over the food table, pilfering for bits of cheese."
Have fun getting that thought out of your head.
There's Nothing Sexier Than a Slave Auction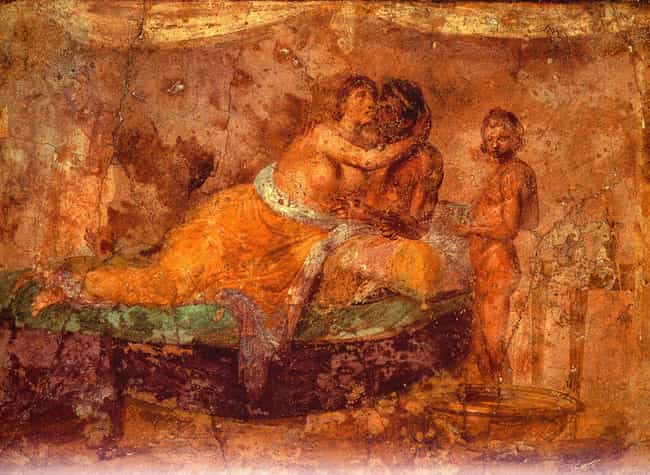 Inside secretish Los Angeles sex club Sanctum, you're sure to find a few things: a lot of guys in tuxedos, a shark tank, and a slave auction where you can "buy" sex workers to do your bidding. While this is probably cool for your standard OC bro who's got some cash to flash around, not everyone is into the scene at Sanctum.
And definitely not Melinda, a blonde Hollywood PR-type, who notes, "It's not as exclusive or upscale as I expected. There are some genuinely creepy people here. One guy asked me to walk him inside by the leash that was around his neck. I expected a lot more. It's a bit anticlimactic, though there are a lot of hot guys here—and a shark."
Awkward Valentine's Day: A Writer, Two Young Women from Tinder, and Creepy Sex Club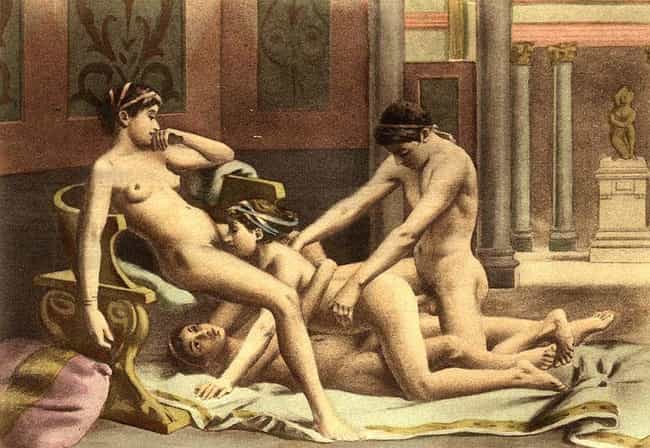 For Valentines Day 2015, writer Stephen Keefe decided he wanted to take two Tinder dates to Montreal swinger's club L'Orange – a daunting task if ever there were one. After a pretty difficult search for two dates to accompany him to the club, Keefe found what he likened more to "retirement home where someone had spiked the punch with ecstasy" than the sexually frenzied free-for-all you might expect from a sex club.
Still, he and his dates found the f*ck chamber:
To my right, some guy was aggressively and rapidly fingering his wife's bum as she was bent over into the sheets. On the next bed was this giant Amazonian woman with a tiny Latino husband who was climbing all over and biting her. In one corner, a man with a potbelly and goatee was with a heavily-done-up brunette in her 30s who we suspected was a sex worker. Towards the middle of the room, couples shuffled around together, watching the various beds like they were browsing through Bed Bath & Beyond.
Although a four way with complete strangers while guys in Hawaiian shirts watched Keefe managed to have a good time.
The sex around us had become so seemingly normal. It was no longer weird to see bare asses and wrinkly balls flopping around. I felt strangely comforted seeing the guy in the running shoes beside us, like seeing your neighbor walking his dog at the same time every day.
A Writer's Sexual Awakening: Voyeurism Is Hot and Maybe She's Gayer Than She Thought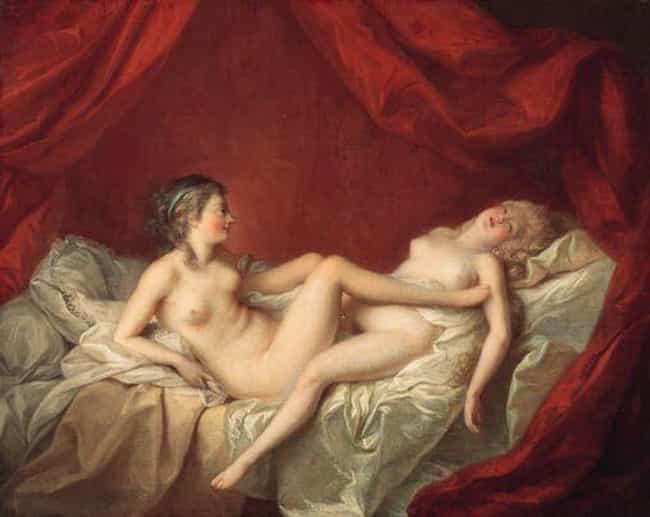 When The Frisky writer Jessica Wakeman's friend announced she was hosting a sex party, Wakeman jumped at the chance to attend. Even though she arrived first, and with two kinds of crackers and three kinds of cheeses, the writer spent most of the party questioning how she should go about the whole sex party thing. Should she ask someone to bone? How do you politely turn someone down?
After scrambling around the orgy, she found she was really into voyeurism:
A man and a woman were f*cking on the couch on the far side of the living room; he was on top with her breast in his mouth, pounding away. Oh! I thought. The orgy has started!  Suddenly a little bashful, I turned a corner into the bedroom and saw four people, three women and a man, in the hostess' bed. It felt much more cozy and intimate in there. That's when I learned something about myself: I like to watch.
… as someone who has never been satisfied by anything other than homemade porn online, watching real people experience real pleasure is totally hot. At first I wasn't sure if it was 'okay' to watch (I mean, are we supposed to avert our eyes lest we seem creepy?), but I quickly realized that the apartment is so small that everyone knows that 'privacy,' such as we know it, doesn't exist.
She also paddled a guy's ass, and learned a lot about herself in two sexual encounters with other women.
'What do you want to do?' she asked me. '
'Actually, I'd like to make out with you,' I told her. And that's when I finally took my clothes off, climbed into her bed, and hooked up with a woman for the very first time. (And then, um, another woman.)
Women's bodies are so different than men's bodies. I never knew that before. From the softness of their skin to the roundness of their breasts and ass, I felt (but, I hope, didn't act) a bit like a gawky, fumbling adolescent.  Being so up close, hands-on and exploratory female nudity — feeling both their chubby places and their bony spots — satiated a desire I'd had for a long, long time.
I also learned that my sexual energy alters with the same sex.  That was a surprise, as the more dominant men behave in bed, the more submissive I become. But hooking up with women, I carried the more aggressive energy. I was the one who pulled hair and wanted to grab and squeeze. As much as I love being a submissive with male partners, it was exciting to learn that I'm switch-y with women.