How can you tell when a movie is truly great?  When the actors finish the film, and you just want to see them back together as if they were a real family or really friends! You want to check in with them over the years to see if they're still hanging out, keeping their signature looks, and saying the same catch phrases. ("Inconceivable!")
Well, thank God for three things: Entertainment Weekly, Good Morning America and social media. Because without them, we may never see these film cast reunions!  Each year, Entertainment Weekly puts together a reunion issue, which Good Morning America usually covers on air. And for the ones that slip through the cracks – sometimes they just get together, hang out, and post their reunions themselves on Instagram!
This list has some of your favorite classics from The Goonies and The Way We Were to Forrest Gump and Clueless. Granted, there's usually at least one person who opts out of the reunion photo op, but who needs Joe Pesci when you've got Goodfellas like Ray Liotta, Robert DeNiro and Lorraine Bracco?!  Check out this list of movie cast reunions to see pictures of some of your favorite movie casts now!  Reunited and it feels so good!
Hook – THEN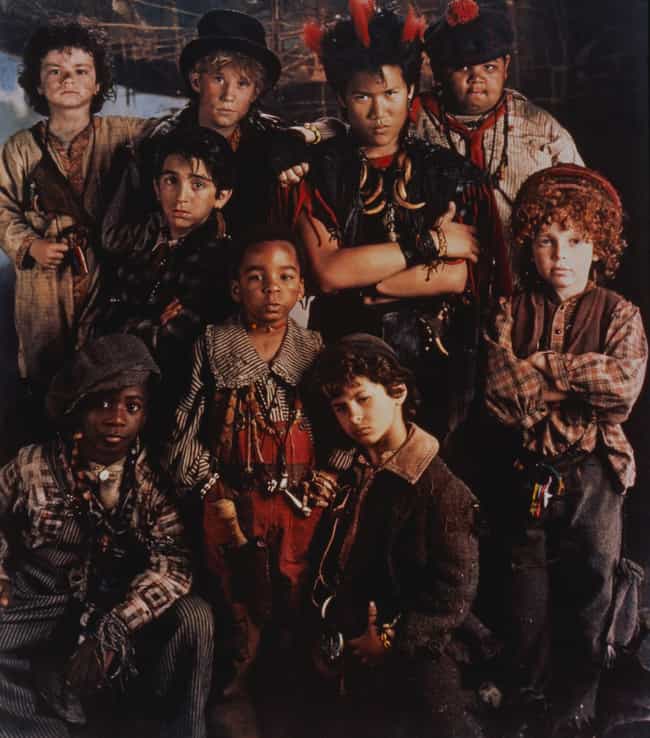 A grown up Peter Pan (Robin Williams) returned to Neverland in Hook – the Peter Pan sequel directed by Steven Spielberg in 1991. While there, he met the ragtag Lost Boys, who helped remind him of what it was like to revel in his imagination and spirit. (Oh, and saved his kids from Captain Hook.)
Hook – NOW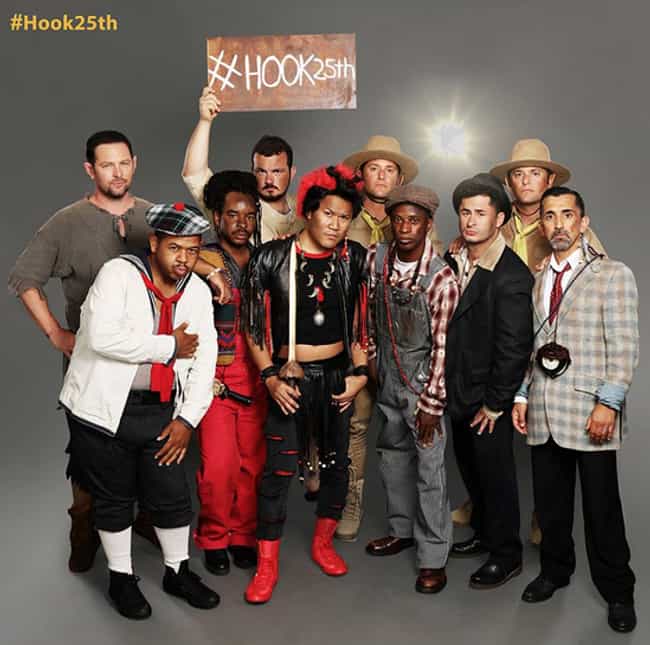 Twenty-five years after the movie was released, the Lost Boys reunited (and donned their costumes) to celebrate the anniversary. Dante Basco (Rufio), Raushan Hammond (Thud Butt), Isaiah Robinson (Pockets), Jasen Fisher (Ace), James Madio (Don't Ask), Thomas Tulak (Too Small), Alex Zuckerman (Latchboy), and No Nap (Ahmad Stoner) gathered for a group picture 25 years after their adventures in Neverland made Hook a classic.
A League of Their Own – THEN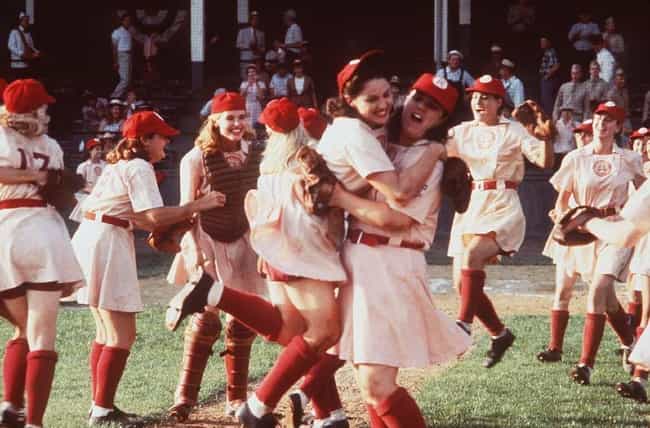 The Rockford Peaches were some of the most badass ladies in the 1940s all-female baseball league. In the movie, they managed to impress and entertain crowds with their athleticism and skill – despite having to wear idiotic and impractical skirts while they played. But hey, there's no crying in baseball.
A League of Their Own – NOW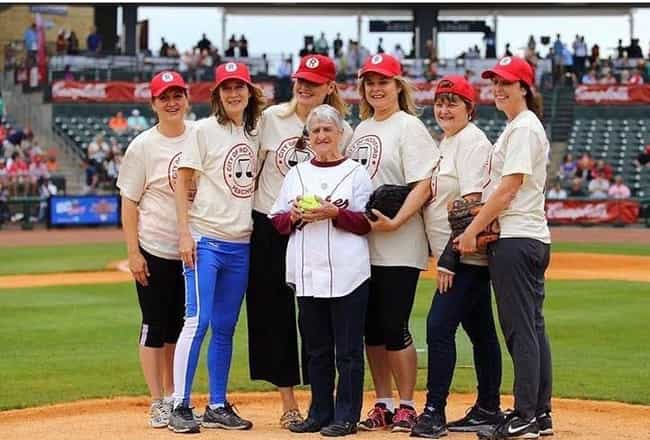 In 2016, the stars of the 1992 film reunited (sans Tom Hanks) for a special game organized by team leader Geena Davis. Seven of the original cast members (including Davis, Megan Cavanagh, Anne Ramsey, Tracy Reiner, Ann Cusack, Freddie Simpson, and Patti Pelton) got together on Mother's Day for the event.
They were joined by a real Rockford Peach, Gina Casey.
Willy Wonka & the Chocolate Factory – THEN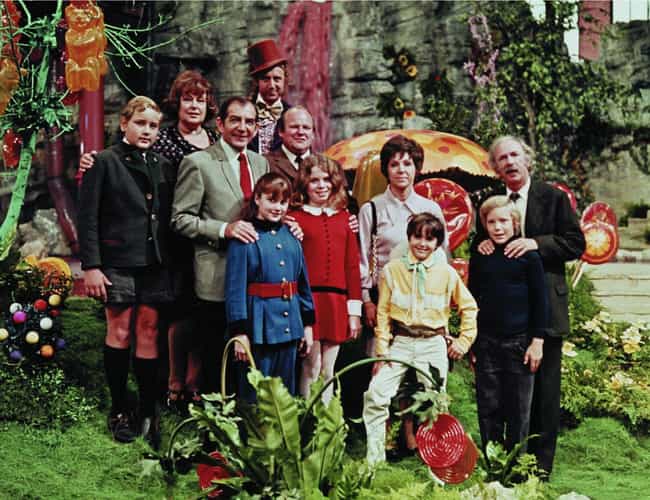 Remember those spoiled brats from Willy Wonka and the Chocolate Factory (well, with the exception of good old Charlie Bucket, of course)?  They represented the inner monster in all of us – stuffing themselves with candy, begging for attention, and dealing with some major daddy issues.
But still, who didn't want to be one of those lucky kids who scored a ticket in the 1971 film starring Gene Wilder?
Willy Wonka & The Chocolate Factory – NOW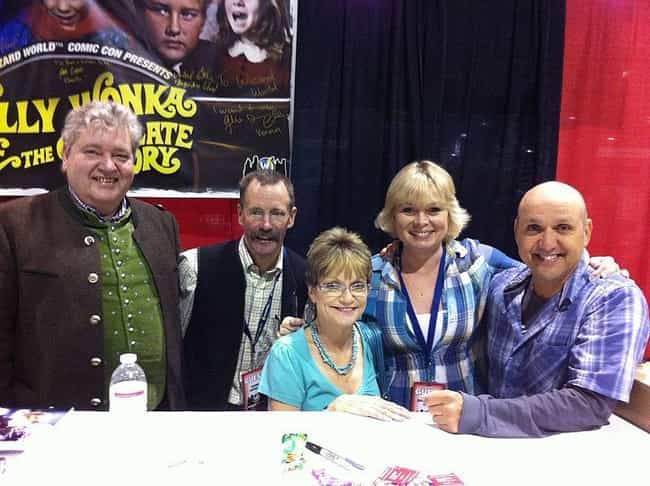 It's no surprise, but those kids grew up.  And in 2011, the five of them – Veruca, Violet, Mike, Augustus and Charlie –reunited to celebrate the 40th anniversary of the film.  Turns out, only one of them continued acting.  As for the others, one became a veterinarian, one became a tax attorney, one became a real estate agent, and one became a accountant.  To find out which was which, read here.
In 2015, the kids reunited again – along with chief Oompa Loompa Rusty Goffe – to celebrate the 44th anniversary of the film. 

The Big Lebowski – THEN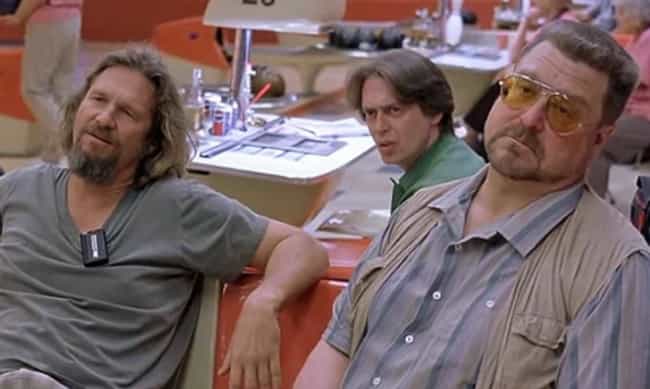 All hail The Dude! The seminal bowling movie of all time, this Coen Brothers film from 1998 is loved for its stoner comedy, quirky characters, and peek into the Los Angeles underworld. The diverse cast includes everyone from John Goodman and Julianne Moore to Flea, and has become a favorite of cinephiles worldwide (even if it's not the Coen Brothers' favorite).
"That movie has more of an enduring fascination for other people than it does for us," Joel Coen said in an interview.  
The Big Lebowski – NOW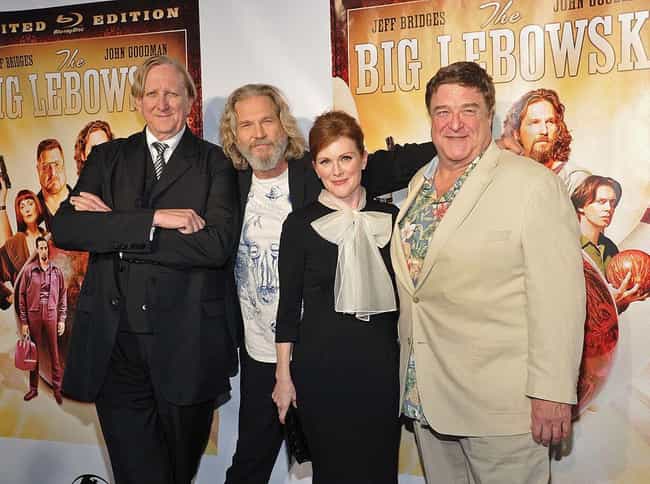 There is actually an annual gathering called Lebowski Fest where fans gather dressed as their favorite characters from the film. And in 2011, the festival teamed with Universal to reunite the cast for a Q & A.
Everyone was so excited for the reunion that the Q & A was apparently hard to hear because the audience was screaming quotes from the movie throughout the whole thing.
The Goonies – THEN
Oh, those Goonies – that pack of outcasts running through caves looking for the treasure of One Eyed Willie!  This film connected so deeply with young people that, to this day, it is a favorite not only of Generation X, but Y and Z as well.
By the way, wasn't that water slide down to Willie's boat just the coolest thing ever?
The Goonies – NOW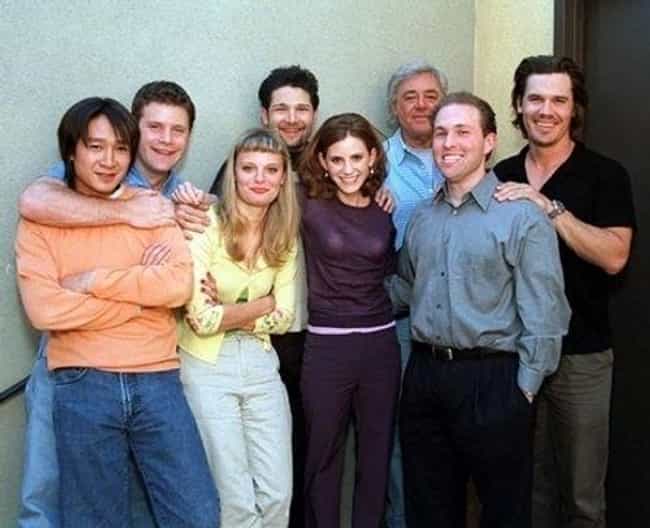 2009 marked the 20th anniversary of the release of The Goonies, and Empire brought the whole gang back together to celebrate. This was the first time in 20 years they'd all been together in the same room!
Who would have guessed Chunk would've gone on to become a lawyer? What happened to the Truffle Shuffle?
Clueless – THEN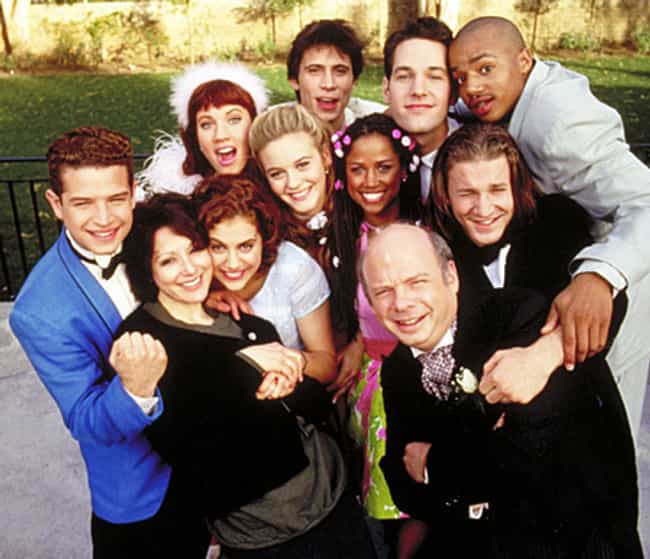 As if this movie would ever not stand the test of time! Starring Alicia Silverstone as Cher in this modern re-telling of Jane Austen's Emma, the 1996 movie Clueless defined a generation of valley boys and girls who were richer, snottier, and better looking than the rest of us.
Yet it still found in a place in our hearts.
Clueless – NOW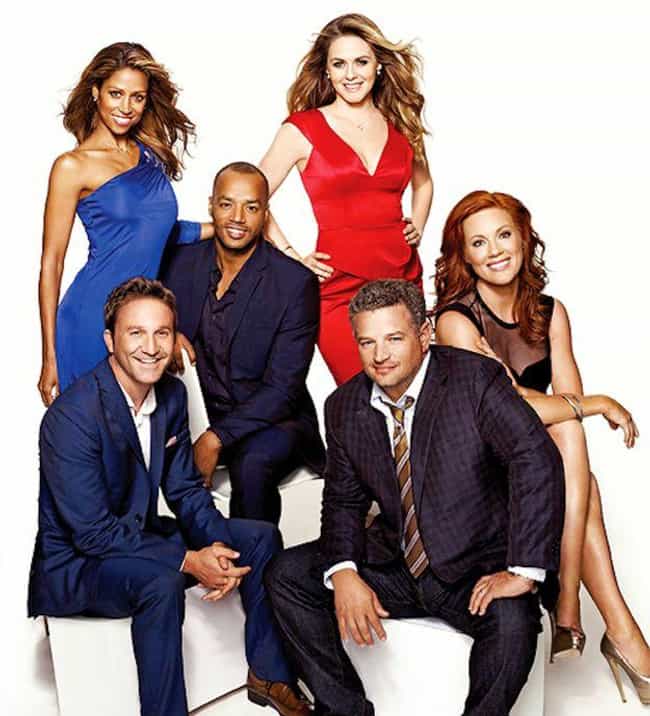 In 2012, the cast reunited for yet another Entertainment Weekly Reunion story, exciting the inner spoiled princess in all of us.  Though Paul Rudd and Jeremy Sisto were also included (just not pictured on the cover), there was one person missing – Brittany Murphy (who played Tai) passed away three years earlier.
Napoleon Dynamite – THEN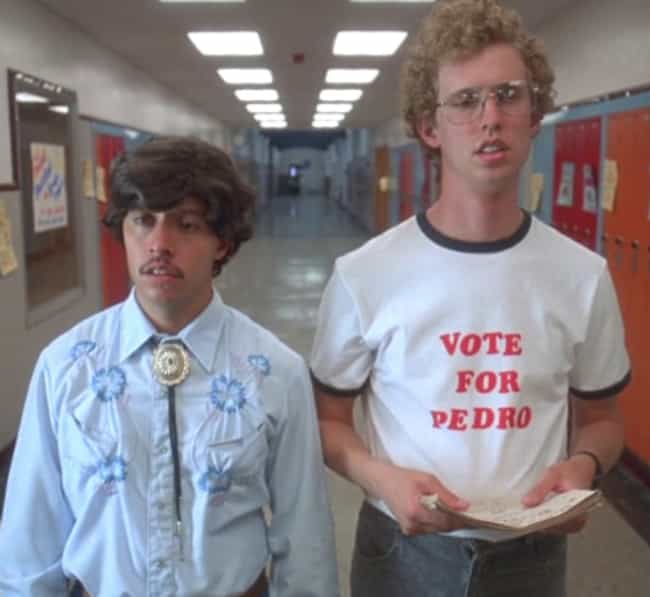 If you don't know the phrase "Vote For Pedro," then you must have lived under a rock in 2004. The indie film Napoleon Dynamite came out of nowhere, turning their budget of $400,000 to a gross of $44 million!
Yet more importantly, it introduced us a rising star – that beautiful llama named Tina.
Napoleon Dynamite – NOW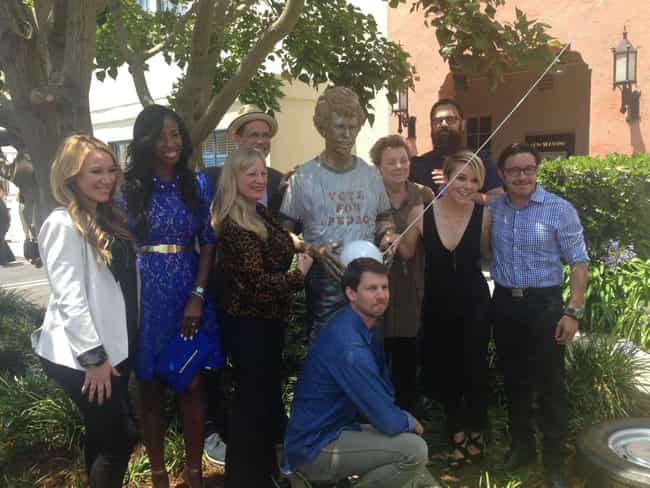 On June 11, 2014, the Dynamite team all hung out at Fox Studios in LA to celebrate the movie's 10th anniversary. A bronze sculpture of Napoleon was unveiled.  Unfortunately, Tina did not show up for the reunion. Diva.
The Princess Bride – THEN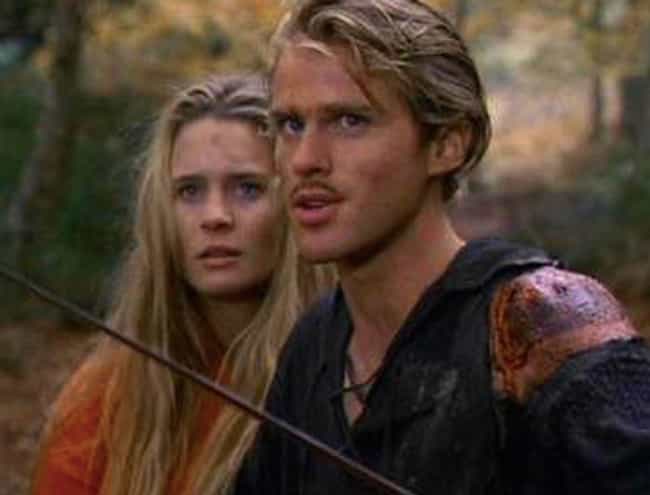 In 1987, the world received a gift known as The Princess Bride.  Princess Buttercup, Westley, Inigo Montoya, and Vizzini are some of cinema's most quoted and memorable characters of all time.  Plus, this movie really brought the grandfather and grandson relationship to a whole new level.
The Princess Bride – NOW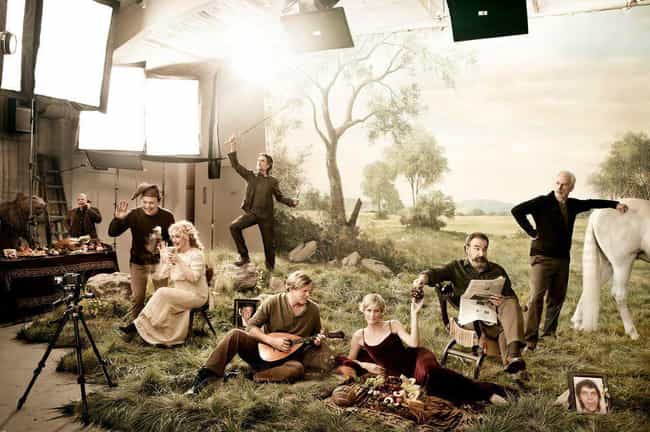 Everybody's wishes came true in true when Entertainment Weekly reunited everyone (except the deceased Andre the Giant) in 2009.  Then, the group also attended the 25th anniversary screening and cast reunion during the  50th New York Film Festival at Alice Tully Hall in New York City in 2012.
The Breakfast Club – THEN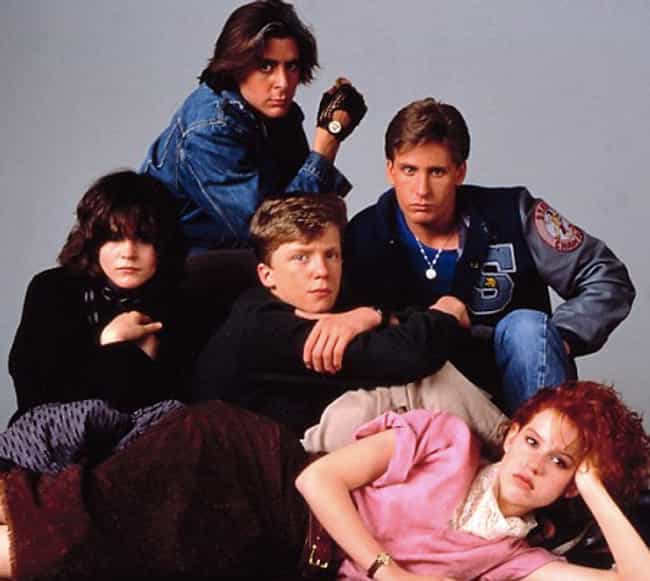 There was the jock, the nerd, the criminal, the princess, and the basket case.  The John Hughes decade-defining film from 1985 is revered as the classic high school archetype movie starring members of the Brat Pack.  
Plus, it featured "Don't You (Forget About Me)" by Simple Minds, which became an anthem of angst!
The Breakfast Club – NOW
Though the entire group of five hasn't actually gotten together in decades (that Emilio Estevez just keeps avoiding it), in 2010, Anthony Michael Hall, Ally Sheedy, Judd Nelson and Molly Ringwald did all attend a Film Society of Lincoln Center screening of the film to celebrate its 25th anniversary.
Apparently Estevez couldn't attend because he was shooting another installment of Mighty Ducks. Yeah…
Ghostbusters – THEN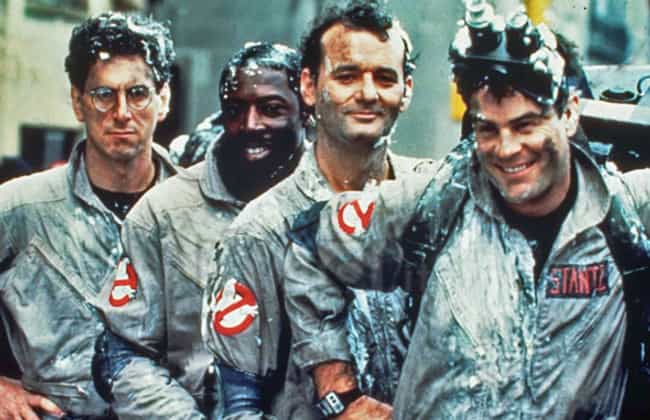 Talk about a perfect comedy.  Starring Bill Murray and Dan Aykroyd, this ghost hunter slime-filled movie, directed by Ivan Reitman in 1984, was nominated for Oscars, Golden Globes, Grammys, and more. Did you know Eddie Murphy was initially offered the role of Winston, but he turned it down?
Ghostbusters – NOW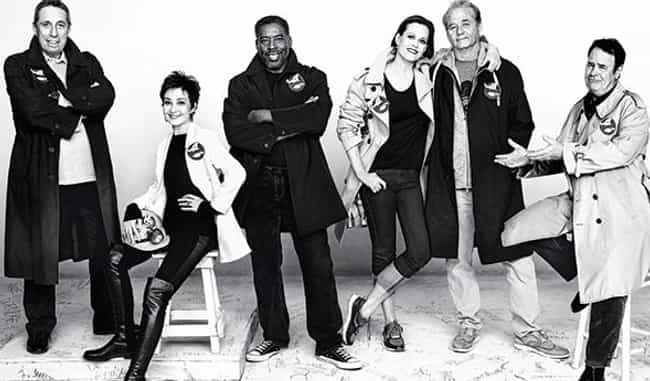 Everyone knows there is an all-female remake in the works starring Kristin Wiig and Melissa McCarthy, but the original cast (minus Harold Ramis, who has since passed away), graced the cover of Entertainment Weekly's reunion issue in 2014.
"I knew it was gonna be a huge movie," Murray said at the cover shoot.  "At that point, we were still watching Yankee Doodle Dandy on TV, so I thought we had a shot."
The Rocky Horror Picture Show – THEN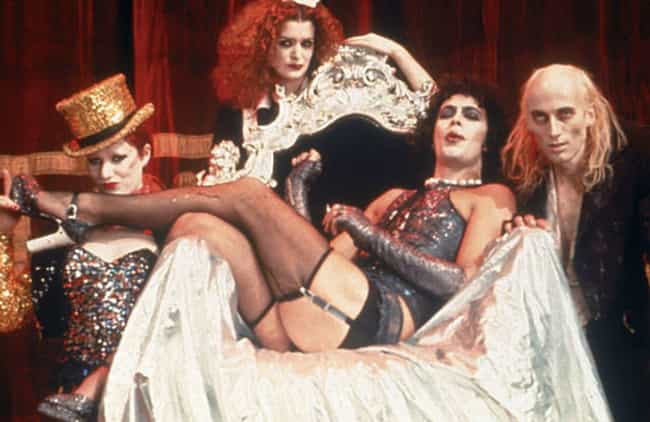 "It's astounding! Time is fleeting," are the first words of "Time Warp" in The Rocky Horror Picture Show, and boy were they right. The 1975 rock musical was risqué as can be for the time, but today looks almost timid in comparison.
It touched on something in our culture that obviously resounds, as RHPS is still shown at midnight on screens across the world.
The Rocky Horror Picture Show – NOW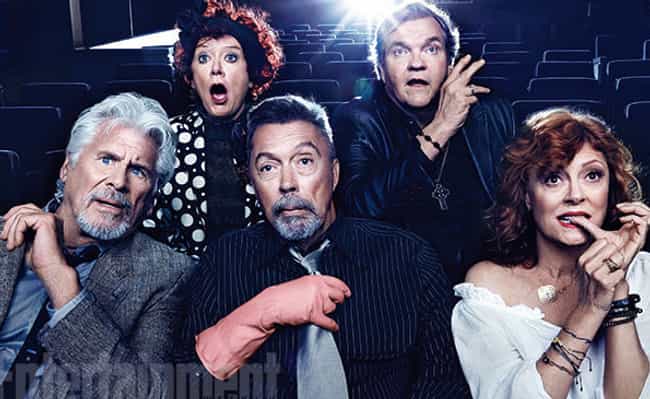 Members of the cast including Tim Curry (Frank-N-Furter), Susan Sarandon (Janet), Barry Bostwick (Brad), Patricia Quinn (Columbia), and Meat Loaf (Eddie) recently reunited for an Entertainment Weekly photo shoot.  And even though the film was a flop when it was released, they still can't can't believe the cult status it has reached.
Forrest Gump – THEN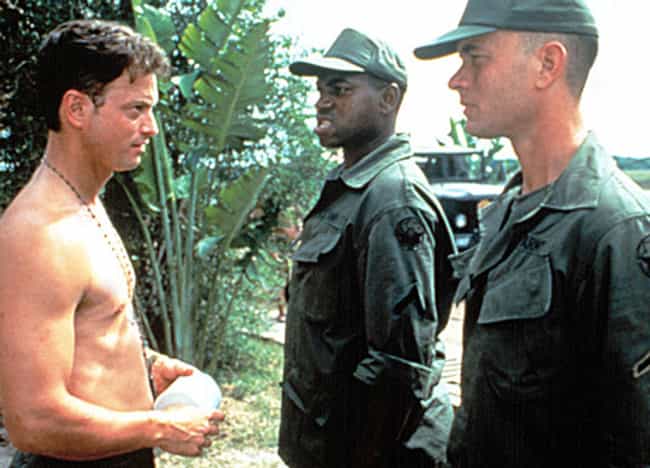 In 1994, Forrest Gump hit the world and gave people an American history lesson through the story of one man and his mama.  The movie starred Tom Hanks as the lead character and featured a talented cast including Gary Sinise, Robin Wright, Sally Field, and even a young Haley Joel Osment.
Forrest Gump – NOW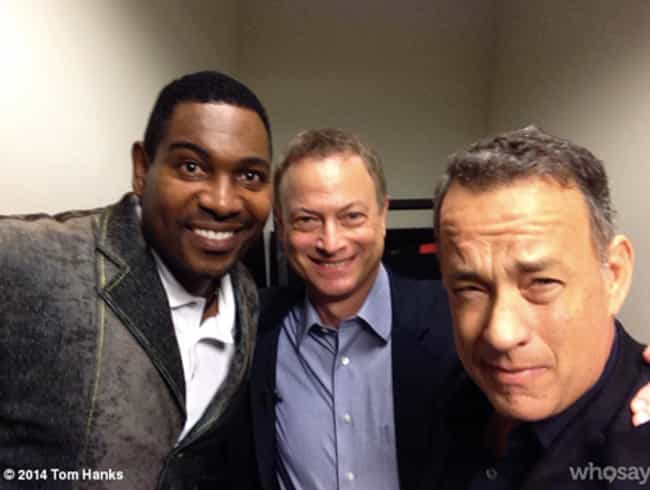 Mykelti Williamson (Bubba), Gary Sinise (Lt. Dan), and Tom Hanks (Forrest) all took a selfie together back stage in 2014 at G ary Sinise's Hollywood Salutes Heroes event, which was dedicated to giving thanks to those who serve in the U.S. Armed Forces.  Hanks posted it on his WhoSay account.
School of Rock – THEN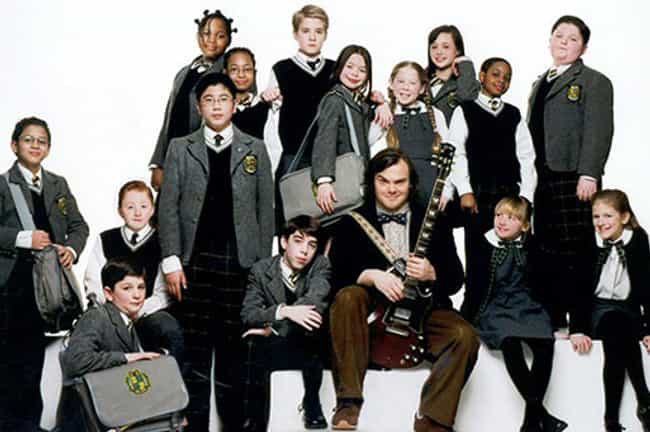 Perhaps the cutest kids ever assembled in one movie ever, Richard Linklater's School of Rock (2003) was about a substitute teacher (Jack Black) who teaches kids about music. It took months and months to cast, but in the end, they got the perfect group together.
School of Rock – NOW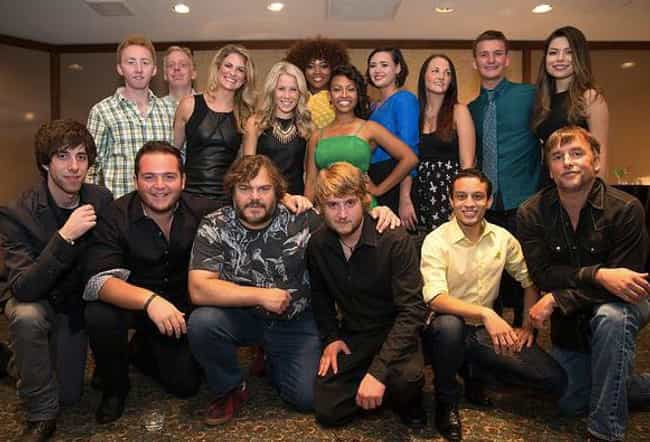 For their 10th anniversary, the whole gaggle of kids (and Jack Black) got back together for some jamming and photos.  There was even a reunion concert, all thanks to the Austin Film Society!  It's pretty amazing how much of a difference 10 years makes.